VOICE club have been busy handing out DOJO medals, early lunch passes, hot chocolate with Mr Rees, X-box time and many more exciting rewards. The most expensive reward is the 'Mystery Trip'. We decided that the Summer Mystery Trip would take place on the school field and involve water!!! Most of the children remembered to bring a change of clothing and the ones who didn't dried off quickly!
The first game was a water balloon challenge.  The children put themselves into groups of 7 and were very eager to start. The water balloon had to be passed to each member of the group without bursting.  One group got wet very quickly! As the remaining groups were so good, and worked excellently as a team, Mrs Orford decided that they needed to pass the balloons by throwing them.  This eliminated the rest of the groups in about two minutes.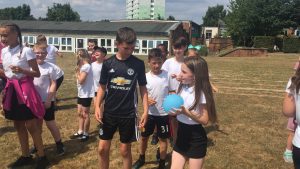 Some of the Y6 pupils were very eager to start filling up the water pistols.  We enjoyed a run around the field, with children taking it in turns with the water pistols.  I think we were all pleased to cool off and dried very quickly (I think Mrs Orford, Mrs Hayward-Price and Miss Lambert got wetter than the children).
We finished the afternoon sat in the shade eating a choc ice.  The children thoroughly enjoyed their reward and we now need to think what we are going to do in the Autumn Term.
VOICE club will re-open the DOJO shop in September, so keep collecting your DOJO points for more rewards. Thank you to all of the Y6 VOICE members, who have worked so hard in the DOJO shop, we will miss you.