So, today was the day! We went to see Mr Walyaula's new school! We woke up to 6.30am alarms, having been up until gone 1am, updating yesterday's blogs. Feeling a little weary still, this quickly wore off when we realised that we were getting to teach and meet all of the children at Namunsi Primary School today. We got up quickly, aiming to be at the school for 8am, and went down for breakfast in our new accommodation. We could not have been more delighted; having been restricted to bread and butter in the mornings for the last few days, we were overwhelmed to see not only bread and butter but also some fruit and sausages! As we sat down to eat, we were even asked if we would like omelettes – an offer we took up without hesitation!
Having been hugely satisfied by breakfast, we went back to our rooms to pack up the things we would need for the day. We have had many kind donations from staff, children, local groups and companies and many of these things were to be taken with us today. We combined our resources into a large suitcase, grabbed all we would need for teaching for the day and set off. Today, Joseph had arranged for Abdul to drop us at the school so it was nice to see him again.
Our new accommodation is more central, so we also had the added bonus of needing less time to get to the school. We arrived at 8.25 (Ugandan time must be starting to affect us!). As we pulled into the school, we could see the bright pink uniforms of Mr Walyaula's children. Some were milling around in the compound but it appeared most were in class. The noise of our vehicle arriving prompted all of the pupilsto begin emerging from their classrooms. This looked very dramatic, with lots of happy faces, dressed in pink swarming out of the school building and across the field. We greeted some of the children, as we were met enthusiastically by Mr Walyaula. He explained that it was time for assembly and took us over to meet the whole school. By now, they had gathered alongside a mango tree which would serve as shelter, should it rain. Not quite the assembly hall our children normally gather in!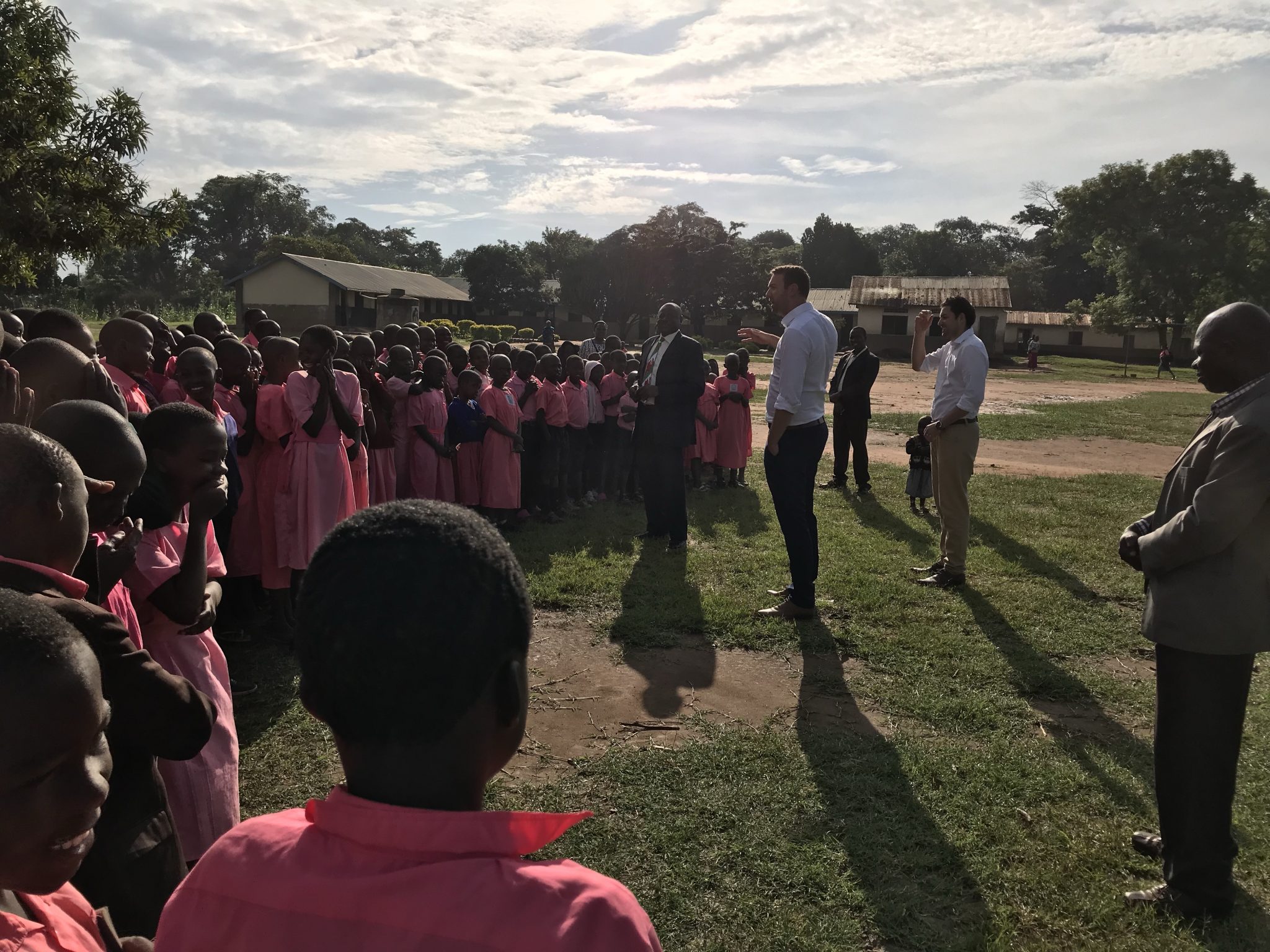 We listened as Mr Walyaula welcomed them back after the holidays and said to them how pleased he was to see so many children. There are 1300 on roll at the school and he explained that there were around 400 in today; this was good, he said. "Good?!", we thought; Mr Rees and Miss Rutledge would be furious if less than 30% of children arrived back at school! He went on to explain that normally, he would only expect 100 but that he assumed that news of our arrival may well have helped to boost his numbers. Adding that most children did not come straight back to school, to give parents a little more time to buy the resources they would need, Mr Walyaula explained that most schools in Uganda would find themselves in a similar situation on the first day back.
From assembly, Mr Walyaula took us to his office, to sit us down and discuss his school a little more. We know Mr Walyaula from his visit to the UK in 2015, where he came to St Julian's Primary, so it did not take him long to fill us in and give us a little more information on his new school. We were honoured that he had called his Chair of Governors into school to meet us and were thrilled when they both offered to give us a tour of the school.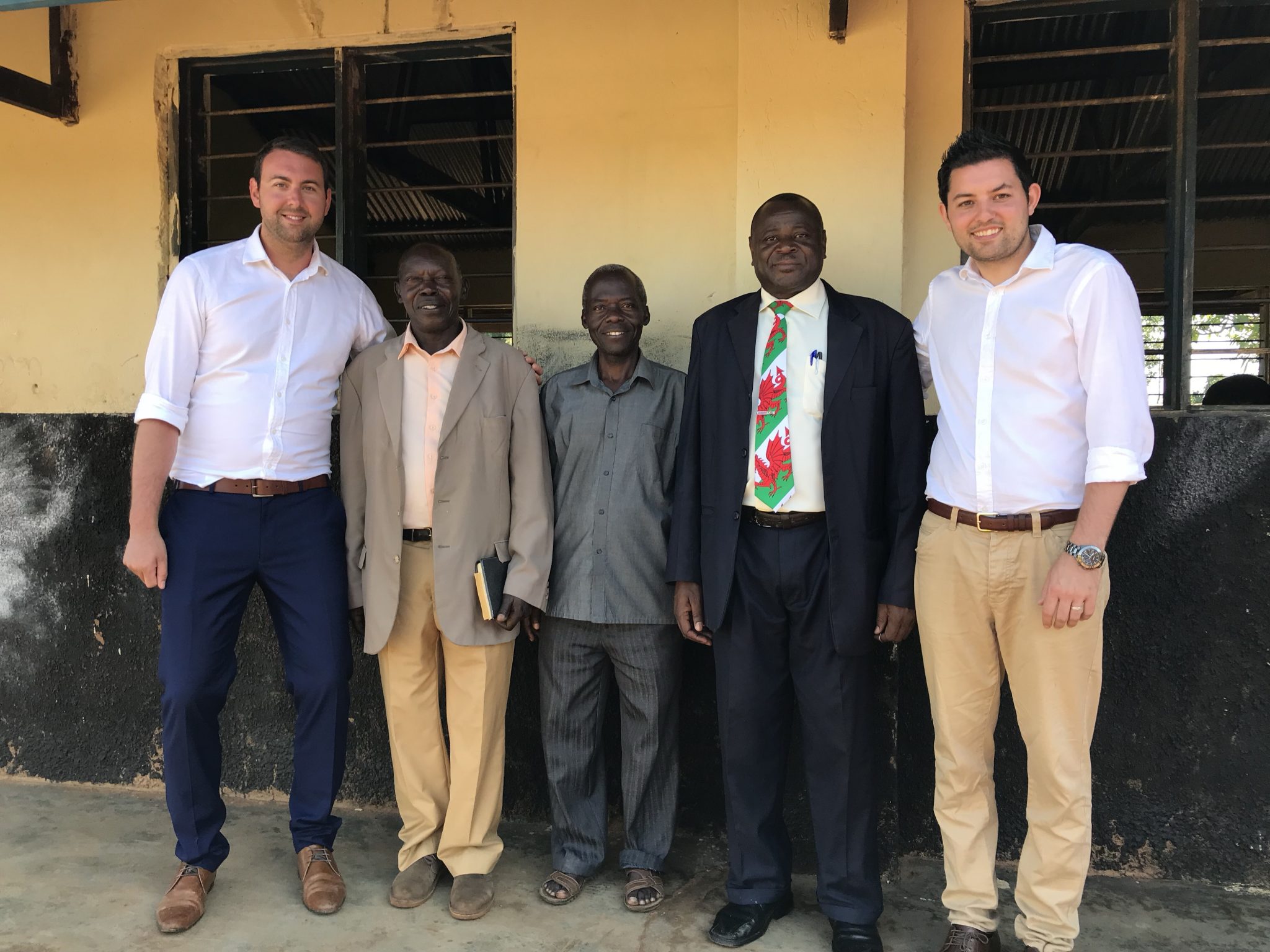 Mr Walyaula was keen to show his Chair of Governors the newly painted classroom, so we set off there first. We were greeted by the children all rising to their feet and chanting a welcome to us.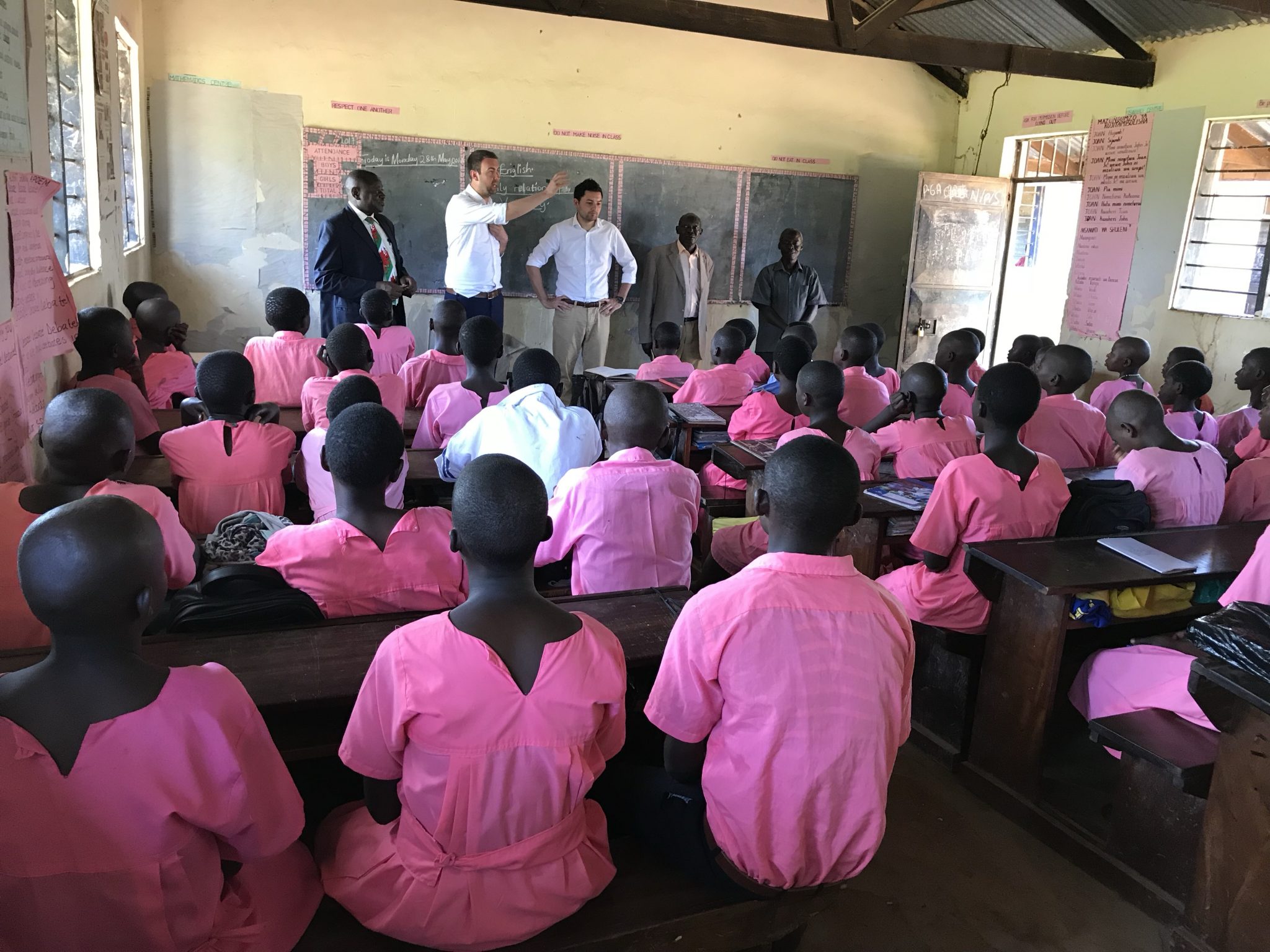 They gave us a clap and stayed standing until Mr Walyaula instructed them to sit. It was lovely to hear from them how much they liked their nicely decorated room, washing away any memories of the exhausting work which had taken place on Saturday – it was more than worth it to see their faces filled with happiness.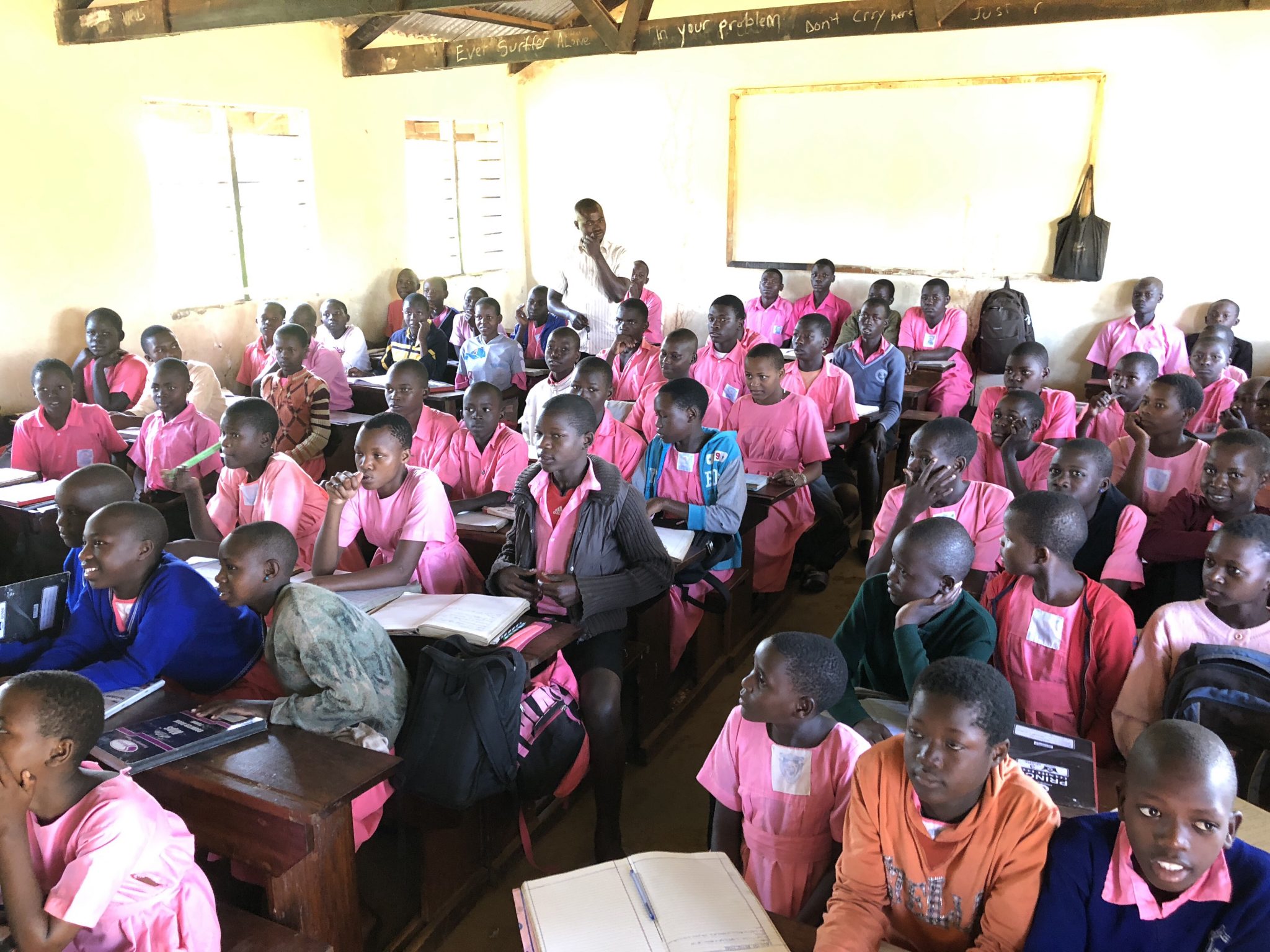 We continued around the school and noted some differences from Mr Walyaula's previous school. His P2 (Year 2) class had their desks arranged in groups. Traditionally, Ugandan classrooms are always in rows so it was interesting to discuss this development with the class teacher. As it was the first day back, many pupils spent the first part of the morning cleaning their classrooms.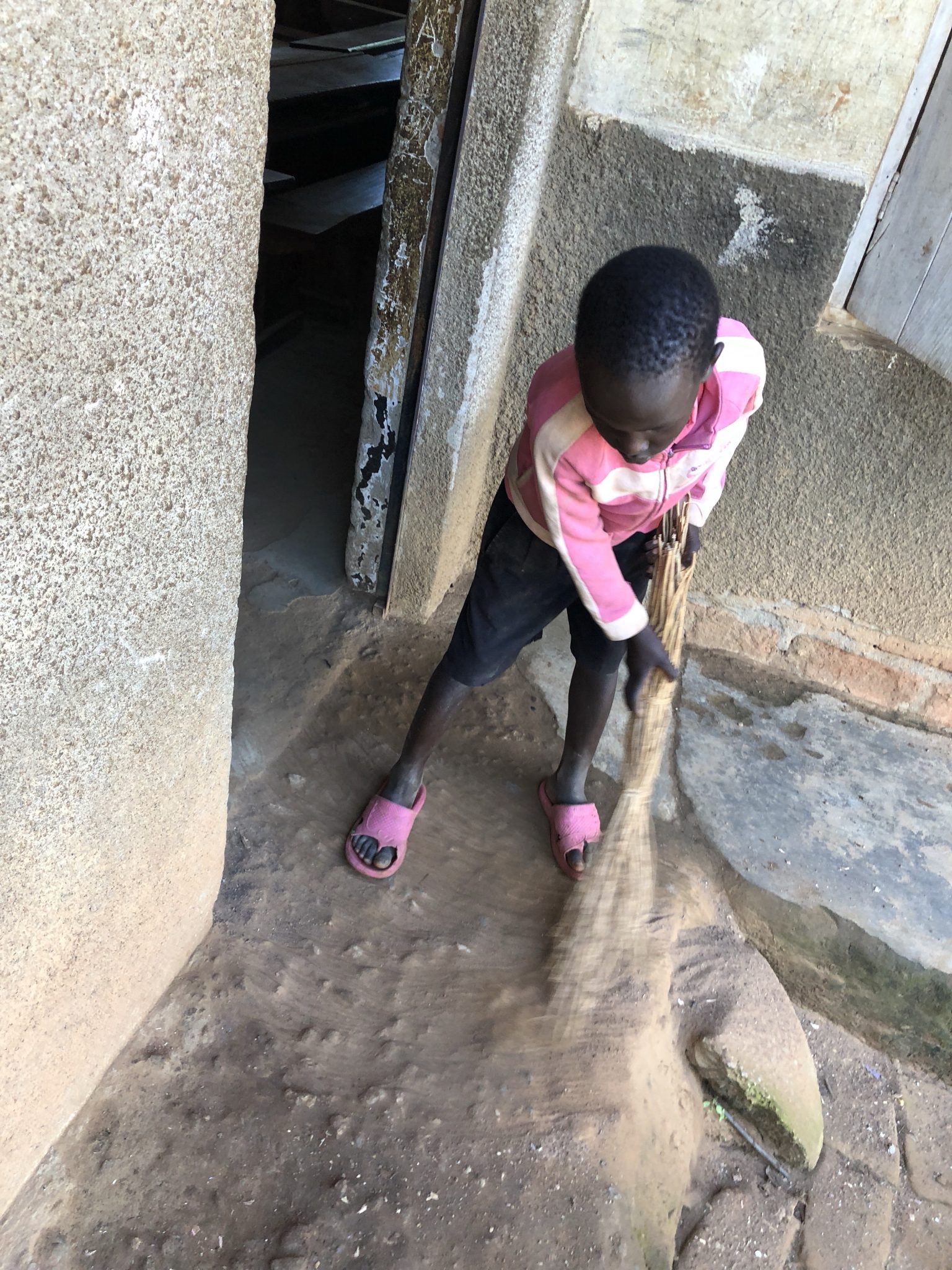 Having made our way round every classroom, we were keen to get started. There was just time to present Mr Walyaula with photographs of our two schools, which he immediately hung on the wall of his office.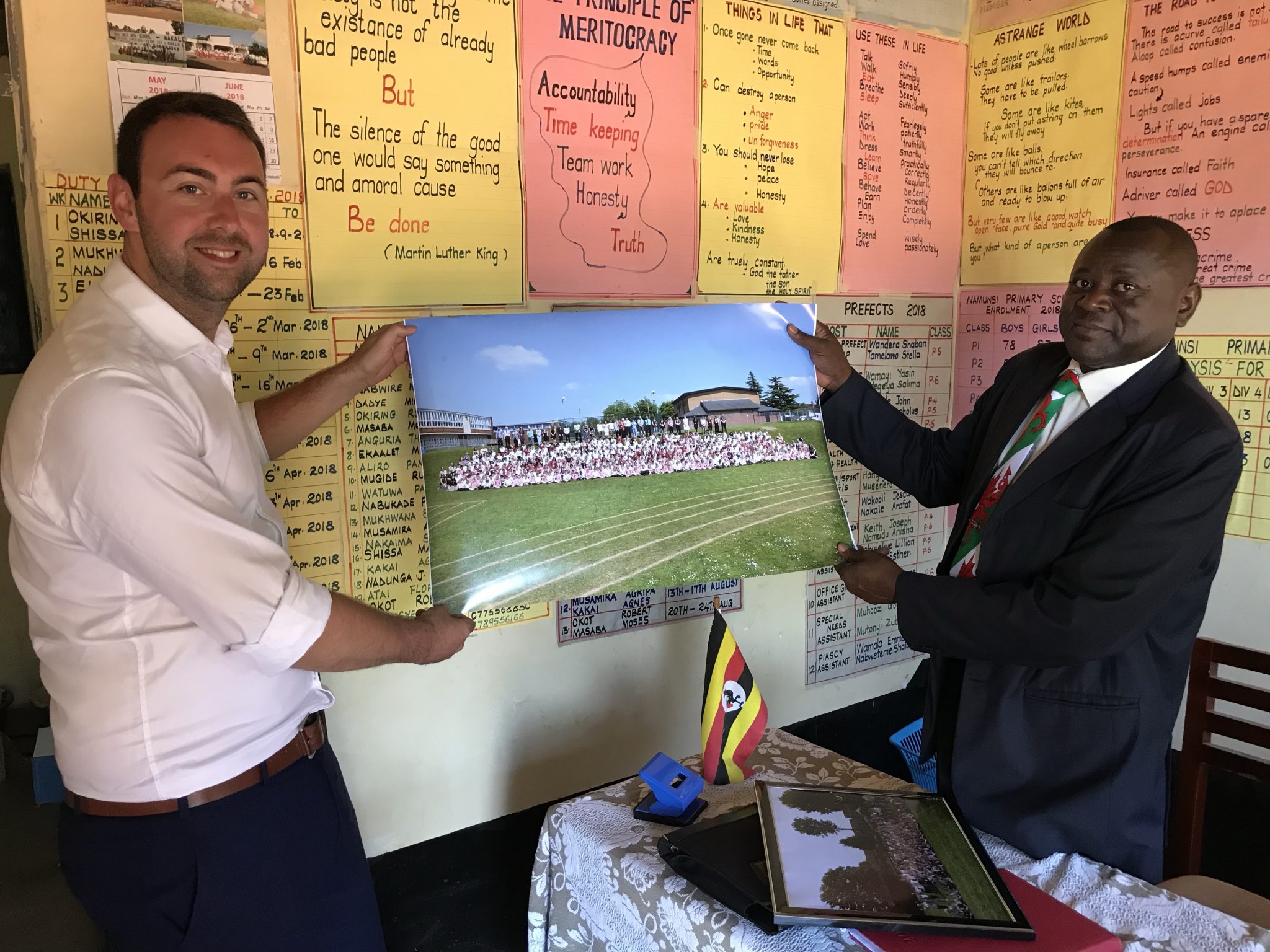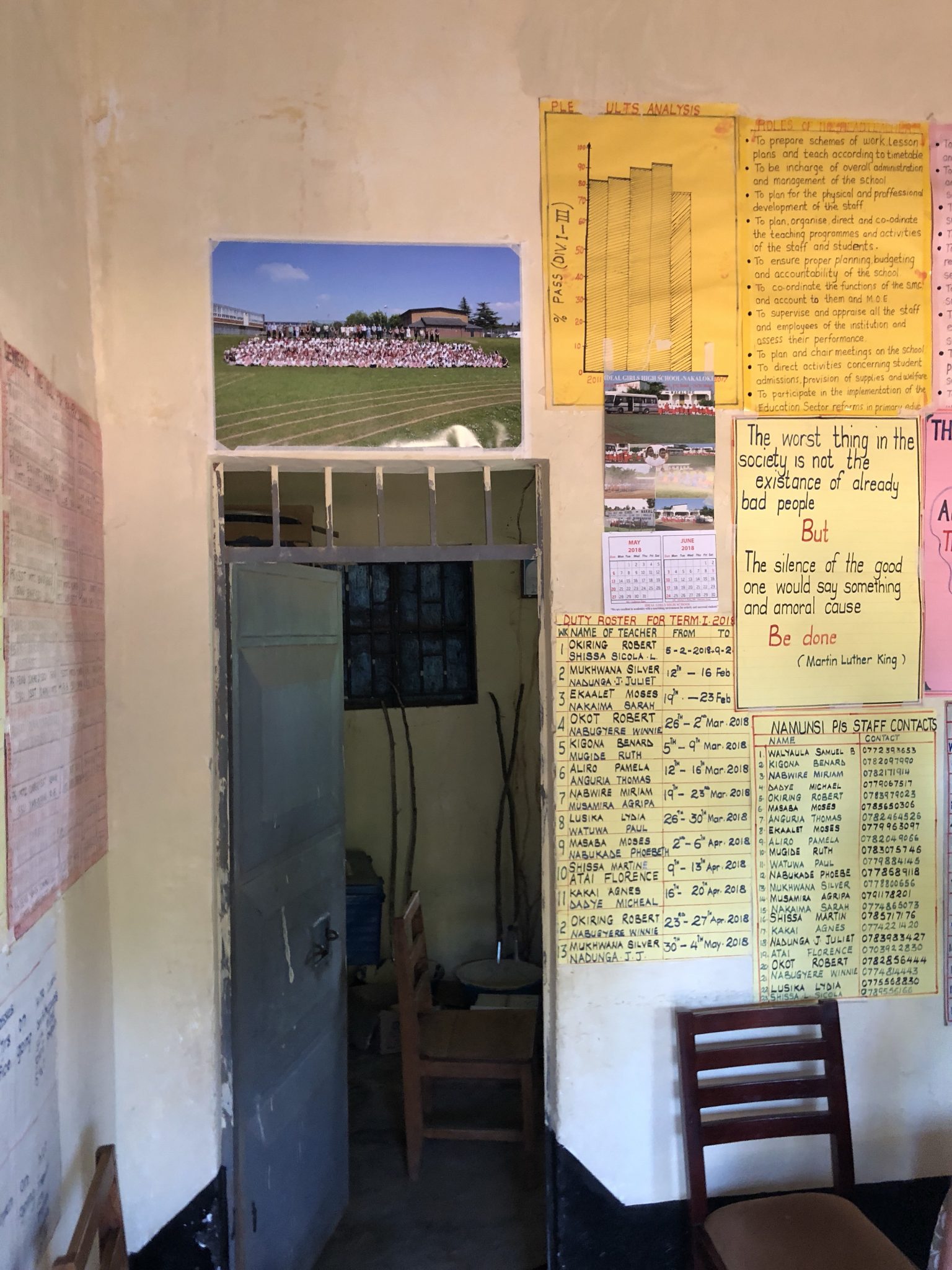 We then asked Mr Walyaula if we could go into classes to teach the children. He immediately agreed and offered for us to go into P7 (Year 7) and P6 (Year 6). We gathered up the few bits we had brought with us and off we went.
In the classroom, we were greeted warmly again and then (whilst Mr Mansfield fiddled around with all of the technology had brought with him), Mr Prewett set about talking to the children about the similarities between our two great countries! The first he touched upon was that in Wales, we also have our own language, just as in Uganda they have many regional languages. They chuckled when they heard that we do not say good morning in school but 'bore da'. Mr Prewett taught them a song that is sometimes sung in schools to welcome each other – something which they seemed to enjoy greatly… or at least more than the church congregation enjoyed Mr Prewett's singing yesterday! We went on to talk about our schools and the things the children in Mount Pleasant and St Julian's had been doing to learn about Uganda. We showed them the Welsh flag and explained how awesome it is – some even agreed that it was better than their own flag – the best they had ever seen!
Mr Mansfield had been busy setting up a portable pocket projector which he had brought with him and, to the children's amazement began to project some images and videos of his school onto the wall.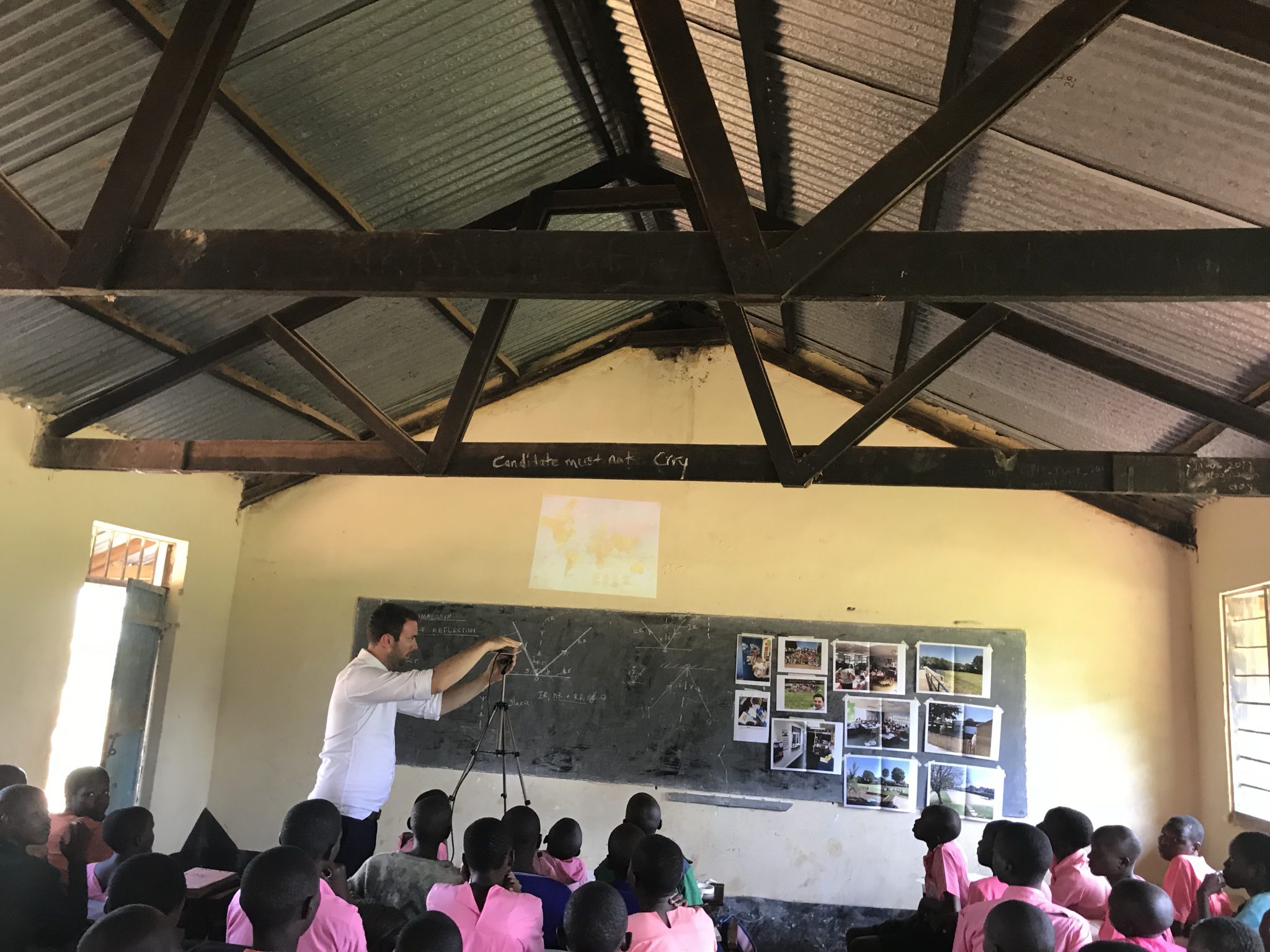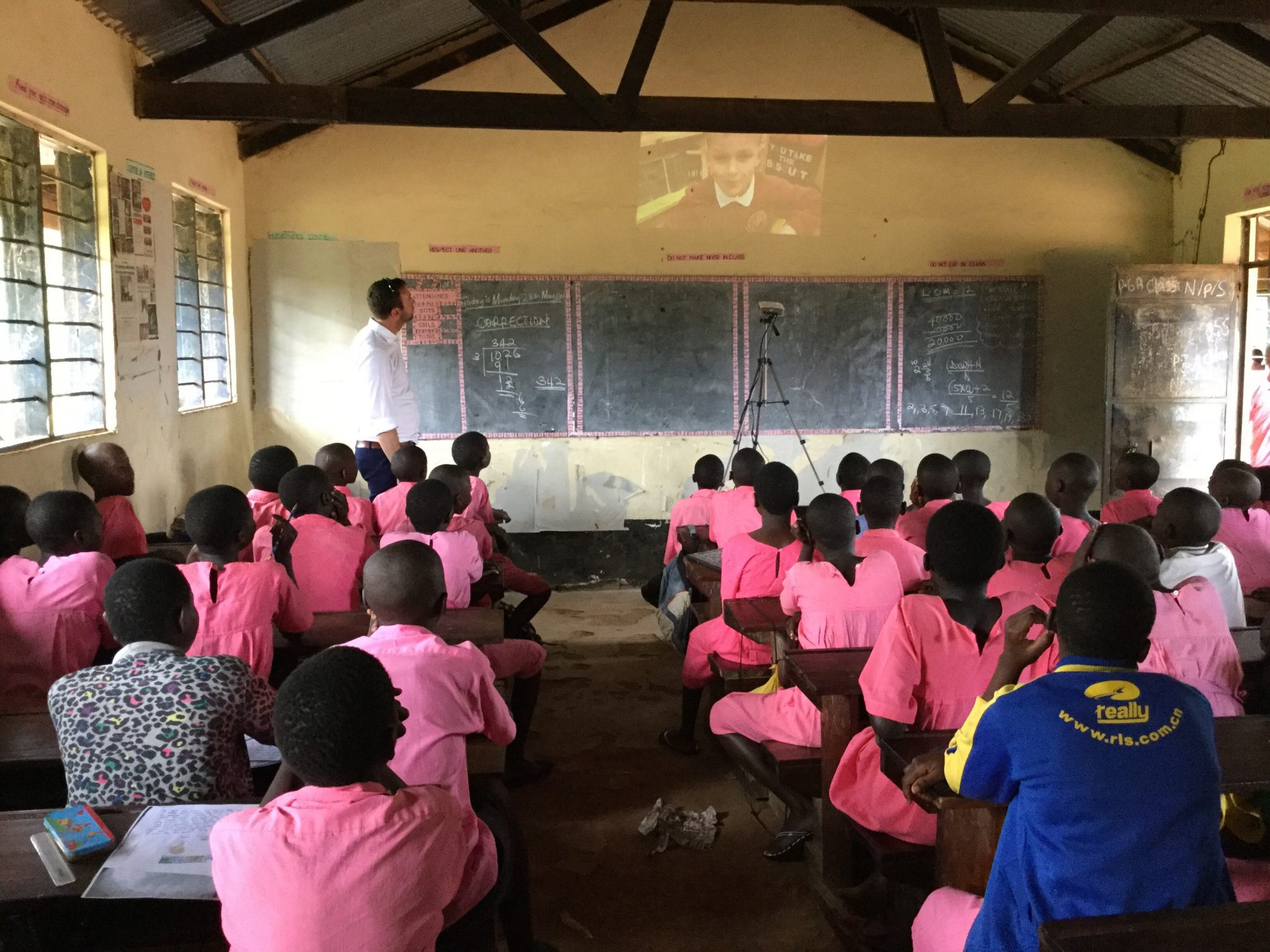 He talked through what St Julian's is like as a school and began to show the children pictures of the building, children and classes. The children listened intently as they heard all about schools in the UK and what we do. Some things they found funny but for the most part, they heard how many of our children like the same things as them; football, running, climbing, seeing friends, and so on!
In the meantime, Mr Prewett had been getting together his own low-tech version of this – sticking some photos he had printed out onto the blackboard!
He went on to tell the children all about Mount Pleasant and how the children were really excited for him to come out and see the children of Mr Walyaula's school. This led into a discussion about Wales and Uganda and how far apart they are. The first estimate from the class was '30 miles', a distance which would only have got them to the next closest large town! After many guesses, the children eventually got to the much closer figure of 6000. Quizzing the children about what information we had given them, it was clear that they had listened really well to what we had said.
The time had flown by and it was soon time to move next door into P6 to talk to the children in there. Following the same routine, Mr Prewett and Mr Mansfield shared the same information with the next class. A whirlwind start had taken us all the way up to 10.30 and it was now time for the children to have a break. We dismissed them from class and went back to Mr Walyaula's office. Mr Walyaula sat us down to talk some more about the school and offered us some bread and 'sweet bananas', along with a boiled egg and some 'gee nuts' (very similar to peanuts).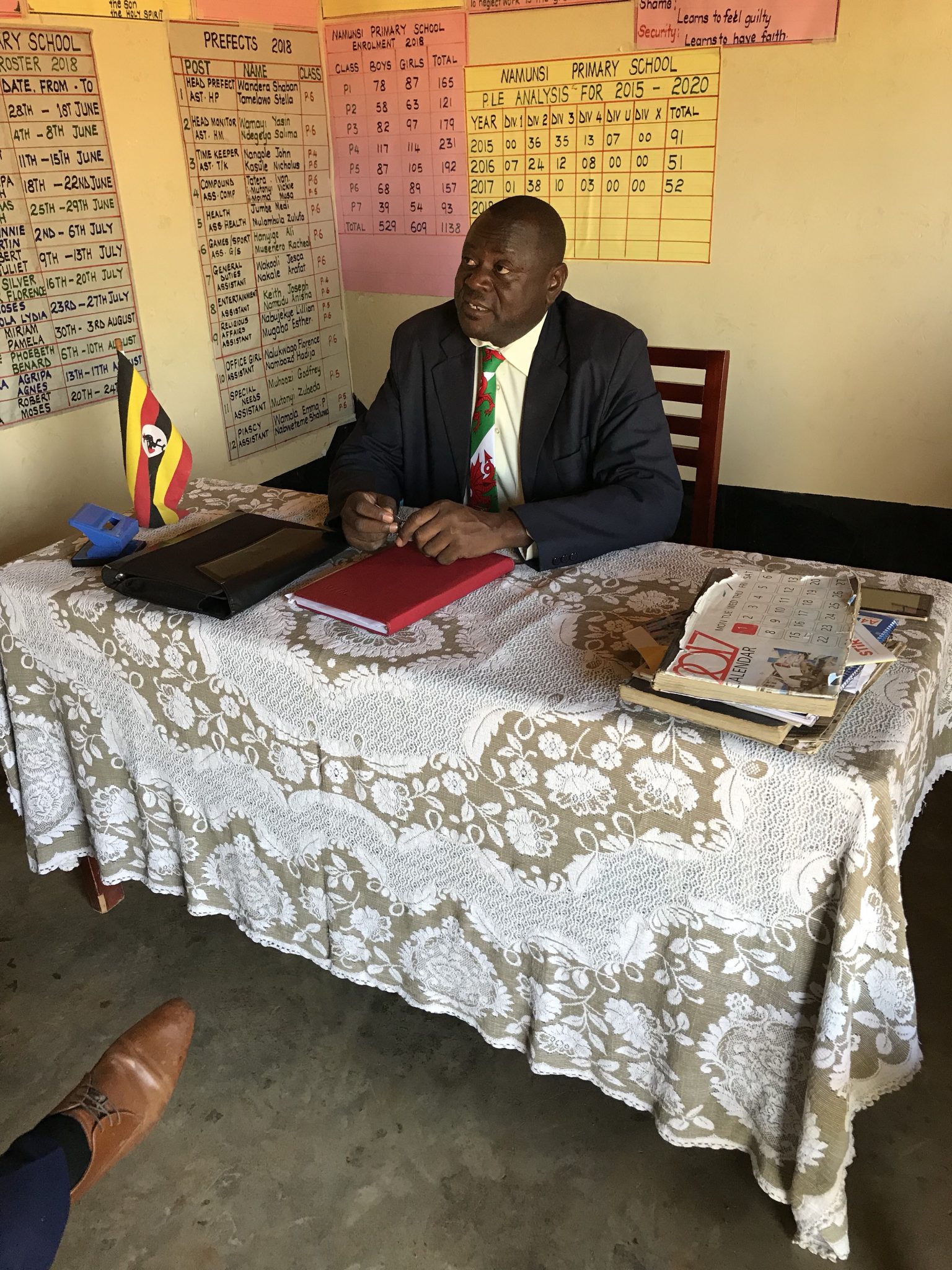 Mr Mansfield tucked into his, with it quickly disappearing. Mr Prewett was clearly struggling somewhat, taking very small bites of his egg before washing each mouthful down with a large gulp of water. Having eaten gizzard earlier in the week, the egg was a far greater challenge. Concentrating on keeping it all down, Mr Prewett allowed Mr Mansfield to take the lead in discussing school budgets whilst he wondered how long his egg must have been sat around for before it was cooked!
There was a little time left during 'break' to give out some of the additional clothes we had brought with us, which had been donated by our pupils and Newport County Football Club.Staff and children enthusiastically thanked us for what we were able to give them. The clothes and baseball caps went down particularly well, with even the caretaker coming into the office to see if we had a replacement for his hat. He is a man of at least 80 years and was a little disgruntled when we explained we had run out of hats, showing us his current thread bare and hole covered hat – we made a note to take him one on Thursday, when we return to the school! The children absolutely loved their new clothes. Their faces lit up as we gave out t-shirts and flip-flops to the most needy pupils.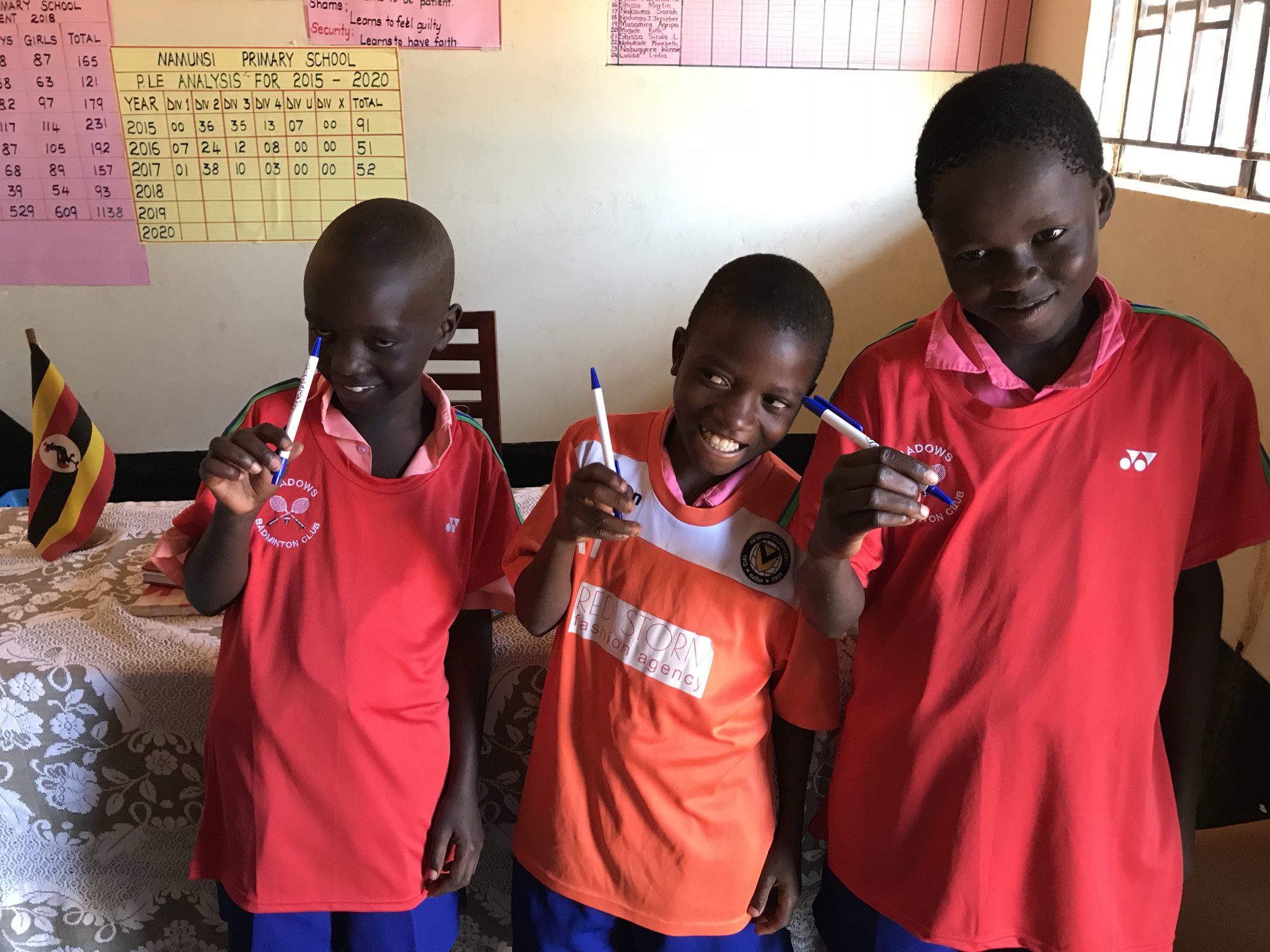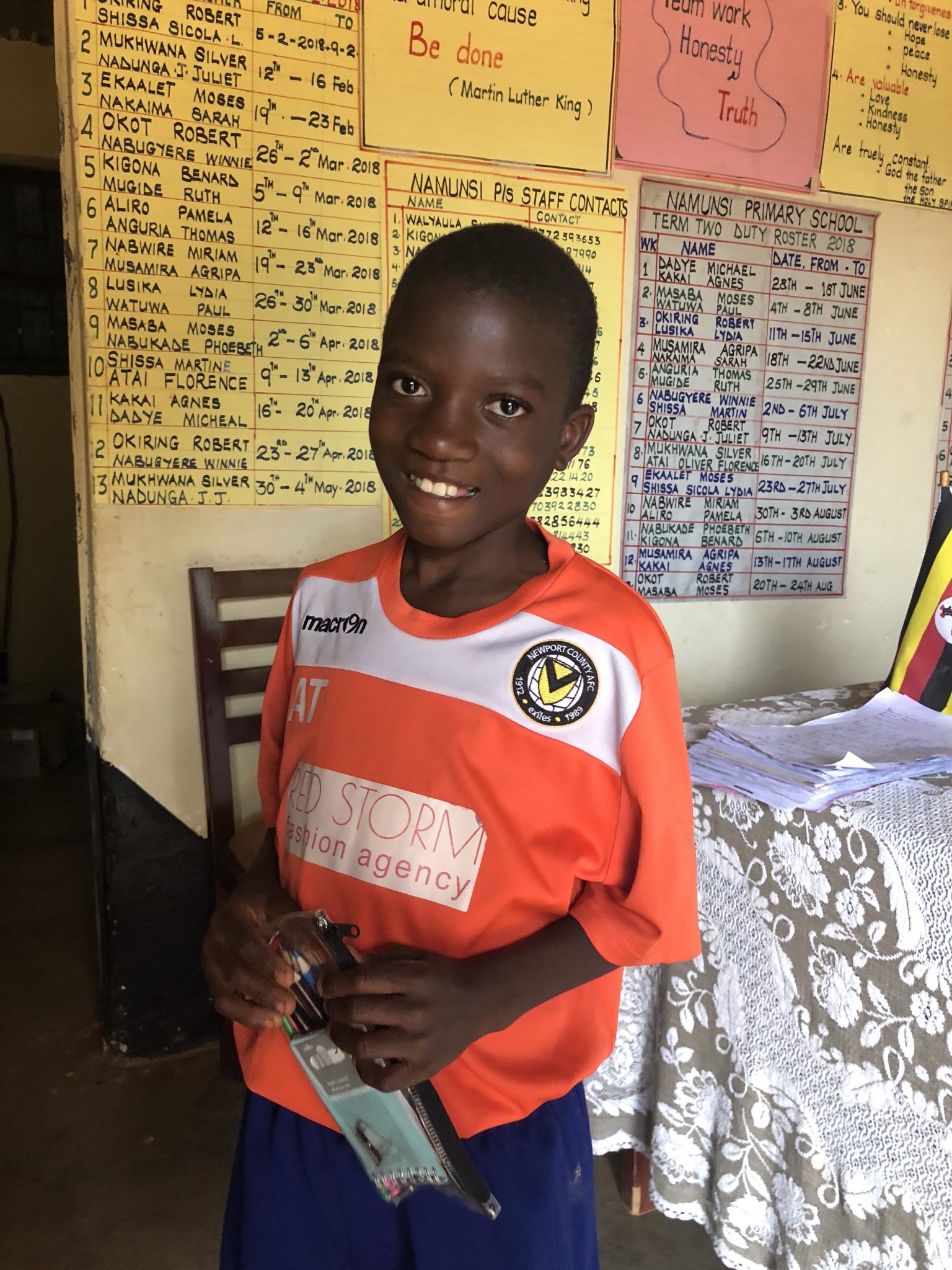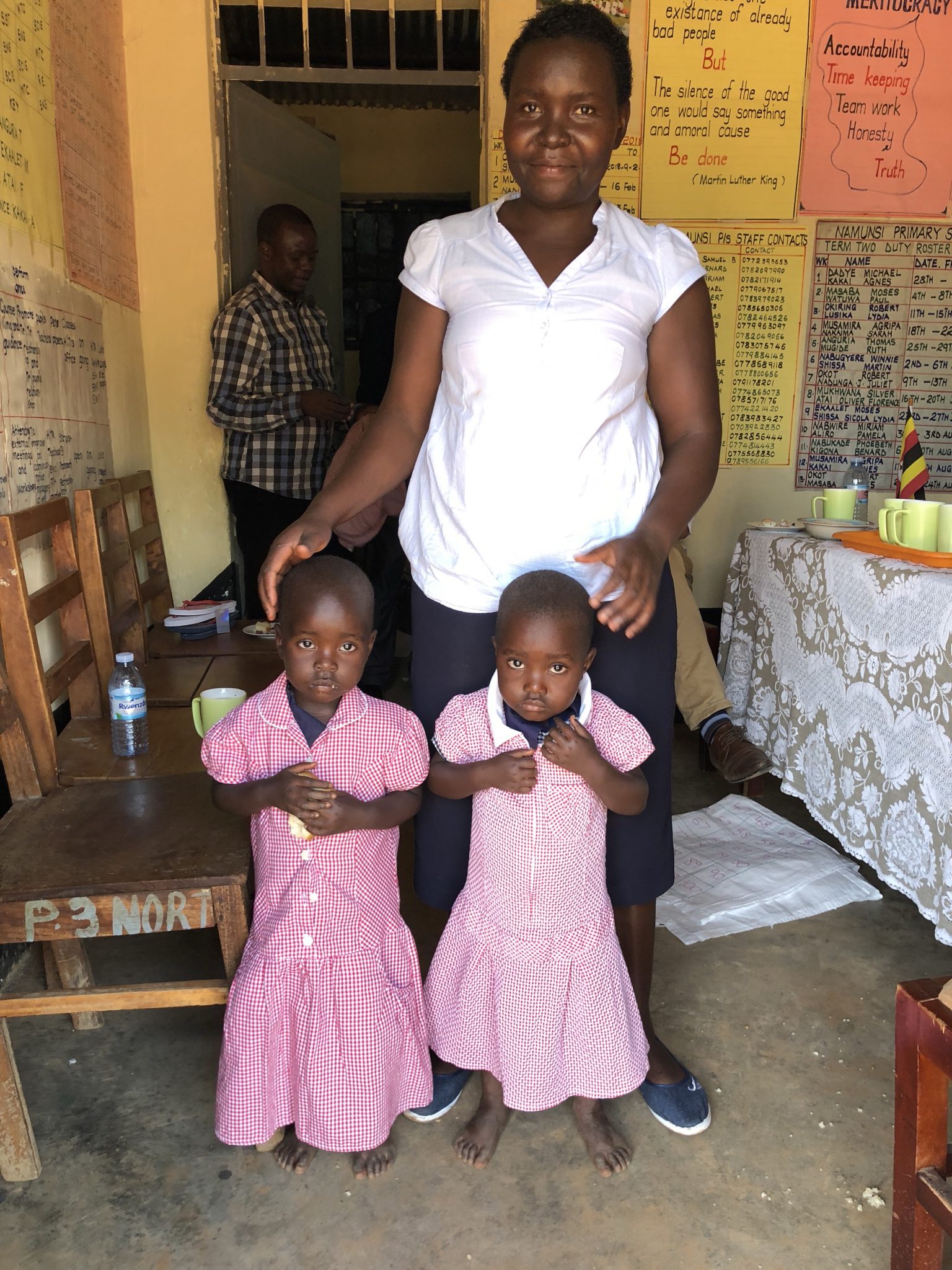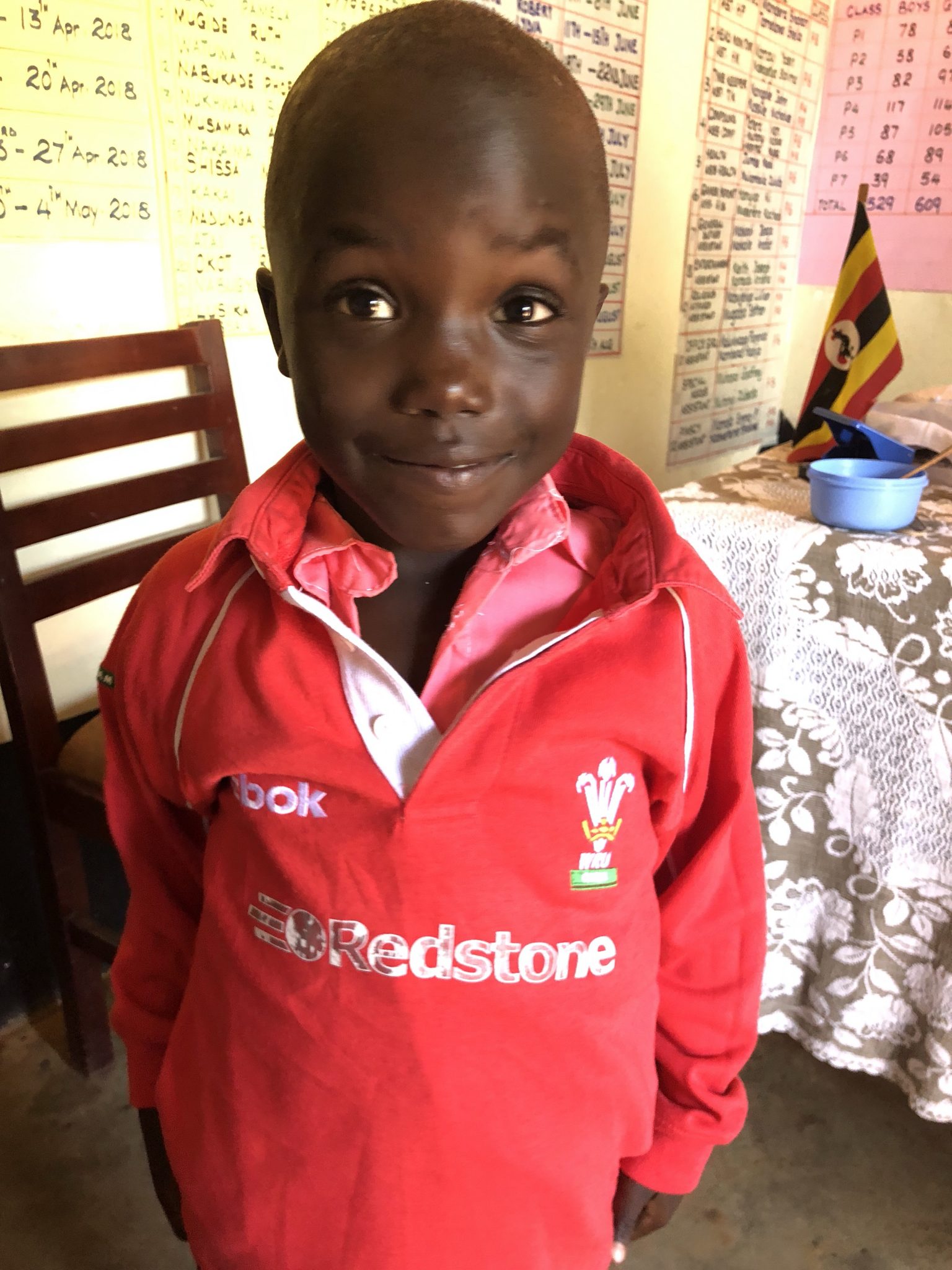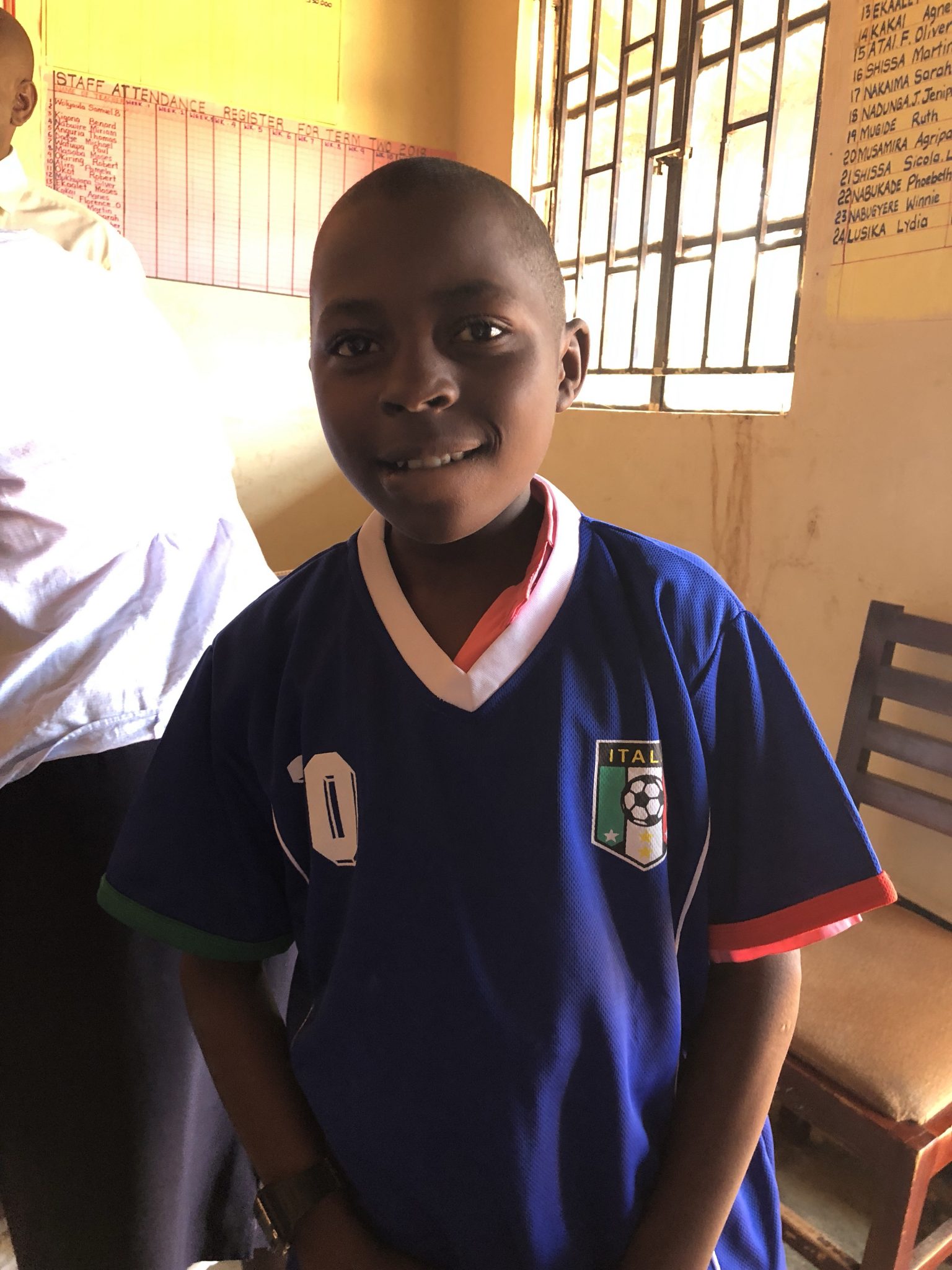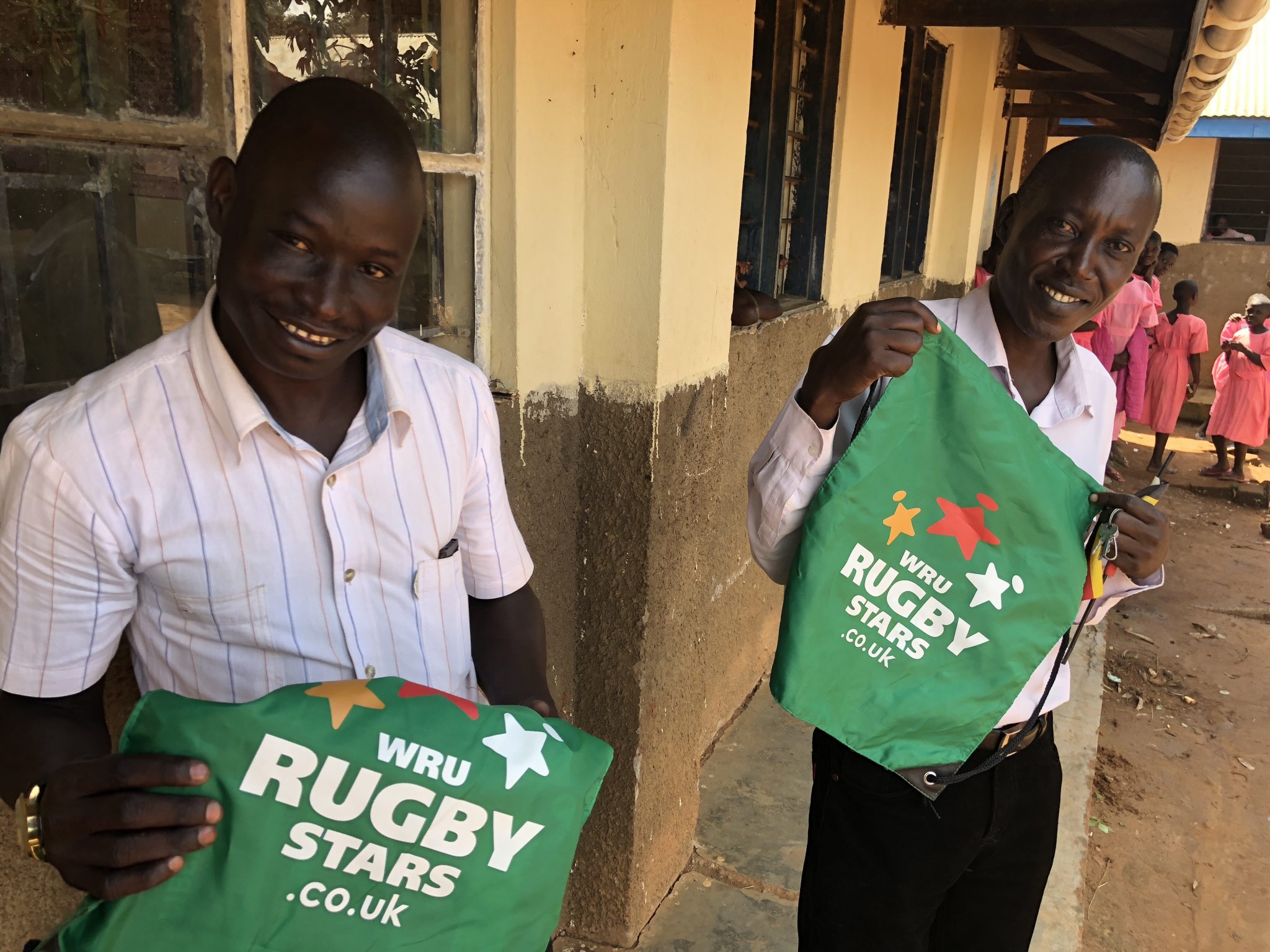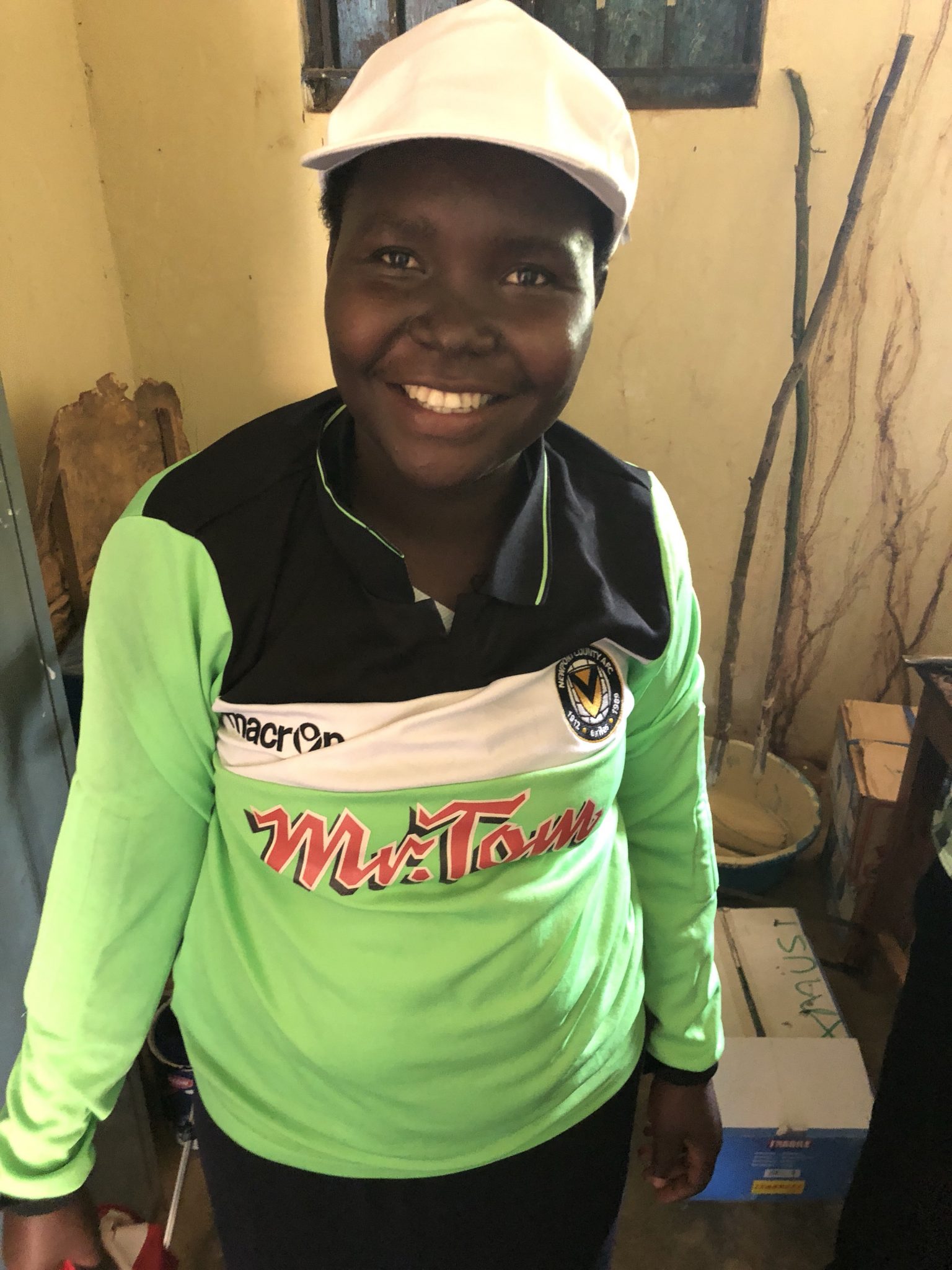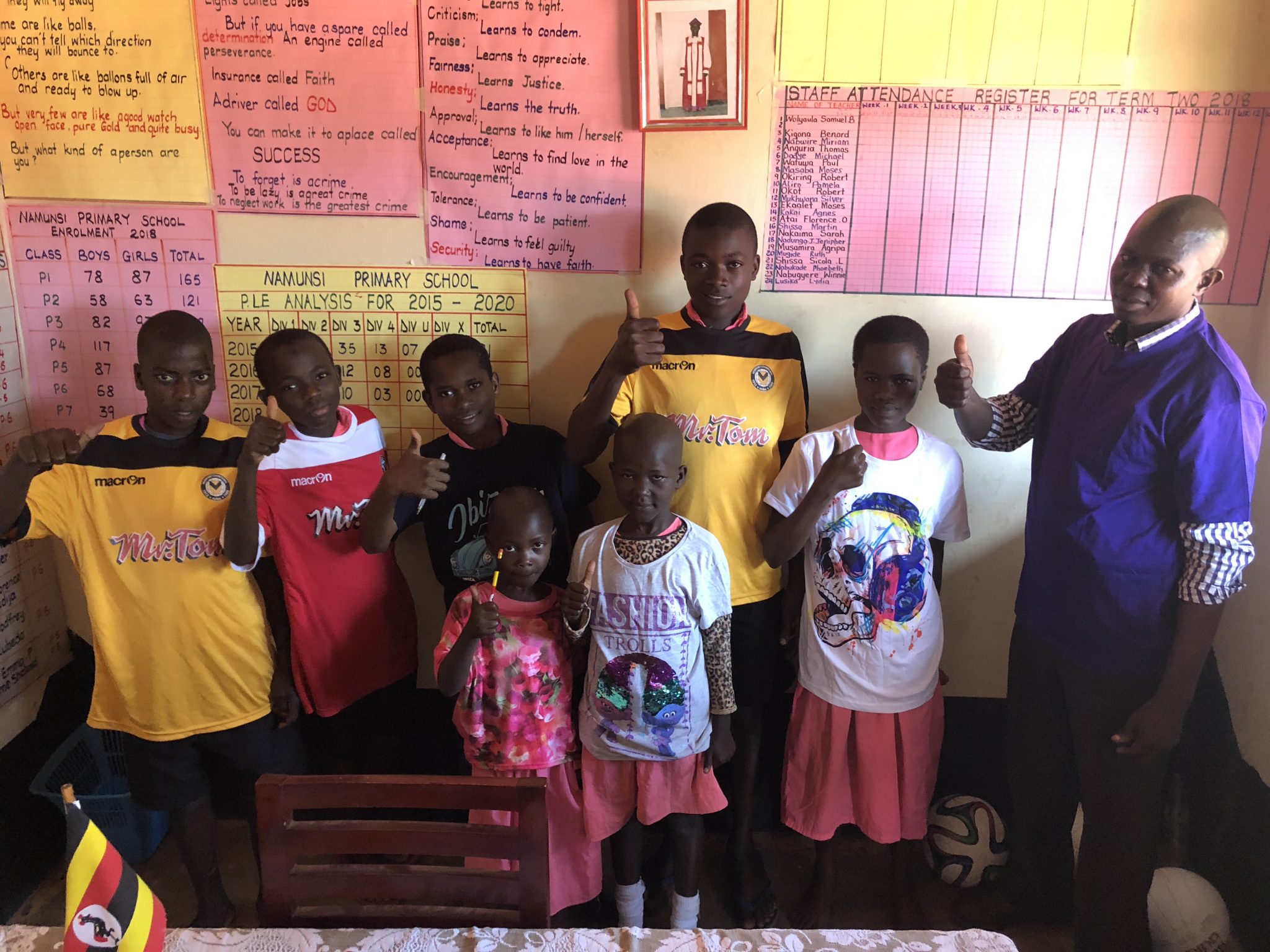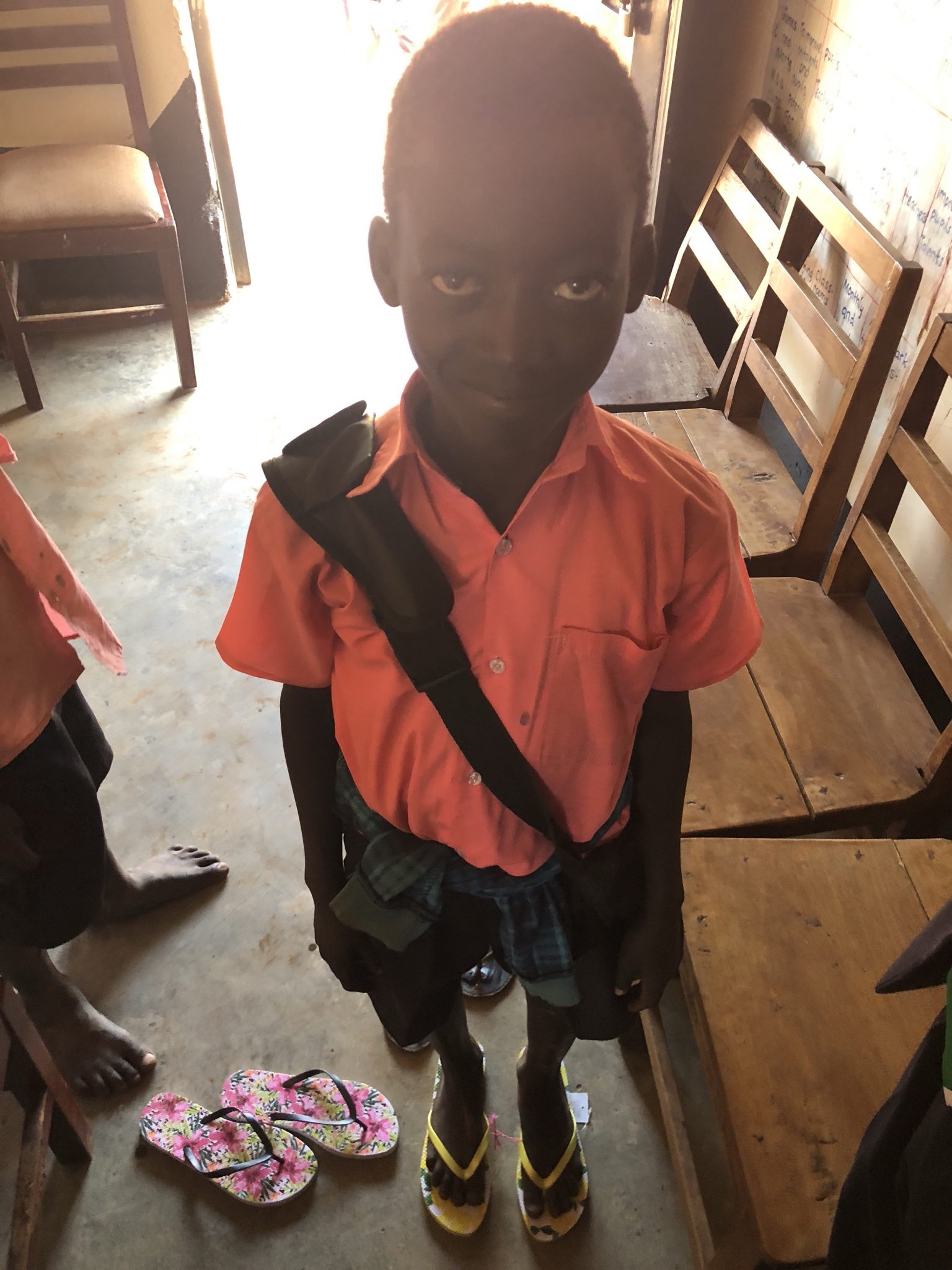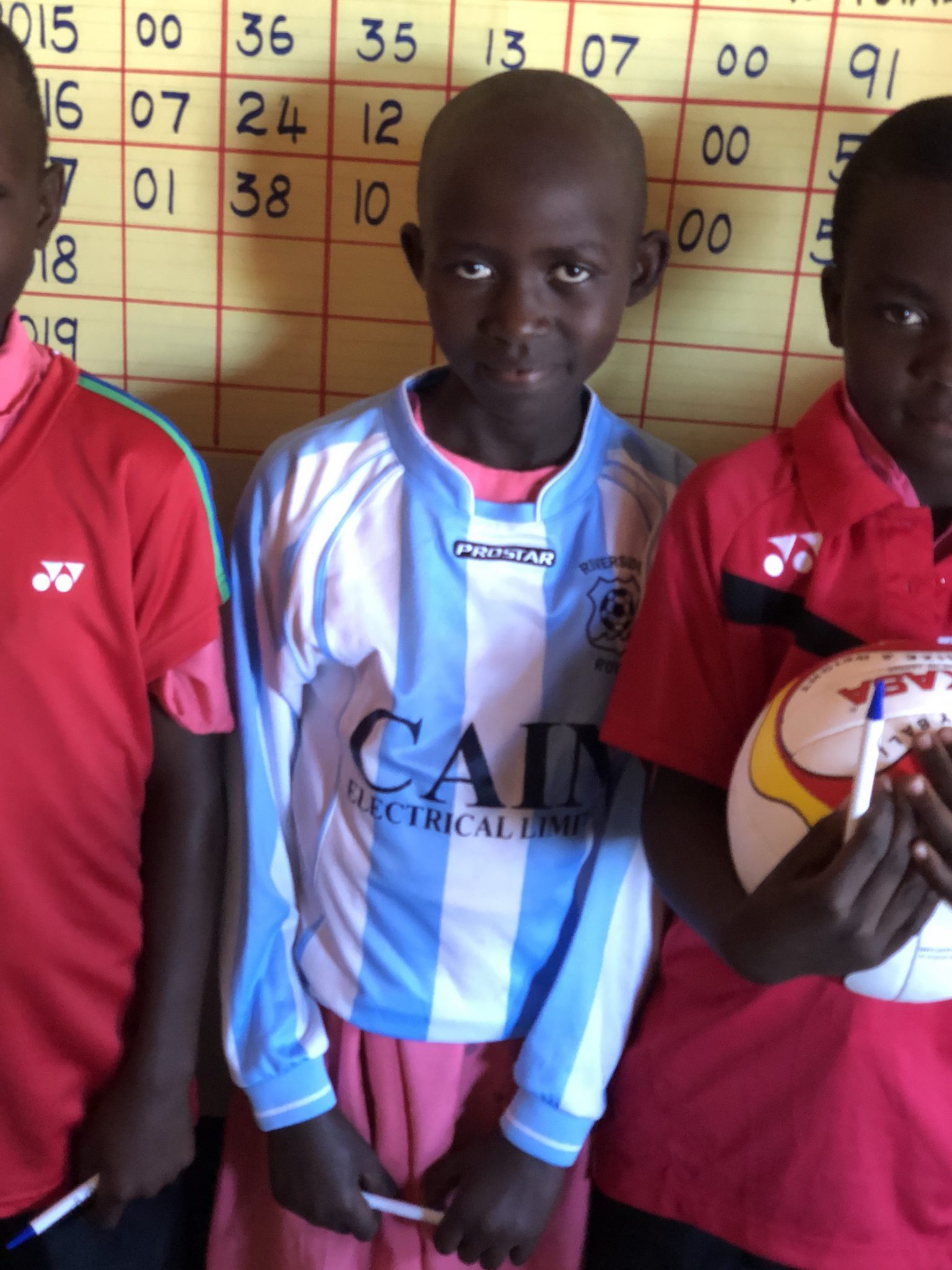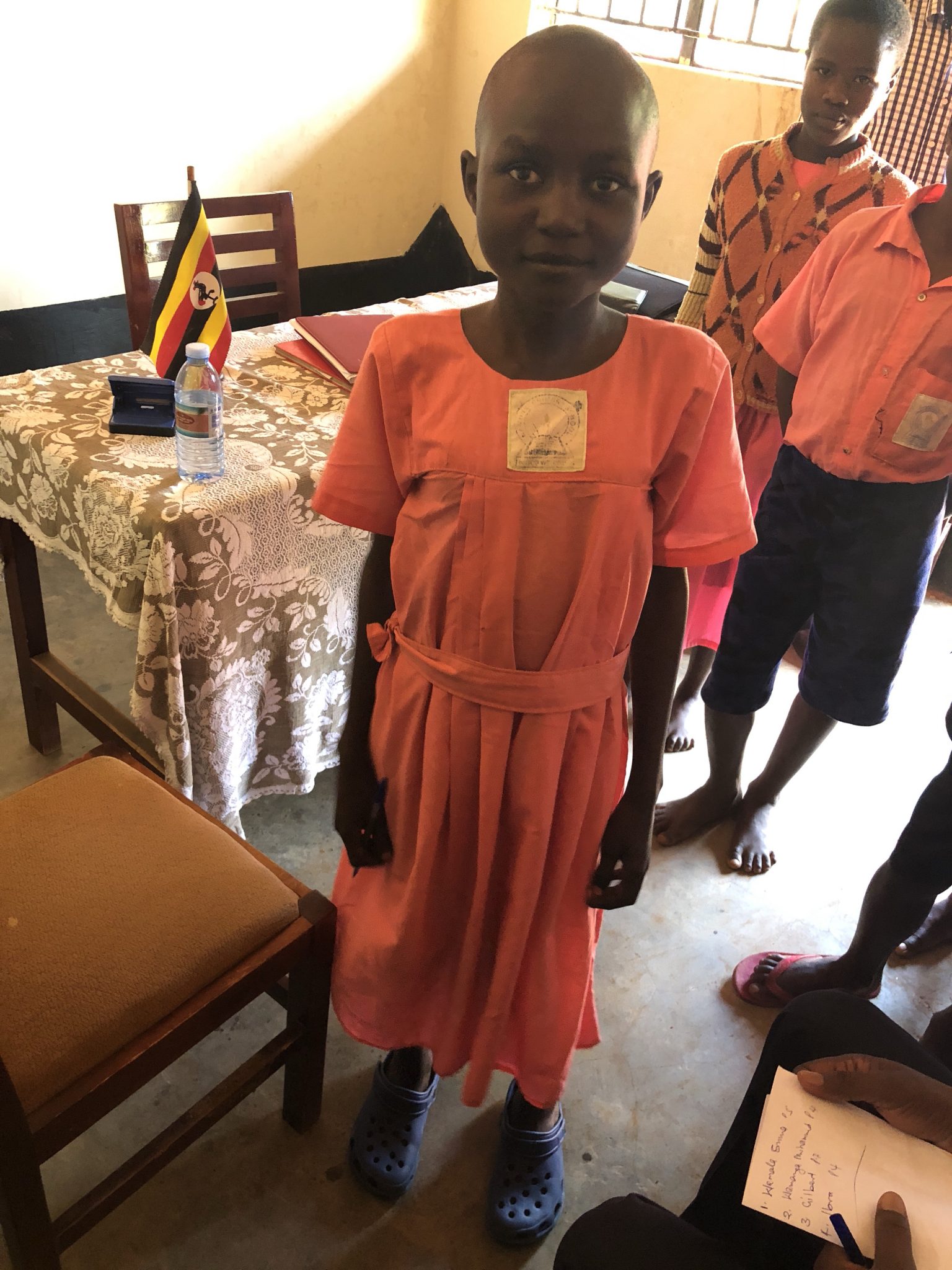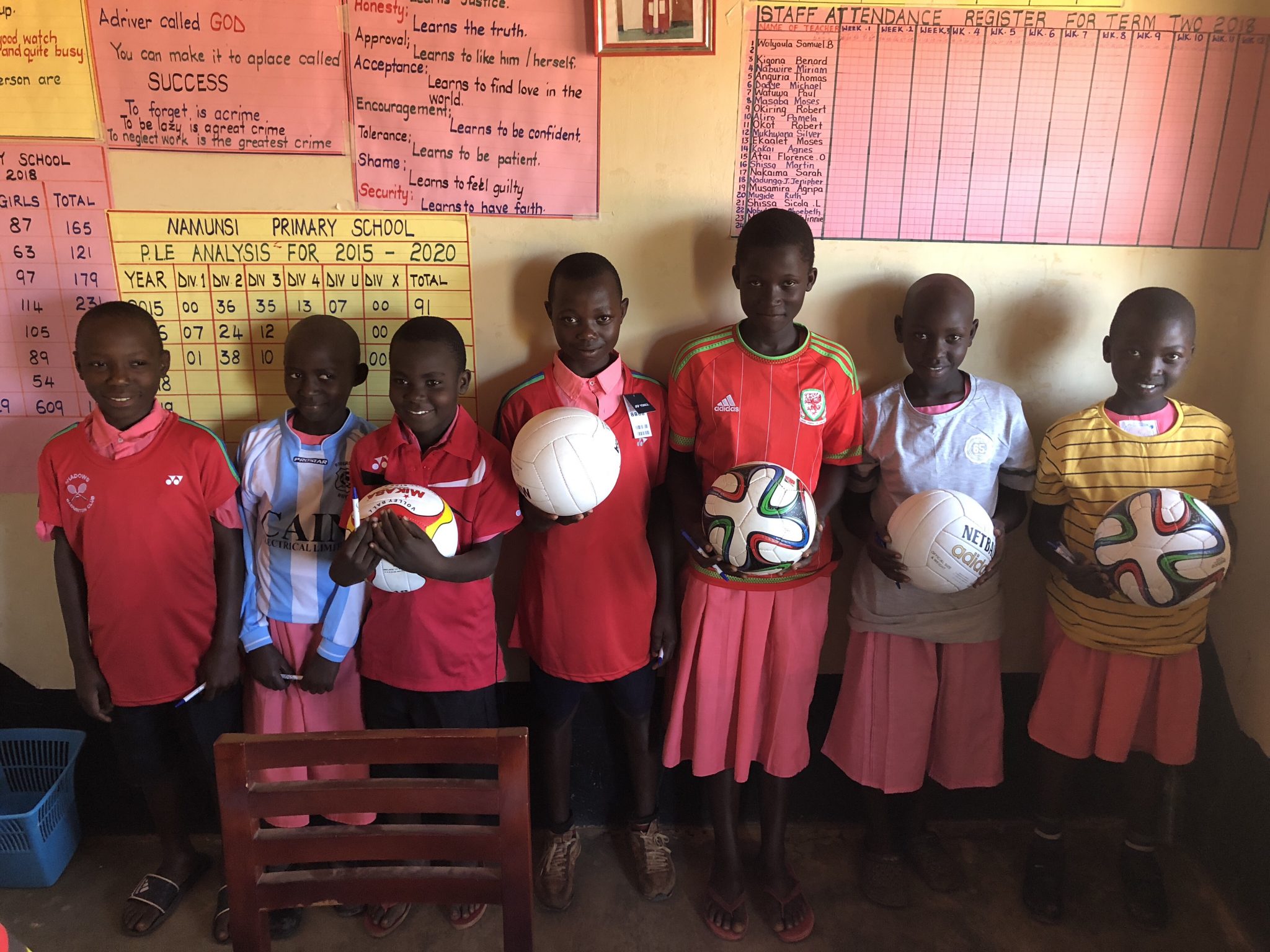 It soon came time for the children to return to class and, as had been arranged in our new Whatsapp group, containing Mr Walyaula, we set off to classes to ask the children to write back to our schools. Mr Mansfield set off to P7, whilst Mr Prewett had the job of juggling letter writing with P6 and P5. With both introducing their letter writing to the classes, the children then received their letters from St Julian's and Mount Pleasant and, with an initial buzz of excitement settled down to writing back quickly. They were very keen to read the latest news from their penpals and sat their very quietly, writing away.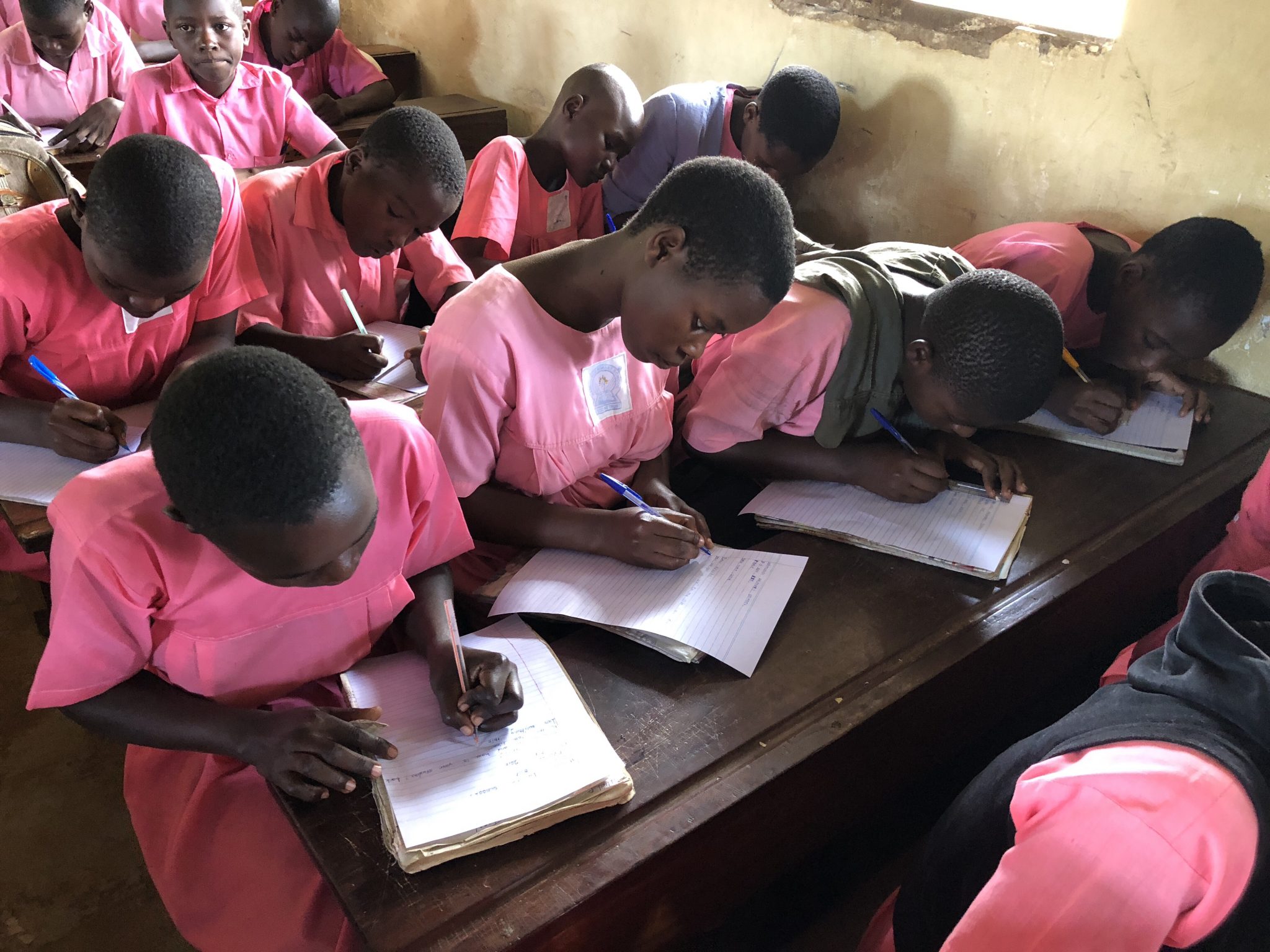 Finishing up writing the letters before lunchtime arrived at 1pm, Mr Mansfield and Mr Prewett then began to join the children for some of their lunchtime games. The field became a hive of activity and the children were clearly making the most of their resources; particularly enjoying the new goalposts, balls and volleyball nets which had been set up. Many of the children also chose to follow Mr Prewett and Mr Mansfield around the school, as they talked and played with the children.
Knowing they could make video calls, Mr Prewett and Mr Mansfield began calling some of their friends, family and colleagues to share this wonderful experience with them. It was great to be able to get hold of some of the people who have been so supportive in helping with our trip and they seemed to greatly enjoy being able to see the children in Uganda, live. Mr Walyaula, Joseph and some of the other teachers particularly enjoyed talking with the people whom we were video calling, including Mr Rees, Mrs Orford and even Mr Prewett's Mum!
After enjoying a little more football and volleyball with the children, Mr Prewett and Mr Mansfield were beckoned back into the office where Mr Walyaula had arranged for a delicious spread to be put on. Mr Mansfield needed a 'short call' before lunch and so took a visit to the 'long drop'… not a pleasant experience!!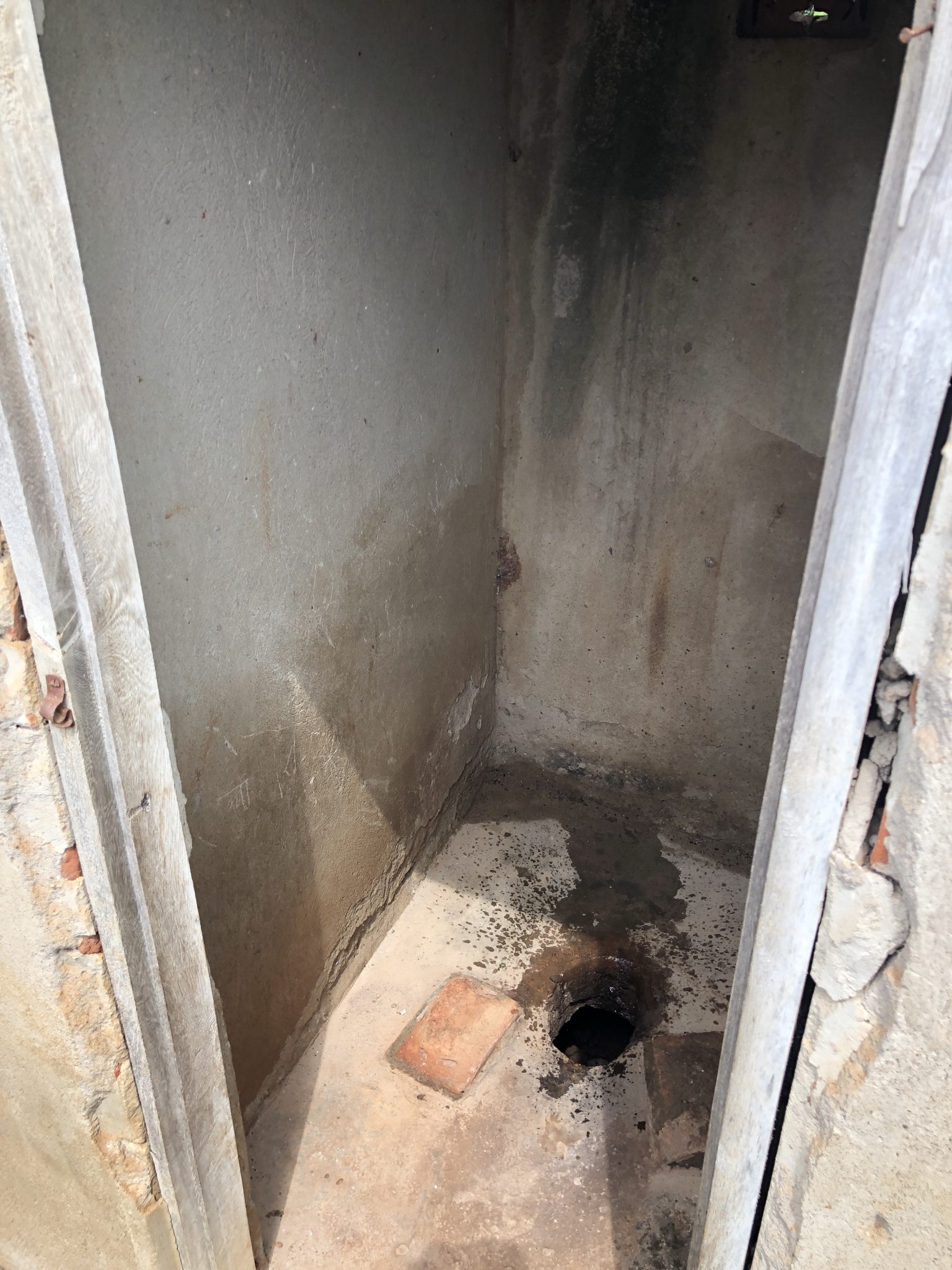 The food that Mr Walyaula's cook had prepared was delicious!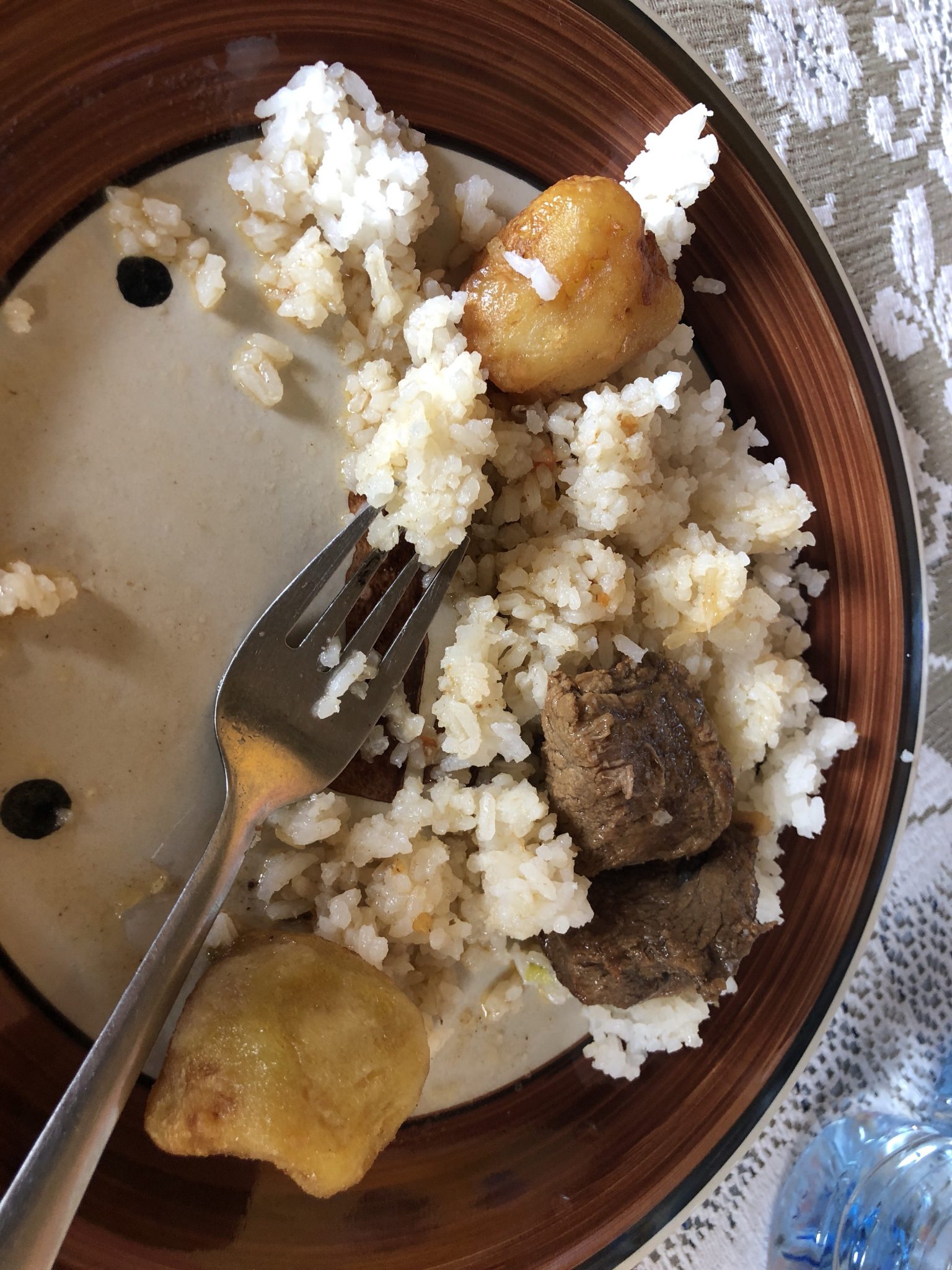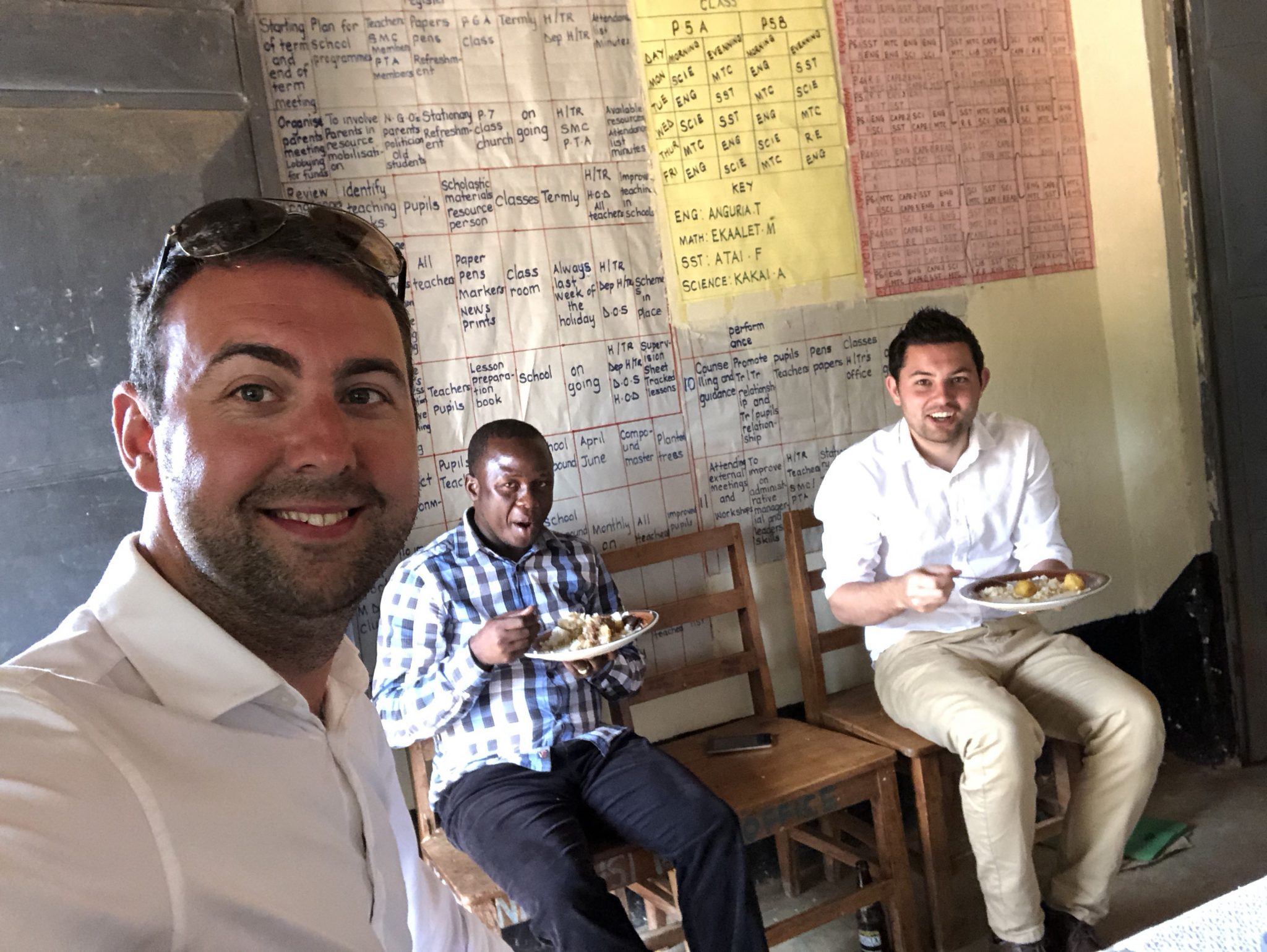 This threatened Joseph's wife's title for 'best meal' we had eaten in Uganda yet; a delicious combination of beef stew, rice and 'irish potatoes' (roast potatoes). Both Mr Mansfield and Mr Prewett were incredibly grateful for the food after what had been a busy and whirlwind morning.
The group sat and talked some more before it was again time to return to class. Mr Prewett gave out some photos of the children's penpals from back in Wales whilst Mr Mansfield showed the children some videos and pictures from today and the two school's websites. Before heading off, there was one final item scheduled on our programme – a football match! We wanted desperately to see the children enjoying their new goalposts in their new kit and so had arranged for some P4 children to have a match. Mr Mansfield and Mr Prewett chose a team each and joined in for a 10 minute match.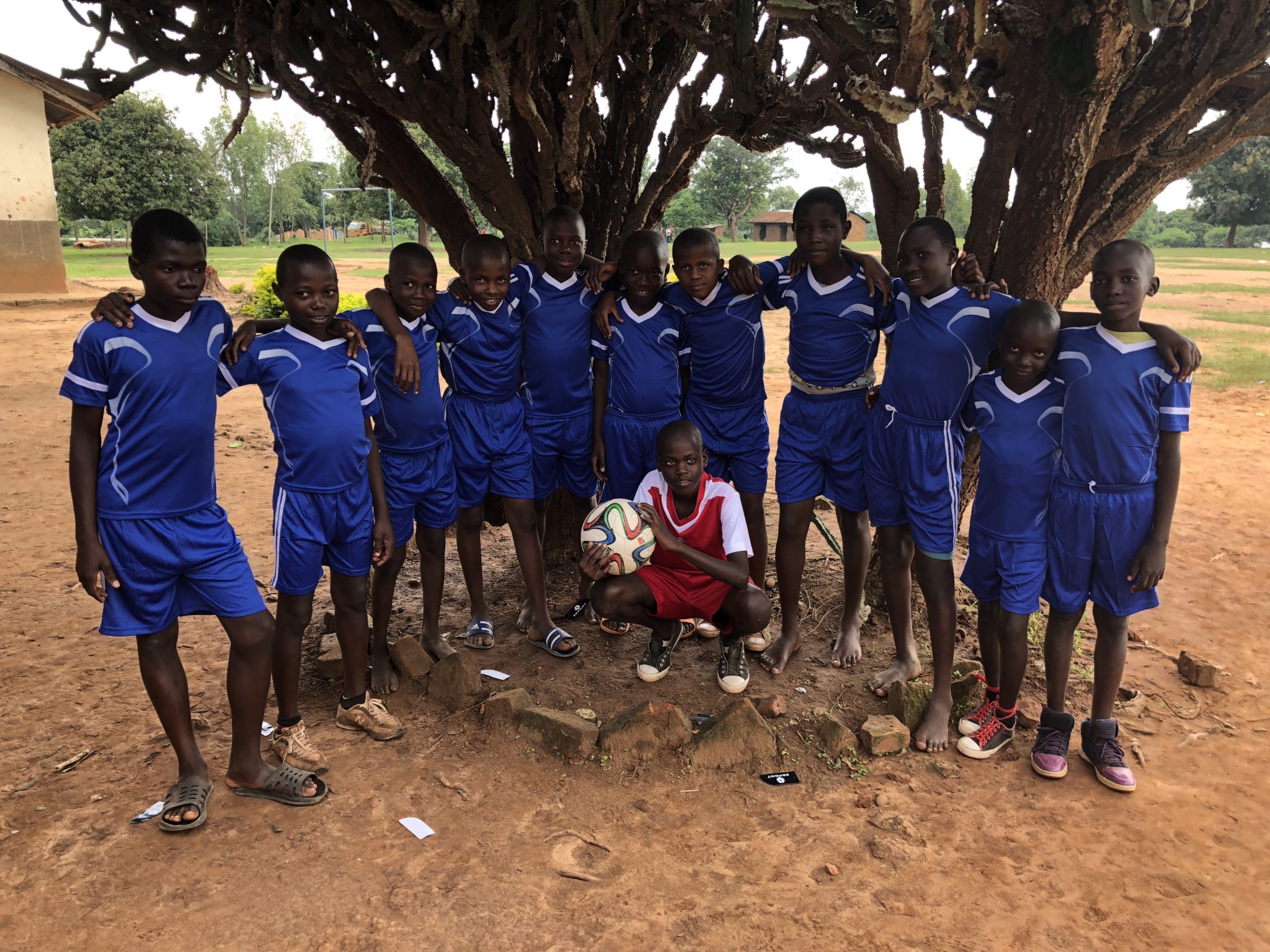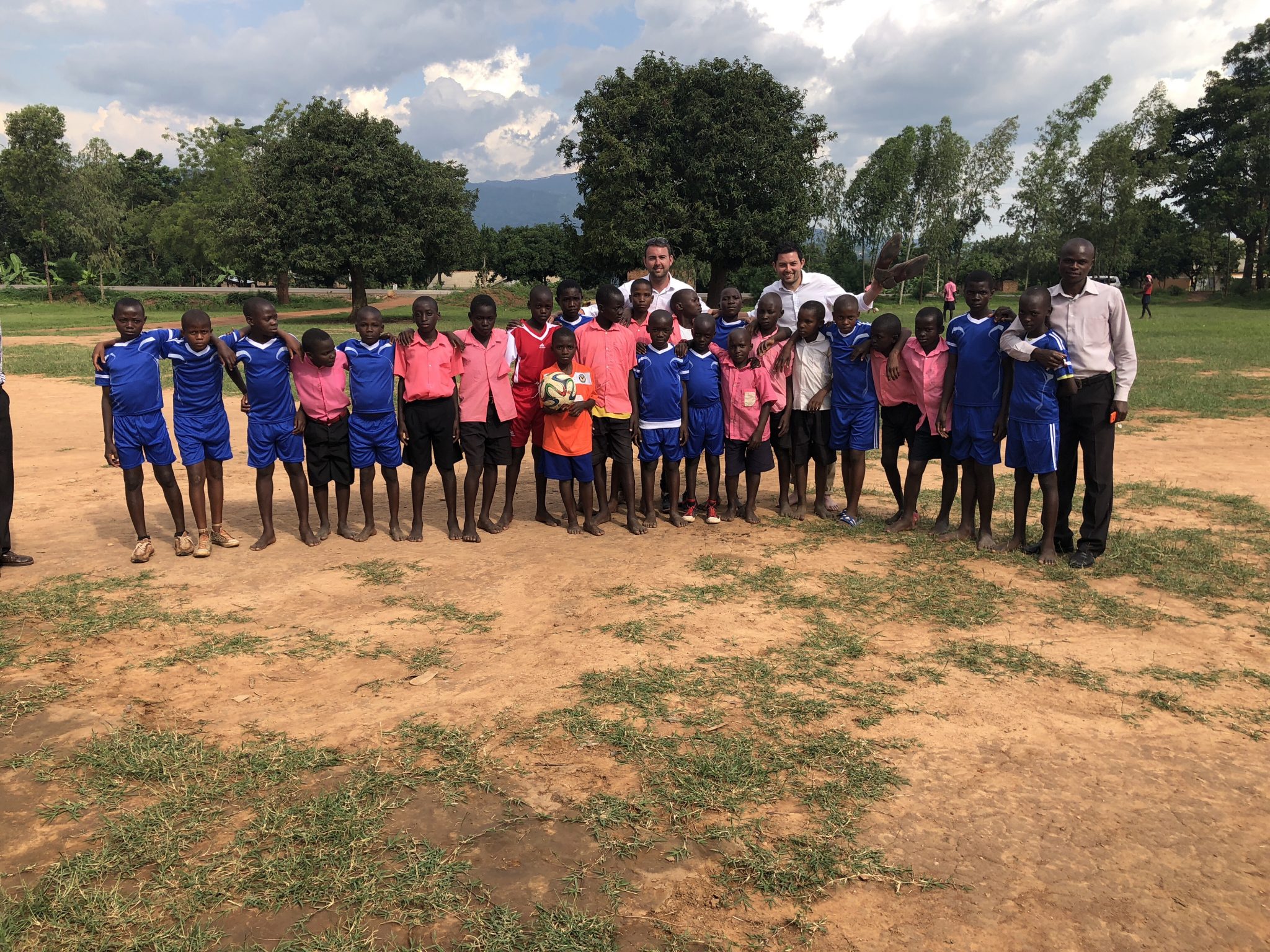 This was expertly overseen by the school's PE co-ordinator who took up the role of referee. Despite attempts from Mr Mansfield to 'give his team some help', he remained resolutely neutral. As it turned out, Mr Mansfield was wise to plead with him for extra help, as it became clear that Mr Prewett's team, decked in their new kit, dominated the first half. Rushing around on the field from end to end was exhausting work and Mr Prewett and Mr Mansfield spent a significant part of the 5 minute half walking alongside each other, trying their best to look as if they were involved in the game. The halftime whistle blew and the teams changed ends, with the scores still locked at 0-0.
Mr Prewett decided that he needed to take decisive action in order to improve his team's chances. Having been sliding around a little during the first half, he decided to take both his shoes and socks off for the second half. This drew much laughter from the children who, quite clearly, did not expect one of their visitors to go barefoot! The referee asked if Mr Prewett was sure he wanted to play barefoot, pointing to the still muddy patches which  he would now be attacking in the second half and then also to a goat tethered nearby. Not wishing to think about what he could be running through barefoot, Mr Prewett told the referee that, when he was younger, he "used to play like this all the time"; although not untrue, this was a slight exaggeration and would have been under very different conditions!
The second half began and it was clear that both teams had a renewed determination to win. Mr Mansfield's team began to become much more attacking, threatening on the counter-attack on several occasions. Attacking the muddy end, with only a minute to go, Mr Prewett's team won a corner. One of the children passed directly to Mr Prewett and, in what can only be compared to Gareth Bale's wonder goal for Real Madrid in the Champions League final at the weekend, Mr Prewett stepped past a defender and curled the ball majestically into the bottom corner of the goal. His team went wild and, slightly over-excitedly, Mr Prewett ran back to the halfway line, combining Alan Shearer's 'arm up' goal celebration with the Gareth Bale 'love heart' gesture towards the onlooking crowd. This brought much laughter and giggling from the onlooking children. With what could only be a matter of seconds left, Mr Prewett was sure his team would win. From here, time seemed to go very slowly, with Mr Prewett leaving it a few minutes before asking the referee "How long is left?". "30 seconds", came the reply. After some frantic goal-mouth action from a break away attack, Mr Prewett's team scrambled the ball clear and the final whistle blew. "I told him to make the half longer", Mr Mansfield confessed, "But it still didn't work!". Mr Prewett's team had run out victorious and the children all gathered for a lovely group photo, marking the inaugural football match at the school.
With storm clouds gathering in the distance, the time had come to head back to the guest house. Having much less to return with, Mr Mansfield, Mr Prewett and Joseph jumped on some Boda-Boda and headed back home. Joseph kindly agreed to carry the large suitcase of gifts and teaching props that Mr Mansfield had brought.
It had been a long day but undoubtedly the best day so far. On the return journey home, Mr Mansfield and Mr Prewett discussed what an incredible day they had just had, reminiscing about their favourite moments from the day. It was nice to return to our accommodation fairly early and to take some time to enjoy an evening meal before heading back to our rooms at a reasonable hour to write up the blog and get to bed before midnight for the first time this trip!
Another exciting day ahead tomorrow, as we travel to Busiu Primary School; the school that St Julian's linked up with back in 2015. We look forward to meeting the new Headteacher there, Mrs Napokoli and seeing how the school has got on over the last few years.