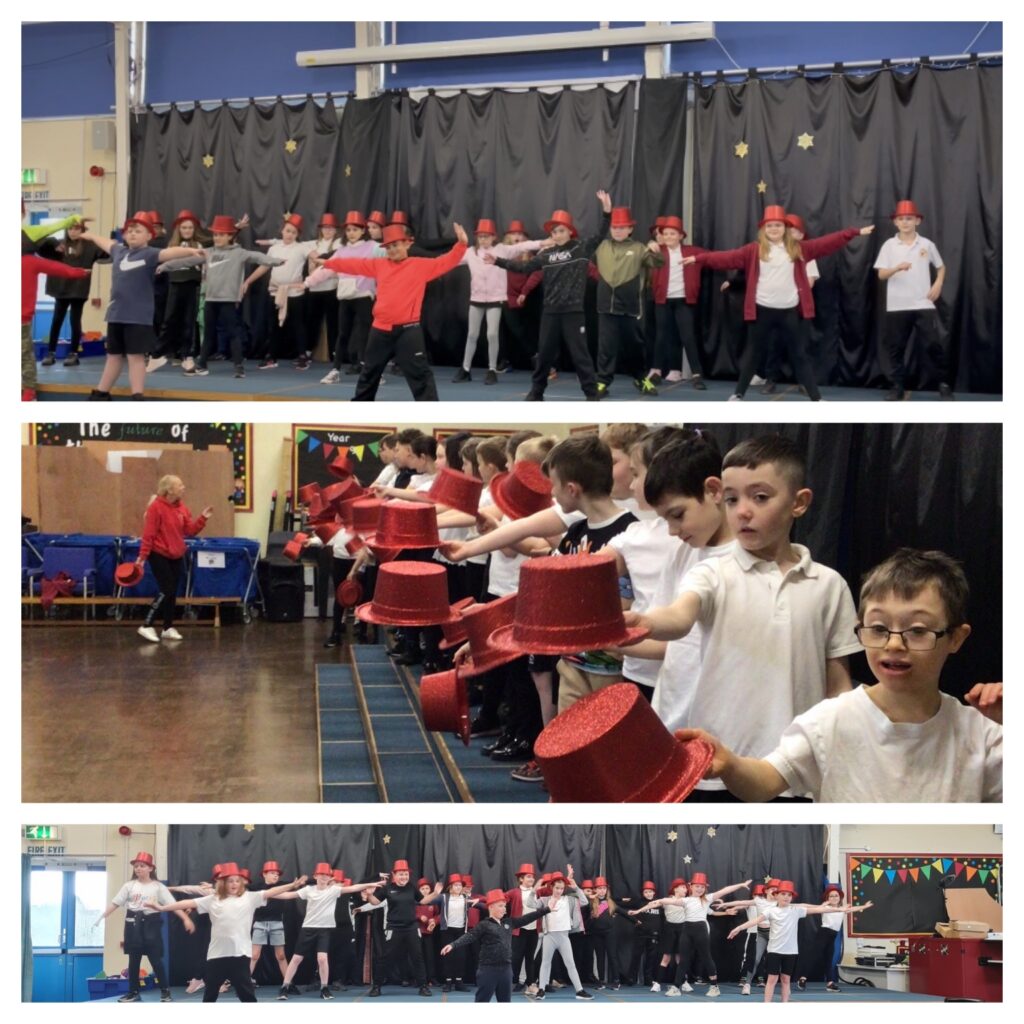 We had an 'out of this world' start to the Spring Term! As part of their investigation into the Solar System, children used salt dough and made 'Planets in your Pocket' zigzag books to help them understand the order and relative sizes of planets. Additional research of these planets led to further questions being posed such as: Why has Pluto been downgraded to a dwarf planet? Fortunately, we had a virtual visit with Nick Busby from Usk Astronomical Society, who was able to provide an explanation to this question and many others. He was also able to tell us which constellations to look out for when stargazing in our stupendous night skies. Having captured the children's imaginations, this stimulus led to rich, descriptive language being employed in their 'Mars, Bringer of War' poems, which were performed with gusto and positively evaluated by their peers.
The Tardis-like 'Reflection Tent' has been a new, valuable resource that Y5 pupils have been incorporating in their learning. They have been able to use it to quietly reflect on work or offer their opinions on particular issues, using Seesaw or Flipgrid.
As part of their STEM work, The Smallpeice Trust (yes, it is spelt that way) shared their passion for engineering by setting a challenge. Children were tasked with taking on the role of aerospace engineers, which involved designing and building rockets for launching a satellite into space. These rockets were then tested to determine which designs worked the best. Fair Tests were carried out and they then investigated how angles and payload (weight attached) would affect the range of their rockets.
Our theme for this half term has been Digital Detectives and each week pupils have been set tasks by the NDEC (National Digital Exploitation Centre), who work with schools to promote the cyber industry – as a rewarding career, as well as to upskill children with online safety and develop pupils' digital competency. The children took on the role of forensic investigators as the project was based around the fact that cyber crimes can be solved because everything that is connected to the internet leaves a trail of data behind. Problem solving, working collaboratively, and understanding cyber security techniques have been at the centre of these activities. The children have been thoroughly engrossed and shown great enthusiasm during each of the set tasks, which have included: How to Rob a Bank, Mock Crime Scene Investigation, Automotive Forensics, Coding Cars, Investigating Forensic Evidence, Building a Case and A Day in Court. Children were particularly excited to don hazmat suits, then equipped with notebooks, iPads (for taking photos) and evidence bags, swarmed over the recovered Jaguar I-Pace, that had been brazenly stolen from outside the NDEC. Forensic evidence gathered and digitally investigated, they then wrote up their crime scene reports, ready to prosecute this offender in 'court' and bring them to justice. A big thank you to Mrs Kenney, a magistrate and one of our Y5 parents, who clearly explained court proceedings as well as answered our wide ranging questions during her virtual visit.
Why not have a watch of the video of our investigation of the stolen Jaguar:

Much of our literacy work this half term has been centred around our crime solving theme. Who would have thought that the school grounds would prove to be such an engaging stimulus for writing our suspenseful sagas? This unexpected source provided a wealth of photographic opportunities, which collectively provided inspiration for atmospheric settings in these short stories.
A visit from Drama Queens was a real treat. Learning, practising and finally performing a dance routine was no easy feat as the children had to use their noticing skills and really persevere with each part of the choreography. 'Let's Face the Music and Dance'… they certainly did that – a super effort!
This last week has seen us busily preparing for the Eisteddfod that will take place after the half term break. Children have been fully embracing this exciting event, which has included learning the recitation, writing it up as a poem using their best handwriting, carefully sketching a miner's lamp and writing their adventure stories, 'Trapped' – set in a Victorian coal mine.
The second half of the term will continue to be full of fun and memorable learning experiences, including three weeks of swimming, which always turns out to be one of the highlights of the year for the children.
Enjoy the half term break and we will see you all shortly.