It was an early start this morning! The team met at 1:00am outside a very dark St. Julian's Primary School, with suitcases piled high ready to travel to Birmingham Airport. Mr Rees and his wife very kindly agreed to wake up in the middle of the night to drive us all to the airport in the minibus! The journey seemed to take forever due to so many motorway closures and diversions whilst road works were being carried out.
We arrived at Birmingham airport just after 3am and stacked our 13 suitcases onto the luggage trollies ready to steer them carefully into the departures terminal.
There was just enough time for a quick group 'selfie' (see above) before queuing up to check in.
At this point, I'll quickly introduce this year's team.
We have…
Miss Butcher, Mrs Lewis and myself from St. Julian's Primary School;
Mr Rowlands and Mrs Tyler from Alway Primary School;
Miss Badat and Miss James from Eveswell Primary School;
Miss Chard from Rogerstone Primary.
All have heard about our previous visits to Uganda and were keen to get involved in developing their own links.
With so many suitcases between us, it was not a quick task. Savanna, the check-in desk assistant, was extremely helpful and surprisingly happy and upbeat considering 3 in the morning, however her manager didn't seem too thrilled with the never-ending pile of suitcases we were loading onto the conveyor belt. Miss Butcher did a good job of making small talk with the other check-in assistant to distract her from noticing that both of her suitcases were 5 kilograms over the 23kg limit! After all the bags were checked in, we had the issue of a large box which contains a laser printer/scanner/copier for Busiu Primary School.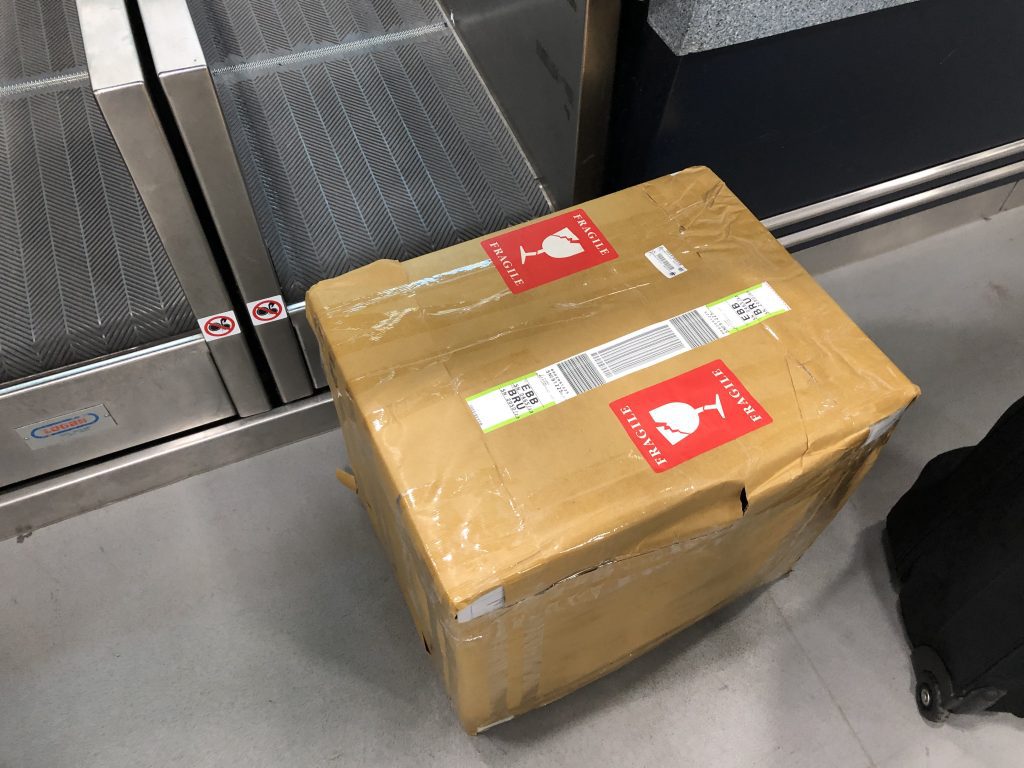 Savanna was willing to count it as an extra piece of hand-luggage and check it in for free, but her manager immediately put a stop to that and insisted that we pay 180€ to bring the printer with us! After some tough negotiating, we got her down to 60€ and she sent us on our way to security.
This again was a bit of challenge, particularly for Mr Mansfield, who was carrying a laptop, three laptop batteries, 3 Amazon Kindle Tablets, 2 iPads, 2 solar-power charging banks, 2 projectors and enough power cables to rewire the entire national grid, in his hand-luggage. Needless to say, the worker checking the X-ray images of the cases as the went through the scanning machine paused for some time when he saw the spaghetti junction of wires in Mr Mansfield's suitcase and insisted it be emptied, searched and re-scanned. After the slight delay, we were through and ready to depart. There was just enough time for a quick coffee and a pastry and then we boarded a rather small, cramped city-hopper plane and departed Birmingham, headed for Brussels.
After the short flight, we landed in Brussels and sat around a small table for another coffee and breakfast. Mr Mansfield and Mr Rowlands enjoyed their scrambled eggs and baked beans.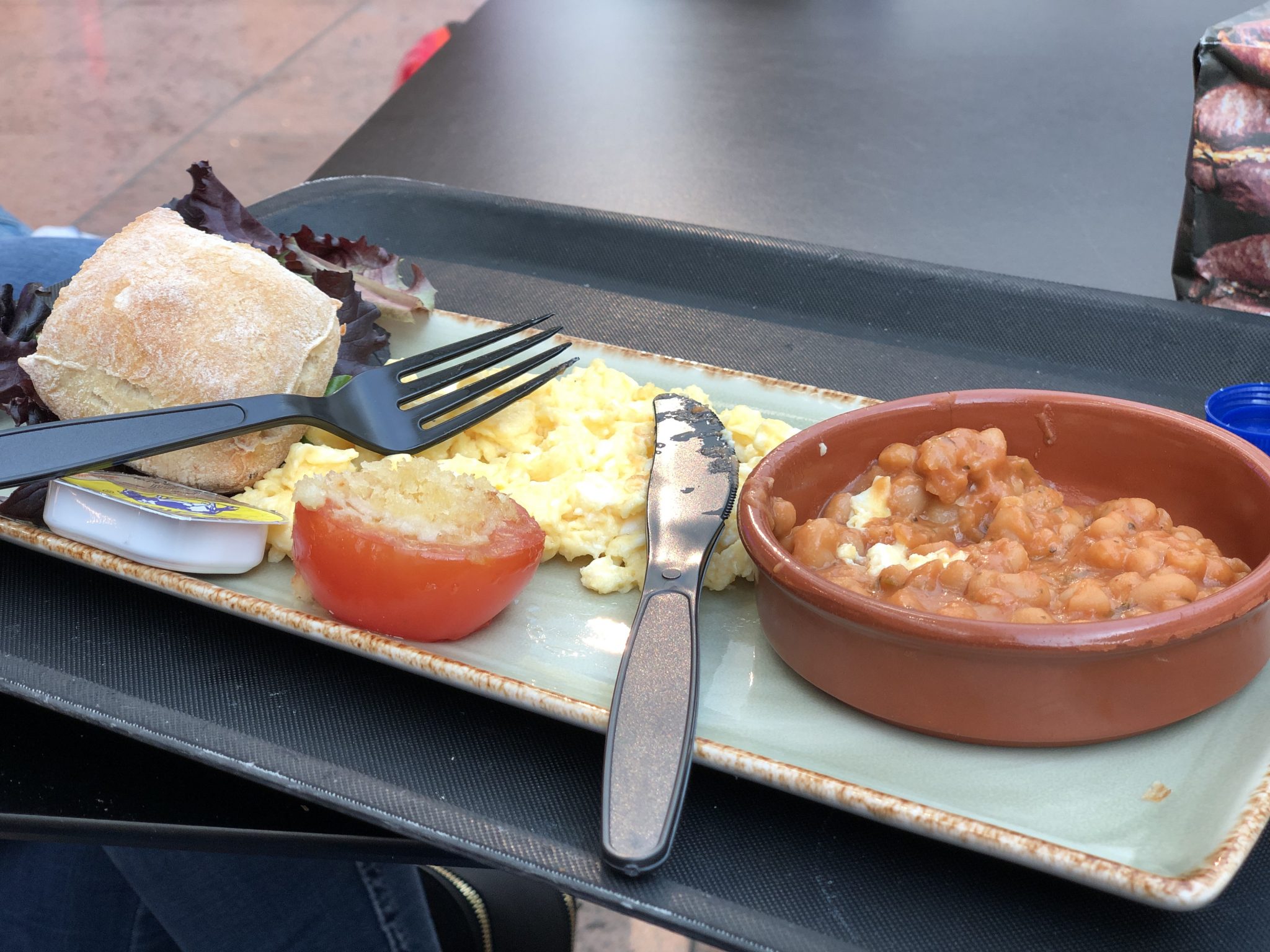 Whist they were eating, Mrs Lewis suddenly realised that Miss Butcher had gone missing. Thankfully, she hadn't wandered too far though… she was having a complimentary hand massage in a nearby beauty shop.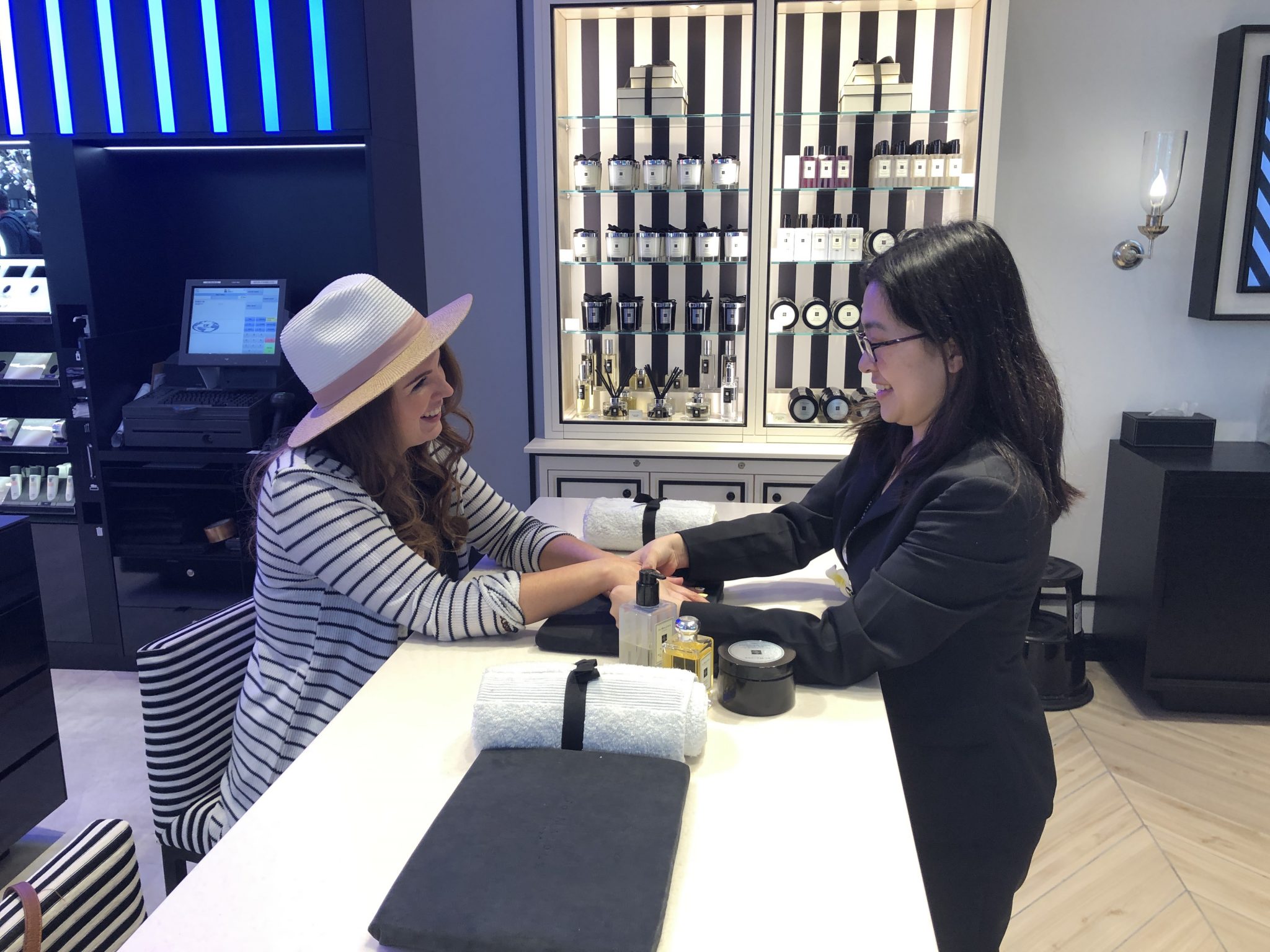 Suddenly, as we were about to Skype call some of the classes back at the school, we realised that our next flight was about to leave in 10 minutes. To make matters worse, there was a 17-minute walk to get to the departure gate we needed. The entire group started a very nervous brisk walk towards the gate when over the tannoy system came the announcement, 'Passengers heading to Rwanda & Entebbe, your gate is closing'. With that, Mrs Lewis yelled "Ruuuuuun"! The group sprinted to the departure area as fast as they could, jumped on the gate transfer bus and then sprinted again to the gate with just seconds to spare. Thankfully, the crew gave us a very warm welcome on board the plane as we stumbled on board, puffing and panting to catch our breath, with red blotchy faces!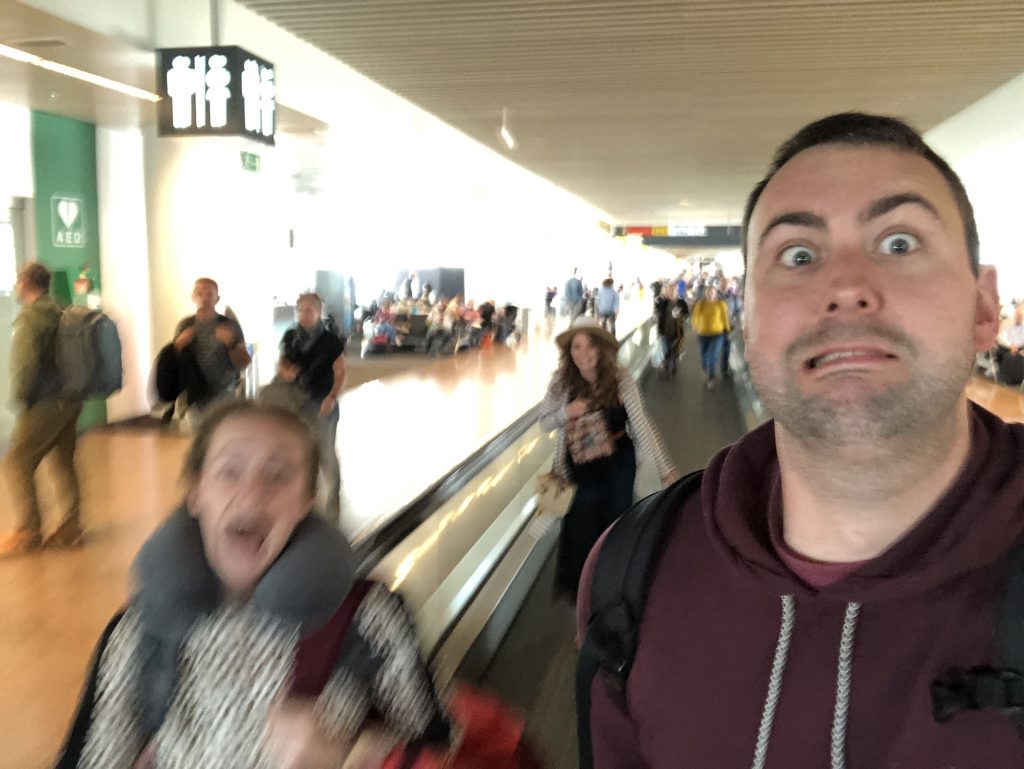 Mr Mansfield managed to Skype Miss Shepherd's Year 4 class before take off and they enjoyed hearing about our journey so far. They were also very excited to see the entertainment system on board. Despite the plane being rather old (which made us somewhat nervous), it had a number of mod-cons! A plug socket, a USB charging socket and a television with a remote control, which doubled up as a telephone and game controller!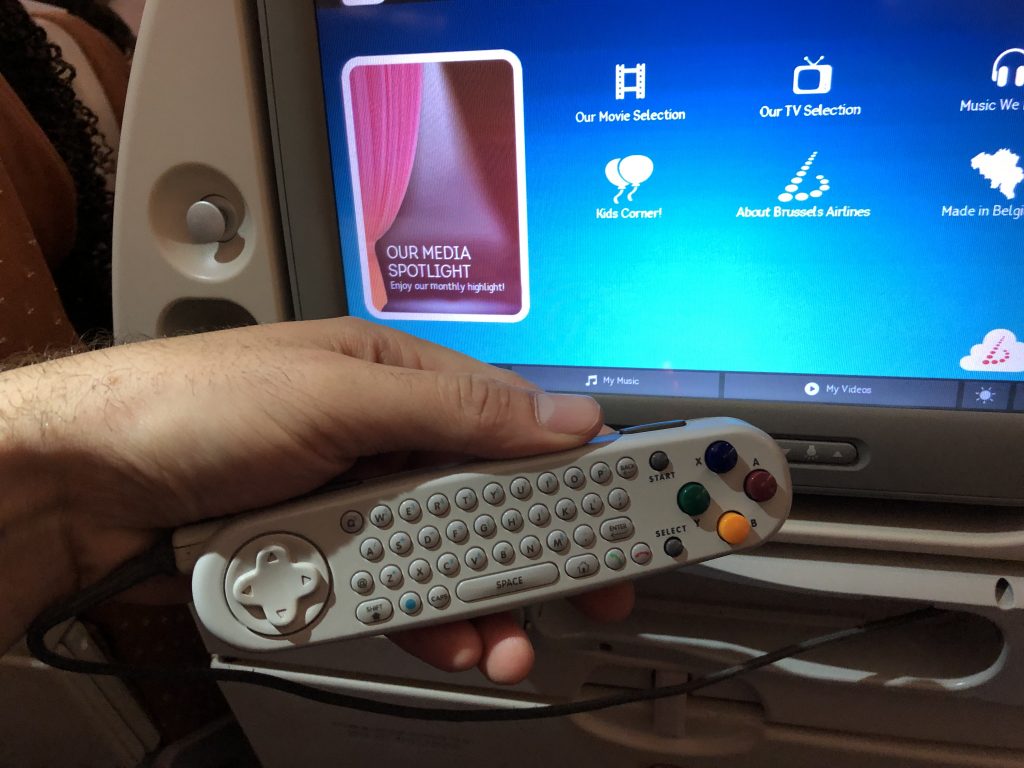 We had a number of snacks during the flight… a chewy beef goulash and a soggy tomato and basil wrap. Having had very little sleep, it didn't take very long for the team to nod off.
After just over eight hours in the air, we landed in Rwanda. Half of the passengers got off the plane, but those continuing on to Entebbe sat waiting patiently.
Another 40 minute flight onto Entebbe and we had finally arrived. It took some time to get through passport security and to collect our bags, but we were so excited to see Joseph and Sam. What was even more exciting is that all of our luggage, including the printer, made it to Entebbe with us!
As we walked out of the airport, pushing our trollies piled high with suitcases, two big huge beaming smiles burst out from the crowds; it was Joseph and Sam!
After lots of hugs and introductions, they guided us to our vehicle in the car park. Shafiq, our driver, was sat waiting patiently for us and wasted no time in loading our suitcases onto the roof rack of his vehicle. It was a much tighter squeeze in his minibus compared to the one we had to take us to the airport at the start of our journey!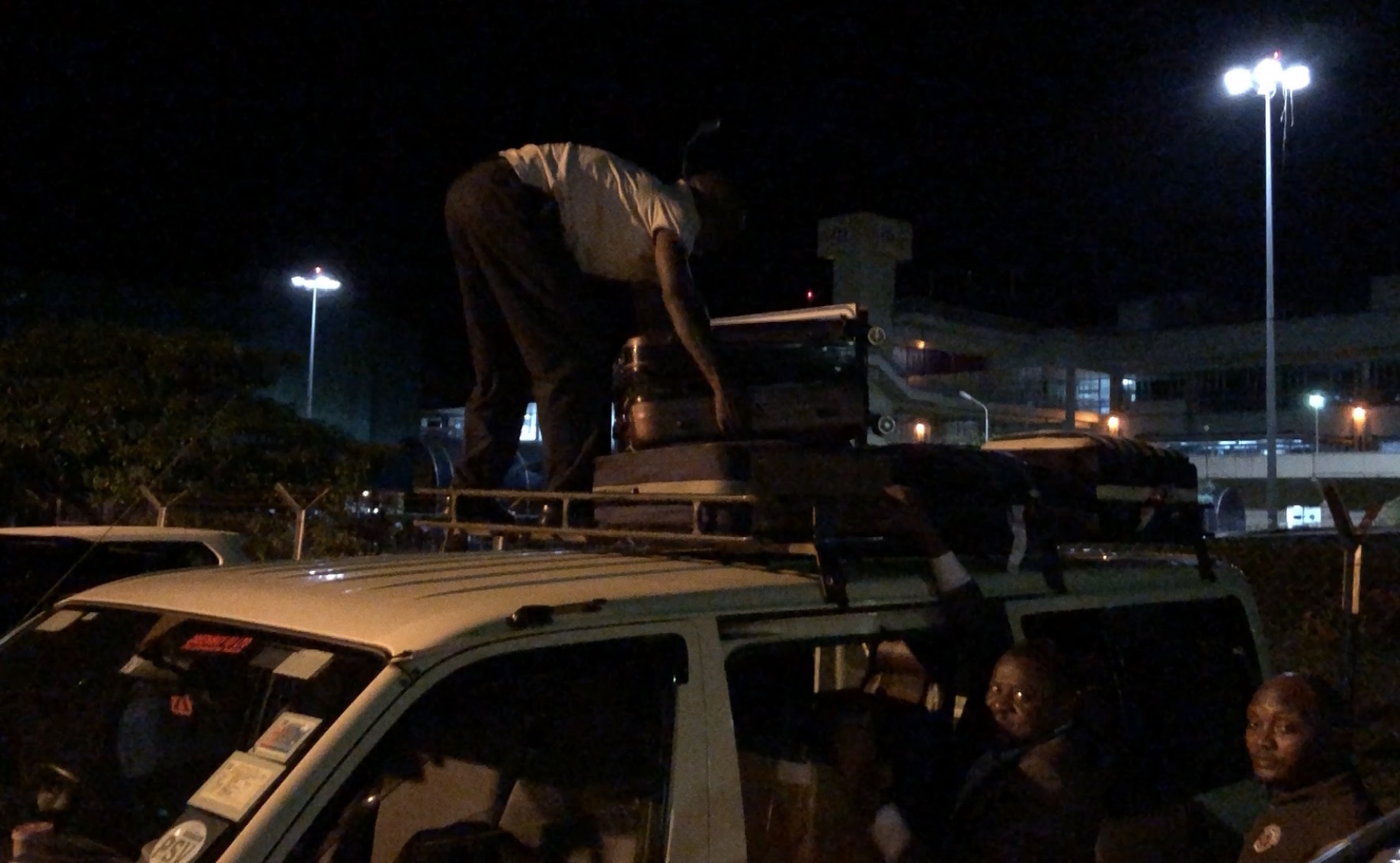 It was a 15-minute drive to our hotel from the airport, or at least it was supposed to be… Shafiq took a wrong turn and we ended up on an incredibly steep, bumpy and slippery slope. The wheels were spinning and mud was flying out from behind the bus as he tried to reverse back up the slope. We were all petrified that the buss was going to tip over! To add to the situation, Miss Butcher shrieked at the top of her voice hysterically 'Our cases have fallen off the top of the roof'! Our hearts sunk as we thought we had lost our precious luggage! However as we looked around to see if we could find it all, Miss Butcher realised she was mistaken and it was only a rectangular shadow she saw on the ground, not a suitcase!
After asking some locals for directions, we eventually reached the J.Residence hotel where we were greeted by Lawrence and Rogers, two members of staff. We sat and had a cold drink and brief meeting in the lounge area before heading to bed. Joseph and Sam gave a short speech to welcome everyone and go through the programme for the week with us.
Before long, we all retired to our rooms ready for more travelling tomorrow, from Entebbe to Mbale.
Nos da!