We have arrived in Entebbe, in Uganda! It has been an extremely long day of travelling, but we are so excited to have arrived! We set our alarms for 2am, an early start. Mr Mansfield set off from his house shortly after 2 and arrived at Mr Prewett's house by 2:30am. We loaded up our suitcases, which completely filled the back of Mr Mansfield's car and also his boot. The majority of the suitcases are filled with clothes, flip flops and pencil cases donated by St. Julian's Primary Pupils.
Before long, we had to take an unexpected detour to St Julian's Primary; Mr Mansfield had realised that he had left an 'important' cable in his office and we had to go and get it! Luckily, this didn't cost us too much time, although the additional stop proved to be fruitless when, digging through his mountains of cables in his office, the cable was nowhere to be found!
Back on the road, we were making good time to the airport until we hit some roadworks right by the car park we were using. Suddenly, remembering he had an email about this already, Mr Mansfield got on his phone to check. Mr Prewett suggested asking a worker on the roadworks for some advice and, upon getting out of the car, the construction worker laughed and pointed 10 metres away from where we were parked – there it was – a (somewhat) dodgy looking destination for leaving Mr Mansfield's shiny car!
We quickly made friends with the gentlemen working in the parking facility and answered their questions about why we were carrying 8 pieces of luggage with us! They had assumed we were travelling in a larger group and had just come on ahead with the luggage and were very surprised that all 160kg was ours! Jeff, our driver on the bus to the airport, was very keen to hear we were teachers, exclaiming "Just the two people I was hoping to meet today!", before telling us all about a master plan he has to help schools out with second hand ICT equipment! Safe to say, I am not sure his proposals were exactly what we need at St Julian's and Mount Pleasant Primary, but his enthusiasm could not be faulted!
Arriving at the airport, Mr Mansfield was most put out that he had to pay £2 for a trolley to carry his suitcases, although it turned out to be the best £2 he had ever spent, as we weaved our 8 suitcases through a particularly packed check-in area! You will be pleased to know that the bags were stacked so well that they only fell off the once and no one was injured!
Having queued for some time to check in, we were told that, to arrange for additional luggage, we had to first go to another area of the airport to get a receipt for the extra bags. Off Mr Mansfield went, leaving Mr Prewett guarding the 8 suitcases. Arriving at the extra baggage desk, Mr Mansfield was far from delighted to see that no one was there. 10 minutes later, a rather unfriendly lady arrived to explain (in her thick Bristolian accent) that she had 'just had to go and grab some breakfast!'. She then proceeded to unpack 6 large cream cakes from her carrier bag. Mr Mansfield was not happy she had kept us waiting when we had a plane to catch and was somewhat confused as to her choice of breakfast (at 4am!).
By now, having taken a detour, been delayed by roadworks and had to wait to sort our additional baggage, things were looking a little tight for time – just an hour until take off! Asking the lady at check in how quick we would need to be, she said "Very quick!", before rechecking her watch and then saying "Just make sure you don't miss that flight!". At this point, I think she could see the look of panic on our faces and tore up our boarding passes, very kindly upgrading us to 'Fast track' check in. This proved to be a life-saver, as we raced through security and made it to the gate on time to take off. Our only slight issue was the check-in staff were insistent on asking Mr Mansfield to put his luggage in the hold, as it was considered 'oversized'. It was a slightly awkward moment when, being asked to remove any batteries from his bag, Mr Mansfield had to explain that the whole suitcase was full of electronics and batteries, so this would be very difficult! "Give me some examples…", he was asked by the stern lady on the gate desk – "An iPad, an Apple Mac laptop, a drone, a mini projector, iPods, two cameras…" came the response, to a very confused looking check-in attendant! She must have thought we were off to some sort of tech convention, rather than Africa but all the same, wanted the bag to go in the hold. As we were called to board the plane, Mr Mansfield hid his suitcase full of electronics between his legs to make sure it came onto the plane with him. The downside of this is that we were very cramped on our first flight, having to hide his large hand-luggage case under our feet.
The flight time seemed to pass quickly as we both talked about our previous memories from Uganda and our excitement to return. We landed in Brussels in what seemed like no time at all. We had an hour and a half to wait for our connecting flight to Rwanda, so took the opportunity to grab some breakfast. It quickly became apparent that our choice of attire (two flamboyantly patterned shirts we picked up on our last visit to Uganda, in 2015), was getting us some strange looks but unperturbed, we decided to make the most of the Wifi and video call St Julian's Primary. It was great to speak to Mr Jones' class, some of the Year 6 children practising for the concert and Mrs Orford & Mrs Arnold, allowing us to share our excitement with them. We were reassured by Mrs Arnold that she was keeping close tabs on us, as she would be tracking our flight throughout the day!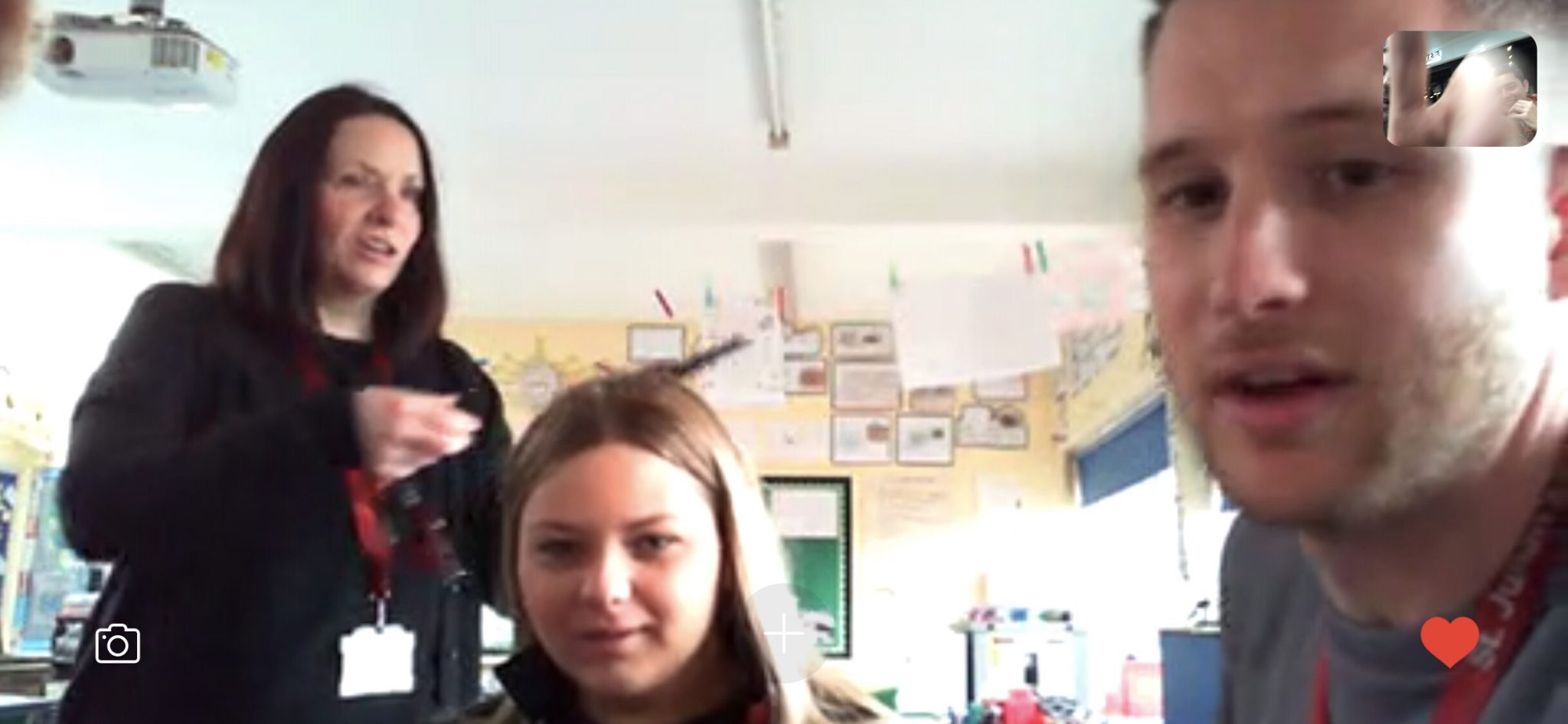 For our connecting flight, we decided not to take our chances and made our way to the gate 'early' (20 minutes before take off!). As we walked to the departure gate, Mr Mansfield noticed a piano and started entertaining our fellow travellers before quickly being prompted by Mr Prewett that we had to catch a bus to the gate.
We boarded the flight and, taking off slightly later than scheduled, had a relatively straightforward journey. All of the excitement of the morning must have taken it out of Mr Mansfield, as he slept for 6 of the 8 hours of the flight, only waking for meals. Fortunately for Mr Prewett, he was asleep for the arrival of the in-flight 'snacks', so, rather than wake Mr Mansfield from his deep slumber, Mr Prewett took one for the team and had two bags of 'Happy Snacks', instead of just the one! Mr Prewett also slept for much of the flight and Mr Mansfield got his own back for missing out on the Happy Snacks!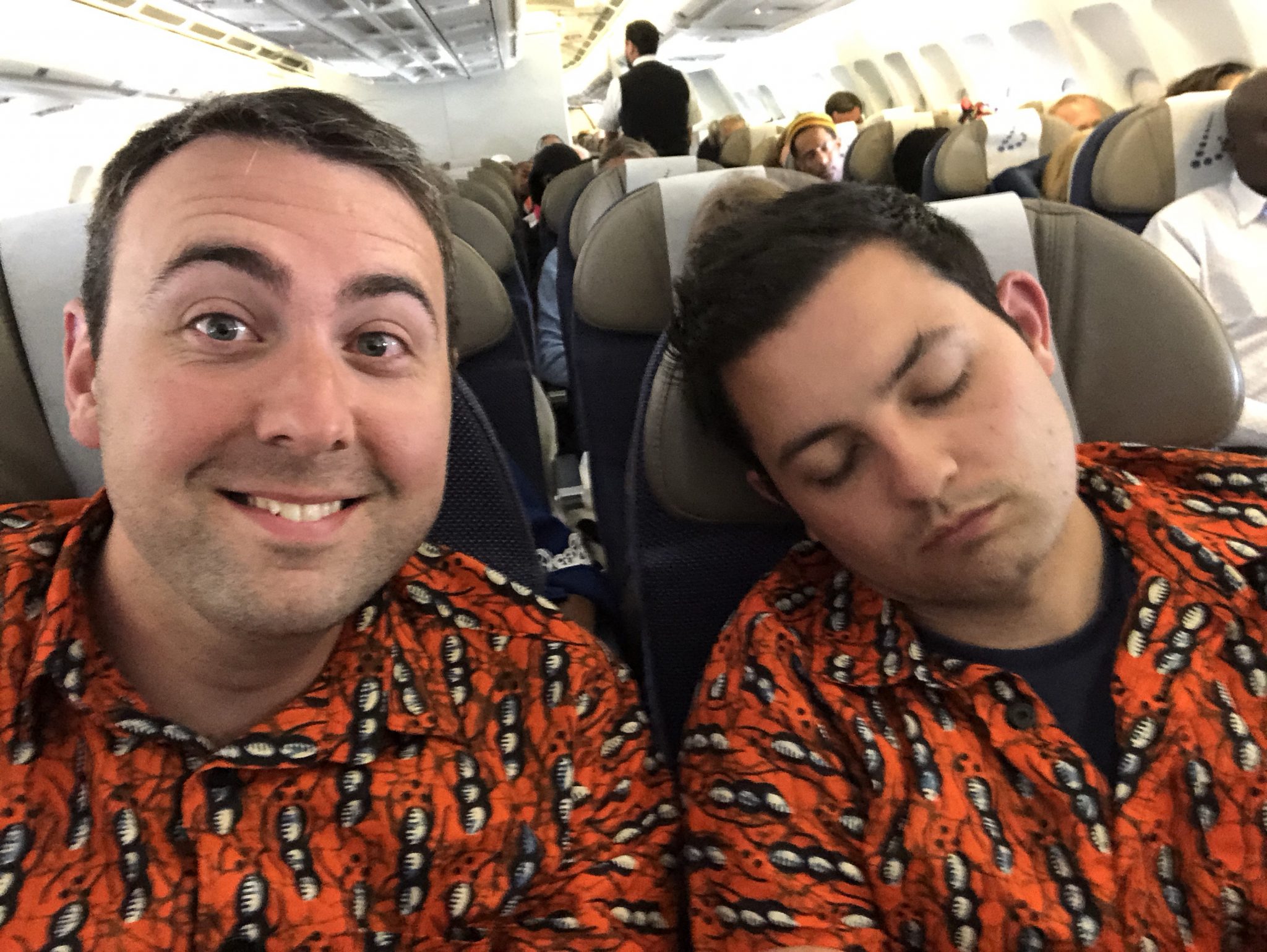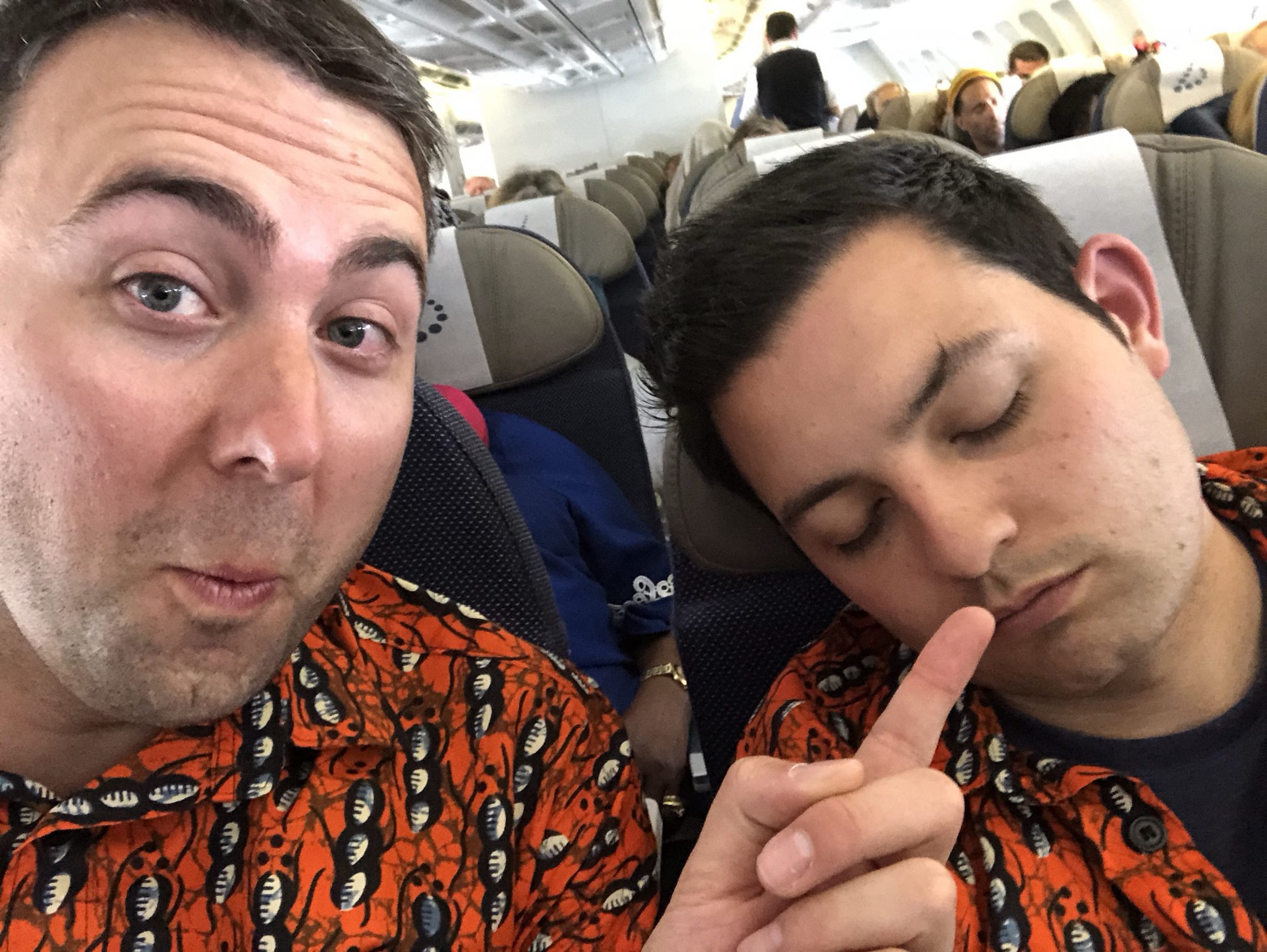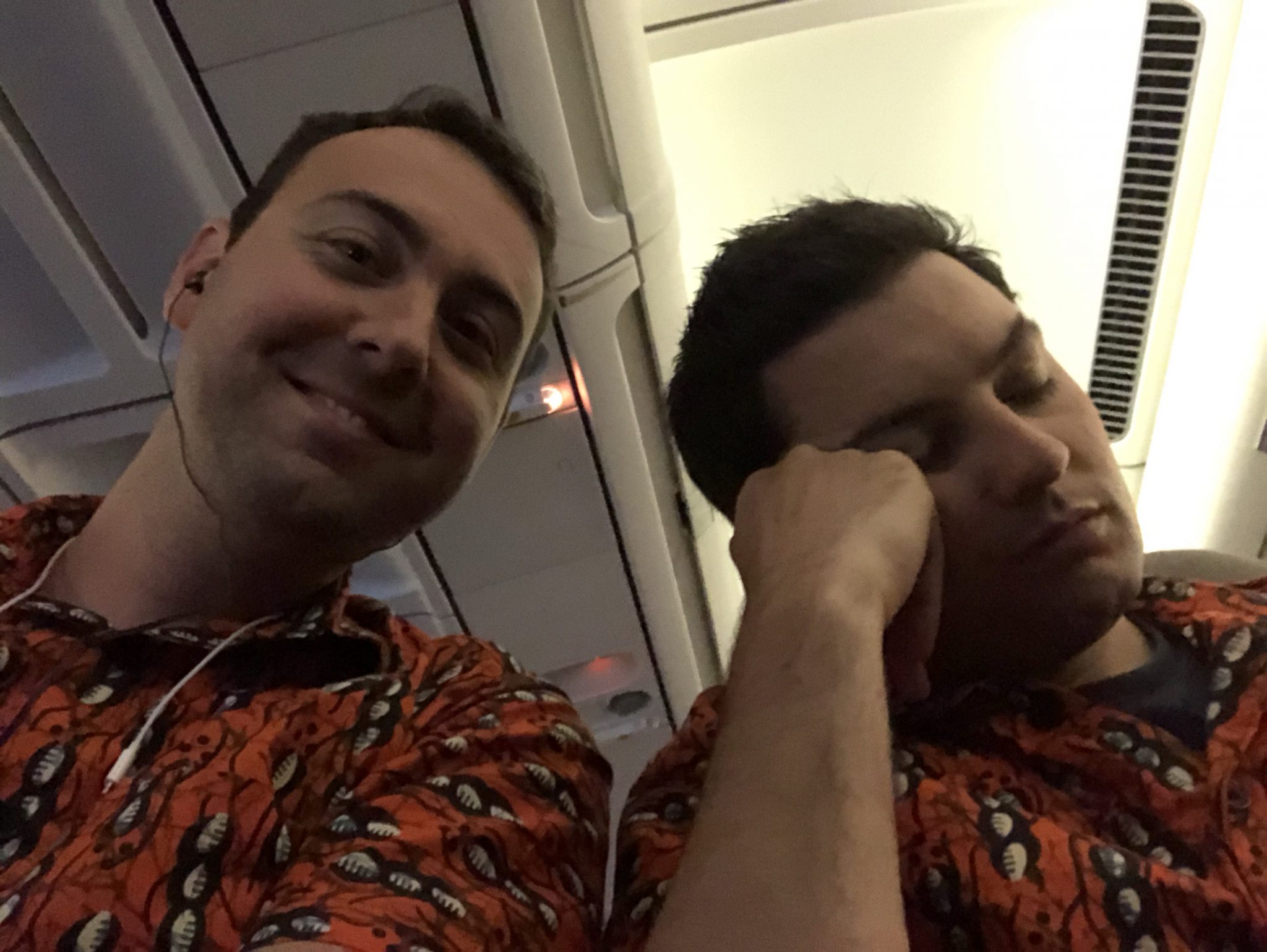 After a short stop in Rwanda to take on a few more passengers, we embarked on the final leg of our journey….we were Entebbe bound! This stage of the journey went quickly, which was ideal as our excitement was building, thinking of the welcome we would receive from Joseph, who has helped organise our trip, and Mr Walyaula, the headteacher of one of the schools we are visiting.
The plane landed and we passed through passport control and proceeded to the baggage collection area. We collected our 8 suitcases from the conveyor belt and made our way through towards the exit. Things were all going extremely well until we heard a voice shout "Hey you, you must scan your bags before leaving". We went to place our bags on the conveyor-belt to go through when the officer could see how many cases we had. "Just scan two of your cases" she said, feeling slightly sorry for us and our trolley of cases stacked high. We collected the two cases and were called back by another officer, telling us we had to scan all our cases. As the cases were scanned, the Ugandan border control had taken objection to all of the cables in one of Mr Mansfield's suitcases and called him aside into a special area. They went through all the devices in Mr Mansfield's suitcases and decided to confiscate Mr Mansfield's Drone, which he planned to use to film the schools from the air. After much discussion and many attempts by Mr Mansfield to try to convince the officer that the drone was okay, they decided to hold it at the airport in a locked cupboard'! This was a great disappointment as we had many plans to use it on our various trips out here. The officer then escorted us out of the airport, telling Mr Mansfield that he hoped they could still be friends. Mr Mansfield said they could only be friends if he returned his done to him… but no such joy! He insisted on having a picture with us all the same…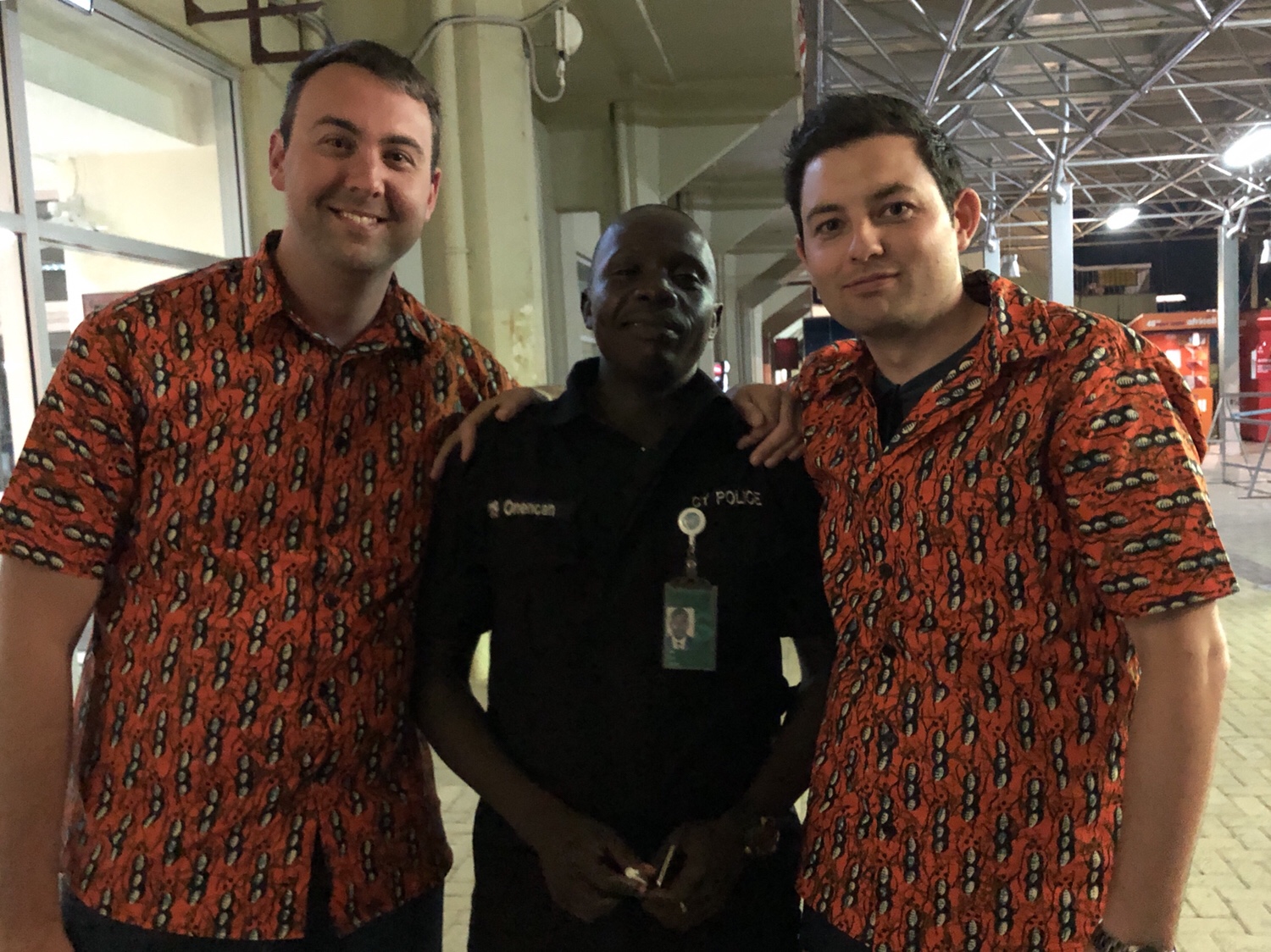 After nearly an hour's additional delay, we were just happy to make it out of the airport and receive a warm welcome from Mr Walyaula and Joseph. They ran up to use and gave us a huge hug and traditional Ugandan handshake! They pushed our suitcases to the vehicle for us and in no time at all, we were on the road and heading to our hotel.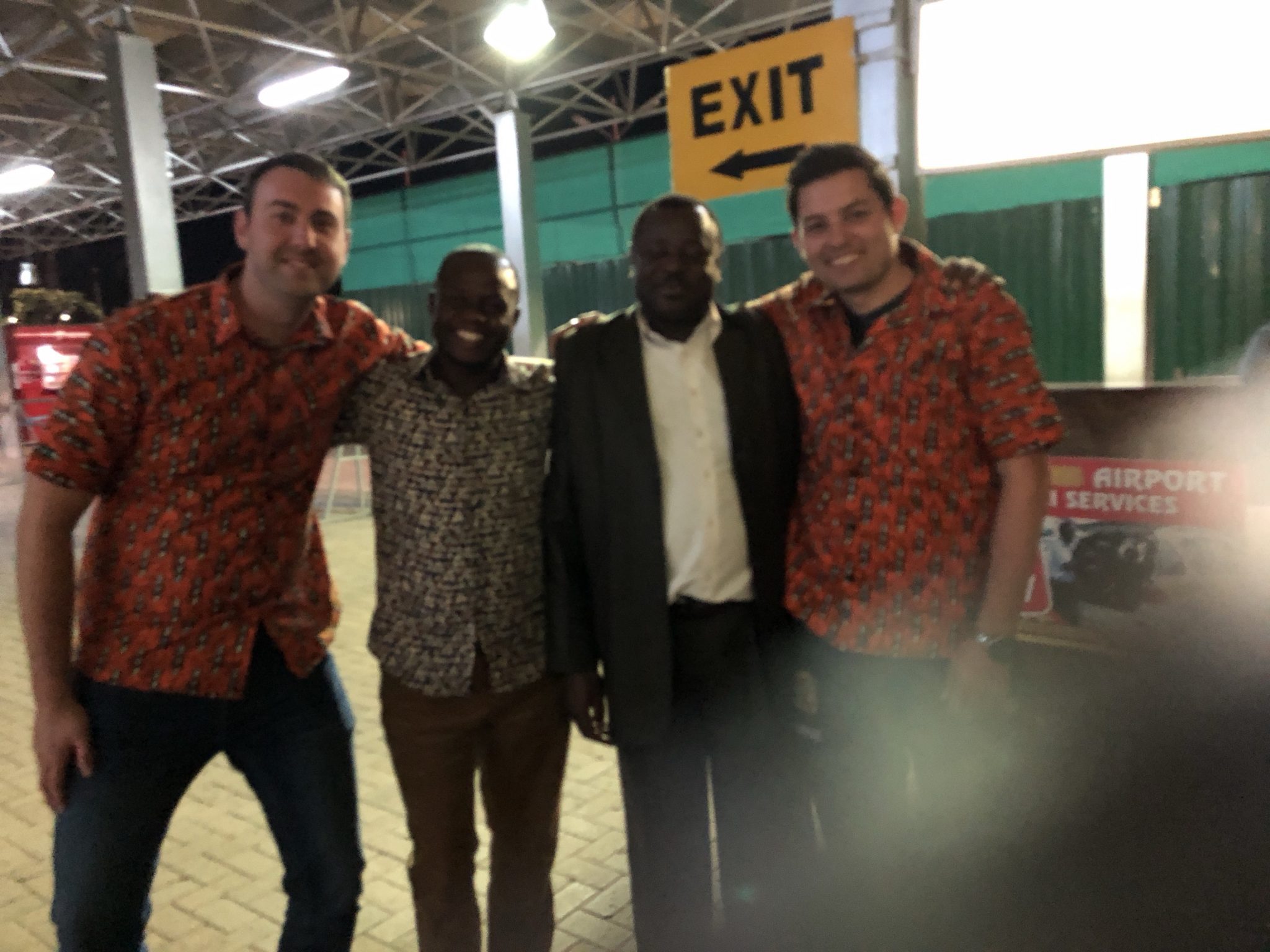 We stayed up for a short while, catching up together and then headed off to bed, glad to be getting some rest after a somewhat dramatic day. Unfortunately for Mr Prewett, the drama didn't end there. Upon opening his suitcase to get his toothbrush out, he discovered that his shampoo had burst open and covered much of the contents of his case in coconut shampoo. He spent some time laying out all of the clothes and items from his suitcase, hoping that they would dry before the morning. Mr Mansfield took great delight in seeing Mr Prewett trying to scrape off the coconut shampoo from all of his clothes.
Time for some rest now, we're looking forward to updating you again tomorrow!