What a day! We set our alarm clocks for 6:00am to get an early start on the long journey ahead of us. Mr Prewett was first up, having had a bad dream during the night. He dreamt he was being attacked by insects and leapt out of bed. He felt much better after a shower…albeit a cold shower because he couldn't find the button to turn the shower heater on. Thankfully, I found the button straight away and took great pleasure in enjoying a nice warm shower knowing that Mr Prewett had been dancing around in the cold, making chimp noises moments earlier! He began to tidy up all of his luggage which he'd spread across the room to dry out.  Although most of it had dried out, it all smelt of the coconut hair shampoo! Joseph then came to knock our door and the three of us went down to the dining room for breakfast. We were treated to tomato and onion omelettes, toast with jam, cereals, fruit and coffee. A dreary eyed Mr Walyaula eventually emerged to join us for breakfast, having overslept by half an hour, but he thoroughly enjoyed the breakfast! Joseph and Mr Walyaula kept commenting on how they had never stayed in such a nice hotel. By our UK standards, it was incredibly basic…and I mean basic…but the way they were talking about it was a reminder of how much we take for granted!
Our driver, Abdul, returned at about 7am to collect us. We loaded up our luggage and set off on the journey. Once again, Mr Prewett and I were just fascinated watching people going about their daily lives as we drove along. There were many stalls on the roadsides selling all kinds of goods from food to handmade furniture. Every time our vehicle would stop for traffic, people would rush up to the windows to try to sell us meat on skewers, drinks and roasted vegetables. We loved watching an open-top van full of live chickens drive past, with two men trying to stop the chicks from jumping out.
As we approached the capital city, Kampala, the traffic started to build up on the roads and the rain started to pour down. Boda bodas (motorbikes) were darting in and out of the vehicles and horns were honking every few seconds. Abdul our driver did a great job of manoeuvring through the traffic safely.
We stopped at some shops in Kampala to change our money into Ugandan shillings. Joseph bargained with the bank manager to get us a good conversion rate and then we handed over our British pounds to be counted. We thought it was going to be a fairly straightforward task, however this was definitely not the case! It turns out that Ugandan banks refuse to accept any British notes if they have any rips or tears, stamps or pen markings on them or are too creased. Thankfully, all but two of my notes were accepted (the cashier returned the two as they had ink stamps on them). Mr Prewett, on the other hand, had a terrible experience! His cashier was very fussy and refused to take nearly half of the bank notes he had handed her. "This one has a small tear in the corner, this one has pen markings, this one has ink stamped on it" she barked at him in her thick Ugandan accent and with a very straight face. I was able to swap some of Mr Prewett's substandard bank notes with some I had in my wallet, but he still had a large handful of pound notes that the cashier refused to accept. He told her to just go ahead and exchange the notes that he had already given her. She then proceeded to count and inspect them again… following which, she handed him back another four notes saying that they were not clean enough. Joseph and I found this extremely funny, but Mr Prewett became irritated and demanded all of his bank notes back to exchange elsewhere. She then became more reasonable and eventually changed the majority of Mr Prewett's notes.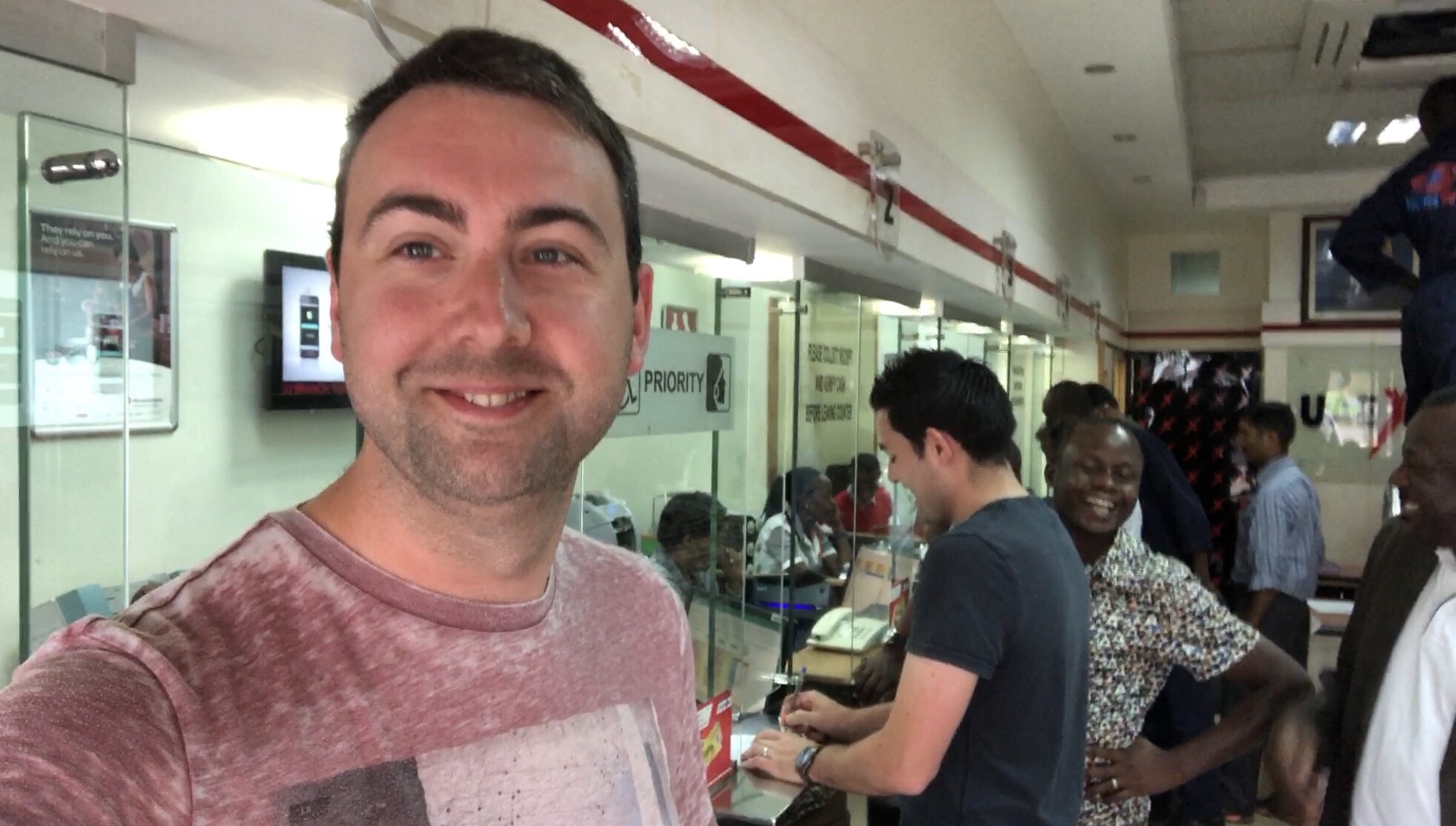 Sam waited with Mr Prewett whilst Joseph and I went to a phone shop a few doors along. We wanted to buy a portable wifi hotspot to enable us to get online to video call the children back at school (our phone networks don't work very well here). The small shop was extremely overcrowded with Ugandans having phone issues but as I walked in with Joseph, the manager came to personally serve me. We explained what we wanted and she gave us a long form to complete to register for a sim card. Joseph and I waited for around half an hour but she eventually reappeared with the device activated, loaded with data and ready to use! It cost 995,513 shillings (that's about £20) and it proved to be worth every penny.
As we set off from Kampala, Mr Prewett and I absolutely loved video-calling the children in our schools. It was amazing to explain to the children how we were doing and show them the sites out of the minibus. I absolutely loved seeing their faces as they were realising that they were speaking to us on the other side of the world and looking at all of the sites we had talked about in assembly. Mr Walyaula also remembered lots of the children he met when he visited the school in 2015.  He was delighted to chat with Corey in Year 5, who visited the Welsh Education minister with him in 2015. It was also great to skype call the Key Stage 2 star pupil assembly to give an update to the children and answer some of their questions about Uganda.
A little while into our journey, we came to an abrupt halt. We were quickly told that the road ahead was closed as they had been chopping down trees and one had fallen into the road. For now, we were stuck. Ever the opportunists, many local tradesmen swarmed the vehicle to try to sell their goods to us, as we sat in the car. We were offered a wide range of things, from 'Calvin Klein' hats, to fruit, 'chicken on a stick' and even 'goat on a stick'! We had been warned previously about buying chicken on a stick from the roadside but were still tempted to try some, given we had nothing else to do and were, by now, getting a little hungry. We were quickly put off however, when Mr Walyaula and Joseph said they had never eaten chicken from the roadside and never would! We realised this was a good decision when we finally got going again we saw some of the locals reheating the chicken over a BBQ; something we decided probably happens many times a day, until they sell it! A close call.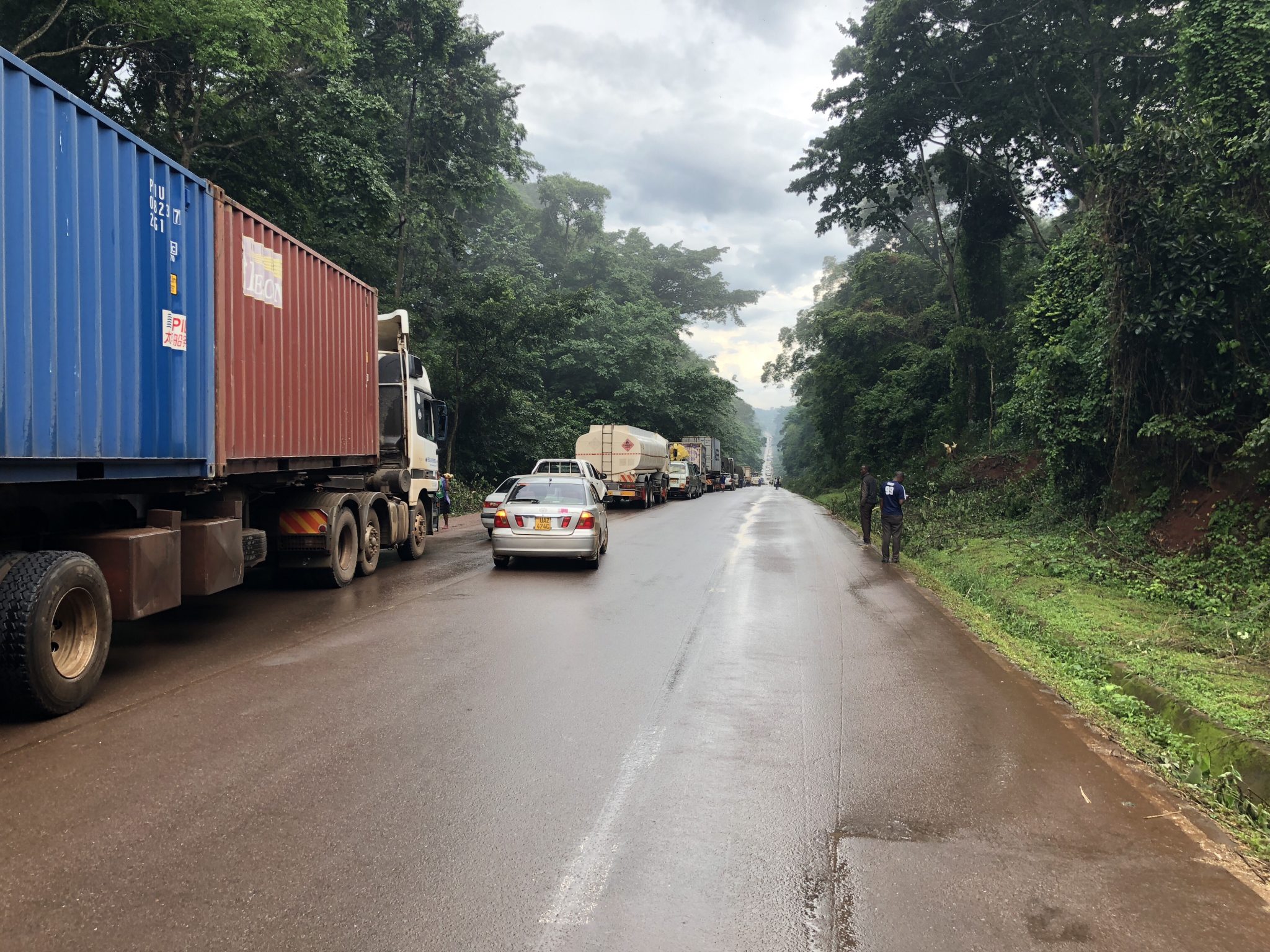 Luckily, we did not have long to wait until we got to eat, arriving at Jinja around half an hour later. This was a stop off we had scheduled in, having fond memories of the food we had there previously and an amazing boat trip on the river Nile. Arriving at the car park, we were greeted by Ken who was eager to help us out with organising a boat trip and some food. We ordered our fish and chips and boarded the long narrow rickety boat with a stuttering motor. Joseph and Mr Walyaula told us that they had not had much experience on water and this was clear from the outset as the begged for life jackets and nervously climbed on-board with their shaky legs. Mr Prewett and I thoroughly enjoyed watching their faces as we rocked the boat from side-to-side.
Ken gave us a fantastic tour of the lake, pointing out animals and wildlife as we sailed along. We saw monkeys, kingfishers, a variety of other birds (including one particular species that seemed determined to 'poop' on us!) and even a large lizard, patrolling what seemed to be its very own island! Part of our trip took us to the source of the river Nile, where you could see the bubbles appearing oat the top of the lake as the water ascended from the natural spring below. At this point, they had a small hut sticking out of the water on stilts, which allowed us to get off and get some lovely photos of us all together at the source of the Nile. It was then time to return for our food, giving us another opportunity to tease Mr Walyaula and Joseph on the boat, rocking it as we arrived back at the jetty!
From here, we sat down in a restaurant overlooking the Nile. We all sat together eating the most delicious fish and chips we've ever had. Neither Mr Prewett or myself are great lovers of fish but we both agreed, it was superb! Joseph and Sam told us off for not eating the fish brain and eyes…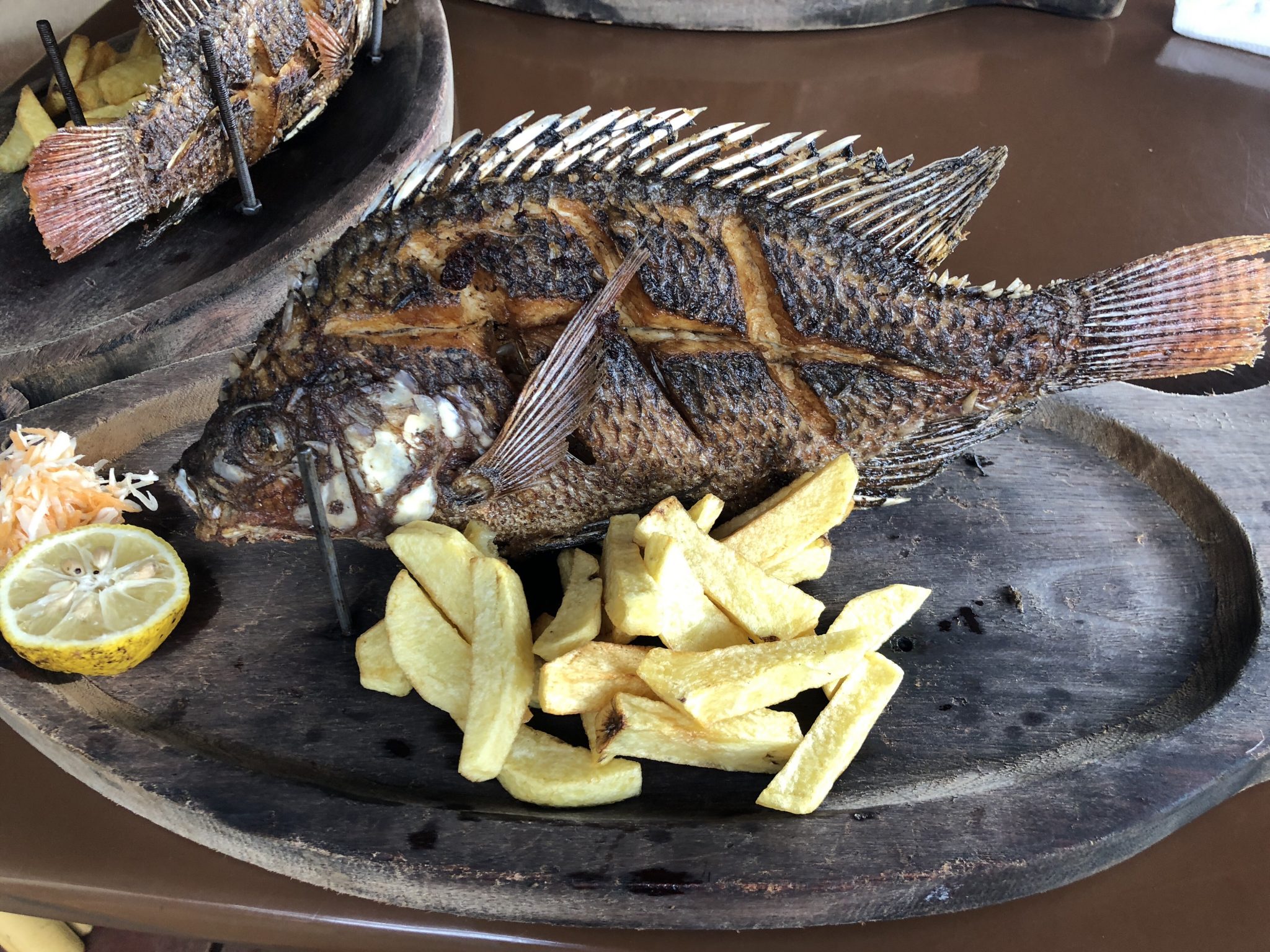 The time soon came for us to get back on the minibus. We had intended to arrive in Mbale by 3 o'clock and it was now already 4:30pm, with at least another 2 hours ahead of us. I think that Abdul had a similar urge to get a move on and get back to his own family, after the long journey. As he put his foot down to get us to our destination, Mr Prewett and I started to doze off. We were abruptly awoken however, as he slammed on his brakes and catapulted us to the front of the vehicle. A face then appeared at his window, with a gentleman in an official-looking white uniform poking his head in and waving what was quite clearly a speed gun! Mr Walyaula explained that these were traffic police and it was evident from Abdul's conversation with them that they were not happy that he had exceeded the speed limit. Luckily for Abdul (and us!), he was only a few kilometres per hour over the limit (and they also realised they had a friend in common, as they were born in the same town). The policeman took pity on us and decided to allow us on our way. We were thrilled and quickly set about making friends with the policeman and his colleague, who showed us their speed gun and even allowed us to get a photo with them! A sticky situation had now turned into an opportunity to make some new friends!
After what seemed like another long stint in the car, we finally entered the Mbale district. Having gone through much rural scenery in our latest leg of the journey, we now began to see the roadsides become busier again as we neared the large town of Mbale where we found ourselves amongst a hive of activity. Along the journey, Abdul the driver told us he had a mobile phone shop. One thing that we wanted to buy with the money that pupils from St. Julian's Primary had raised, was a mobile phone for Mr Walyaula. Joseph often keeps in touch with us using WhatsApp on his friend's phone. Whenever possible, he travels to schools to send us photos of activities and teachers and pupils. Mr Walyaula wanted to be able to send us regular photographs from his school and so we did a good deal with Abdul to buy Mr Walyaula a cheap phone which could use WhatsApp. He was absolutely delighted and has been saying thank you non-stop since we left the shop. We then spent the next hour or so trying to teach him how to use it! (Where are our Digital Leaders when we need them?!)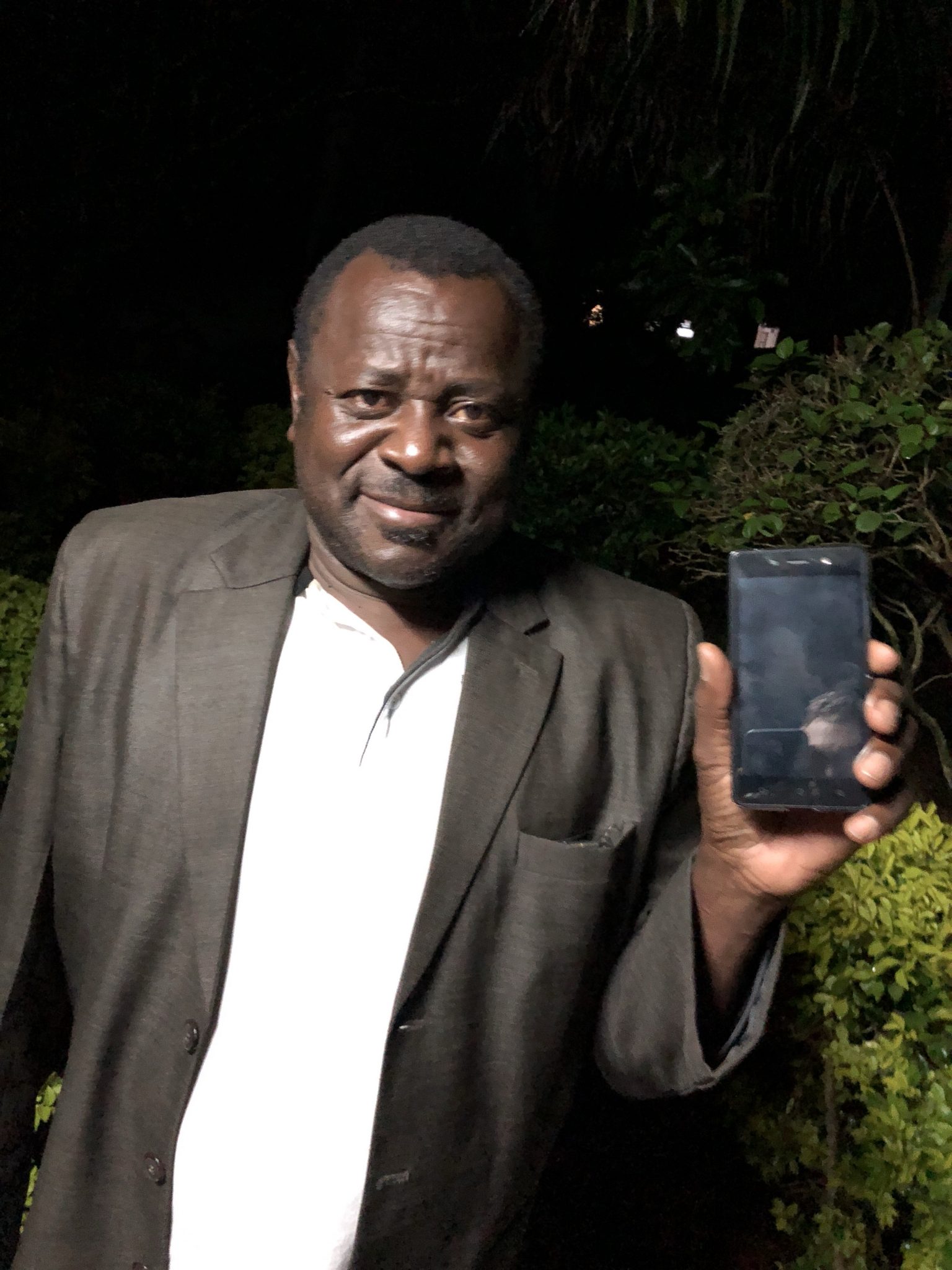 We then went to a restaurant in the town which we visited on our last trip to Uganda. Here, we were recommended to try the curry, which turned out to be a great choice, with lots of tasty treats accompanying it. We particularly enjoyed some of the fried potato pieces and samosas – they were delicious!
Whilst we were sat waiting for our food, a familiar face entered the restaurant. It was Pastor Apollo – one of the people we had met on our last visit here. He was very excited to see us, with his trademark beaming smile going from ear to ear. We enjoyed a catch up with him and arranged a visit to his church on Sunday morning, where he asked if we sing a song and possibly dance. Of course, we were only too happy to oblige, but it later began to dawn on us what we'd actually agreed to do. We were put in a similar position last time we visited Uganda, however this was only in front of a small number of people. Pastor Apollo tells us many people will be coming to watch us and meet with us. We frantically started to think what song we could sing. However bad it may be for us, it will definitely be worse for the congregation having to endure it! Particularly as neither of us are blessed with the finest of singing voices. Having not yet had chance to decide upon a song, we are open to suggestions, so feel free to post a comment on Twitter if you have any great ideas!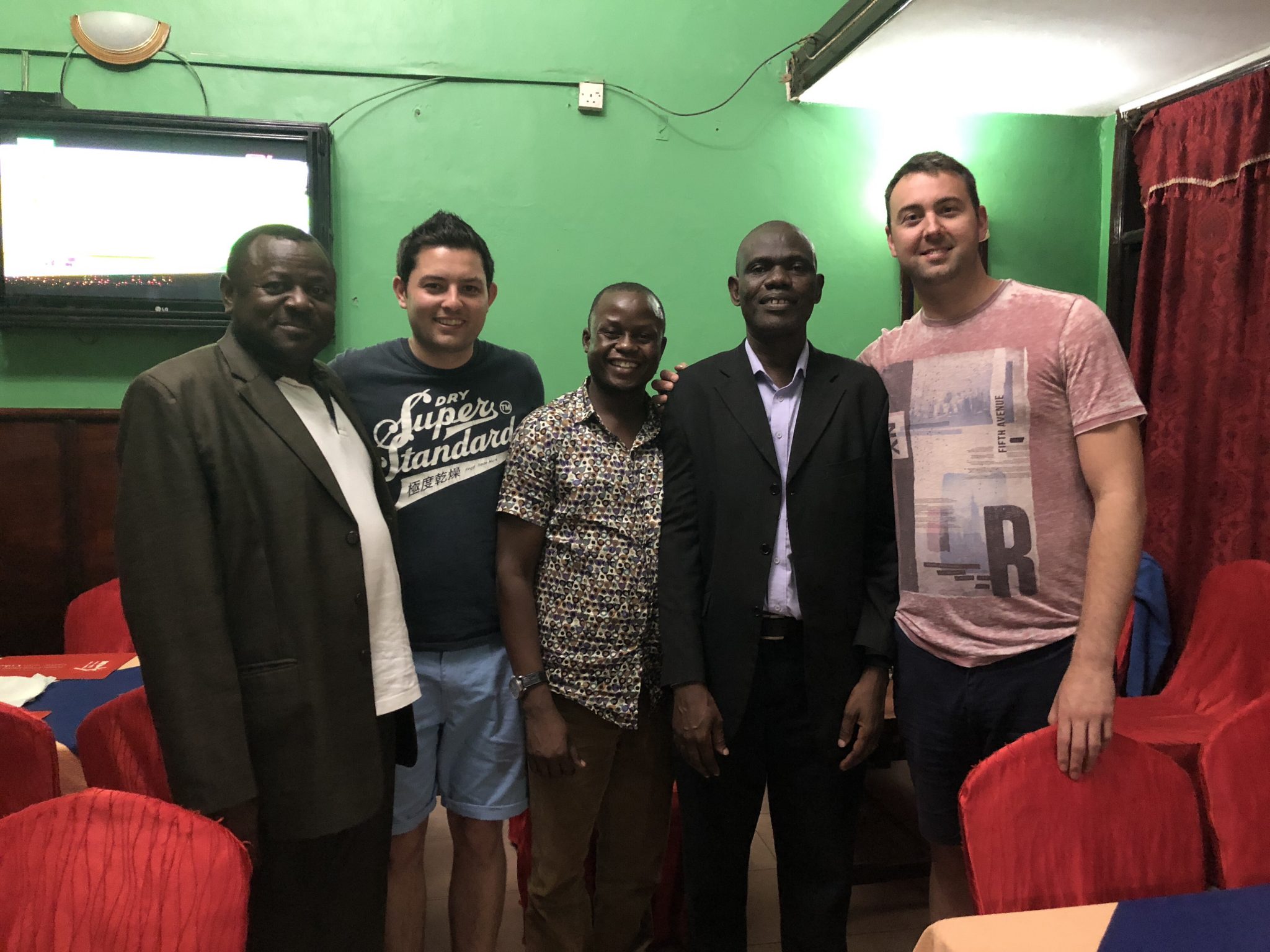 Full by now and very much ready for bed, we settled up the bill and headed on our way. Nightfall in Uganda comes around quickly and within 10 minutes, it had gone from twilight to pitch black darkness. We were now travelling along much bumpier roads in the dark and were looking forward to getting to our accommodation (Salem Guest House) as soon as possible. This proved to be wishful thinking however, as around 10 minutes into our final leg of the journey, the car engine began making funny noises before cutting out completely! It quickly became apparent that Abdul, the driver, had been taking his chances with the fuel gauge, hoping to make it to Salem with only the fumes he had left in the tank! After a few attempts to restart the car, we came to the realisation that the only way we were going to make it to a petrol station was to get out and push. Luckily, we could see a petrol station in the near distance, so it could have been much worse! Thinking this too good an opportunity to miss (and happy to avoid some pushing), Mr Prewett got out his phone and took a video as we rolled into the petrol station, with everyone else pushing the car except him!
Luckily, it did not take long to refuel and get back on our way. Thankfully for all involved, we got to Salem Guest House with no further issues. When we arrived, we carried our 8 suitcases to our rooms, only experiencing the 'small' hiccup of having been given the wrong key. I had very kindly given Mr Prewett the choice of room number before we saw them. I had little sympathy that it was his key which was the wrong one following our last visit where he had left me to sleep in the room with the leaky roof and puddles on the floor. We managed to get Mr Prewett a key to a different room and he was happy.
Just before bed, we wanted to take the opportunity to update you all on our day with a quick blog post. We headed across to the dining area with our laptops and started to type. As we sat typing through the vents of the day, the lights kept going on and off. We quickly remembered the frequent power cuts that Uganda has and having sat in darkness for 30 minutes and with the light from our laptop screens attracting gazillions of bugs, we decided that we would make our way back to our rooms and finish up our recounts there.
Settling down to write the final part of the blog, I heard the tiny pitter-patter of footsteps next to me! I turned to my right to find a lizard tearing around the walls of my room. I really dislike reptiles and so quickly summoned Mr Prewett to assist me in evicting the unwanted visitor. Not wanting to pick the lizard up, I grabbed a basket from the room and managed to scoop the little chap into the basket. Frantically wanting to get him out of the room, I tapped the bottom of the basket and the lizard flew out across the lawn. As always, Mr Prewett was extremely helpful… and did nothing to help but just stood laughing!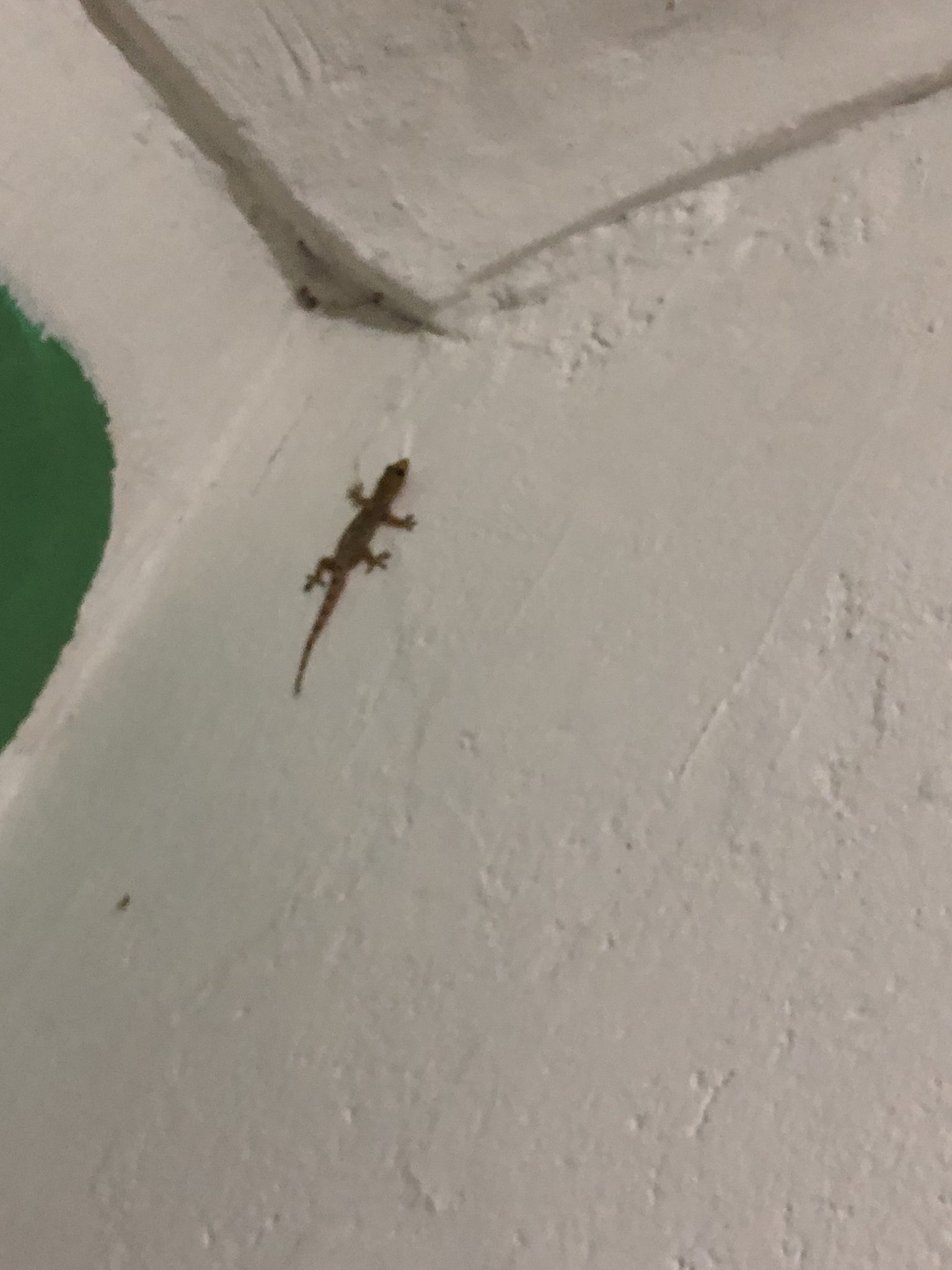 I'm now being attacked by bugs and all kinds of critters. It feels a bit like I'm taking part in 'I'm a Celebrity, get me out of here…', but with no Ant and Dec to bail me out! It's time to get some sleep under the mosquito net. Early start again tomorrow. Sleep well!