Wow! What an afternoon of sheer determination, grit, excitement and overall team spirit. It truly was a memorable afternoon of sport with over 70 children involved.  Even the weather was on our side. This afternoon, St Julian's Primary school held a football festival to launch the newly created 'Newport Primary Schools' Football League. The festival saw 7 local sides, who will compete in both the East and West leagues, come together to participate in a fun packed afternoon. Teams from St Julian's Primary, St. Patrick's Primary, Eveswell Primary, Charles Williams Primary, Pillgwenlly Primary, Caerleon Lodge Hill Primary and Gaer Primary all took part in the league launch event.
Each school brought along a team of 10 children from years 5&6 with matches being played 8 a-side. It was end to end action all afternoon!
After a brief introduction from Mr Jones, the eagerly awaited tournament was underway. The four pitches, which operated in a 'round robin' format, saw teams producing fantastic football skills and teamwork. It was excellent to see schools from across Newport having the opportunity to meet other children in a sporting environment and make so many new friends.
Most games were nail bitingly close, with children hitting the posts on numerous occasions. Scores were kept for each game, however the main emphasis was on the afternoon being FUN!
Many staff who refereed the matches commented on how impressed they were with each team's performance and sportsmanship.
After a flawless performance all afternoon, Charles Williams Church in Wales Primary School were awarded winners of the launch. Da iawn team!
When the festival had to end, it was evident that the children were desperate to play on. They were all eager to know when their first league match would take place and when they could take part in another 'league afternoon'. As they left, it was lovely to hear the children congratulate each other and say how excited they were to play again.
I would like to take this opportunity to thank all the schools who attended today's launch and to those schools who have shown their support with the league this season.
I wish all schools the best of luck. Please follow our progress and show your support by visiting goo.gl/QwDM5Y
The creation of the league is an exciting opportunity for children to compete in regular fixtures against other schools throughout the year. There are 16 schools who will be participating in the league this year. Because of this, we have decided to split the league into East and West. This will make the amount of matches to be played more manageable over the school year.
The league will be made up of: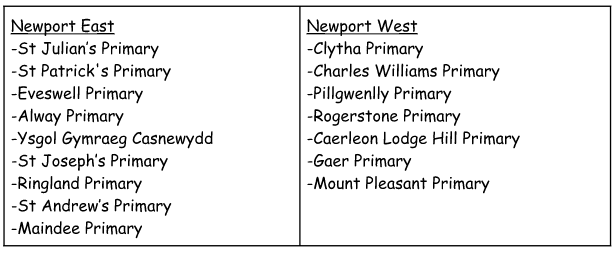 Nothing like this currently runs in Newport and several schools that we have played against have been interested in regular fixtures. The league will ensure regular fixtures against many different schools and it is also exciting for the children to follow the league tables and keep track of the points.
Watch the video of the afternoon here…