After a wonderful night's sleep in some very comfortable beds, we gathered for breakfast bright and early at 6:30am to begin our first official day of activities in Uganda! The breakfast spread was delicious and Mr Mansfield insisted we tried the Papaya. However…it was an unwelcome recommendation as Mr Mansfield knew very well it wasn't the nicest fruit on offer but only chose to tell Miss Butcher of its similarity to vomit AFTER she'd placed a large piece in her mouth. Some juicy mango and a cup of coffee later, we were ready to start our journey into Mbale town!
After navigating yet more questionable roads full of pot-holes and bumps, we arrived in the bustling and boiling town ready to buy some resources for the schools we have linked with here in Uganda. We used the money raised from the school bake sale, non-uniform day and talent show to buy many basic resources for the schools who have very little luxuries like pencils, paper, sharpeners and coloured markers. As Mr Mansfield fancied his chances at being a bit of a haggler, we eagerly awaited the massive discount he was sure to knock off the final total we would have to pay. After a short discussion with the shop owner he turned to Mrs Lewis and Miss Butcher a little disheartened and said "I managed to save us 20p". But we were happy with our purchases and couldn't wait to hand them over to the schools none the less!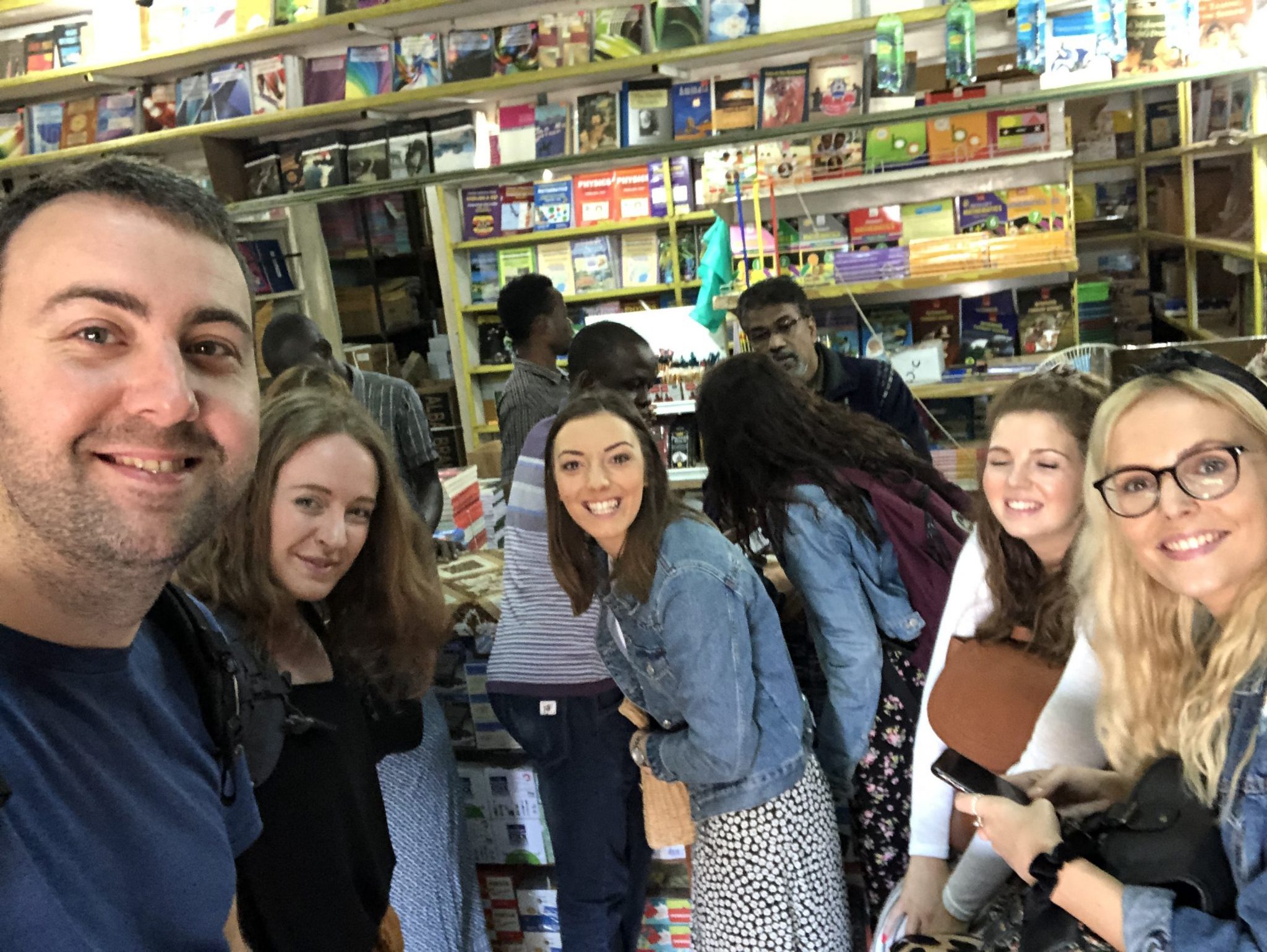 Next on the shopping list was paint for two classrooms in Busiu Primary School. We chose large Jerry cans of cream paint for the classroom walls and 2 small pots of burgundy and yellow for our school logo which Mrs Napokoli, the headteacher, has requested that we paint on the wall of the school. Things don't move as quickly in Africa as it does in the UK so it took a very long time to mix and prepare the paint for us. So long that Miss Butcher managed to get a 20 minute nap on the doorstep whilst we waited!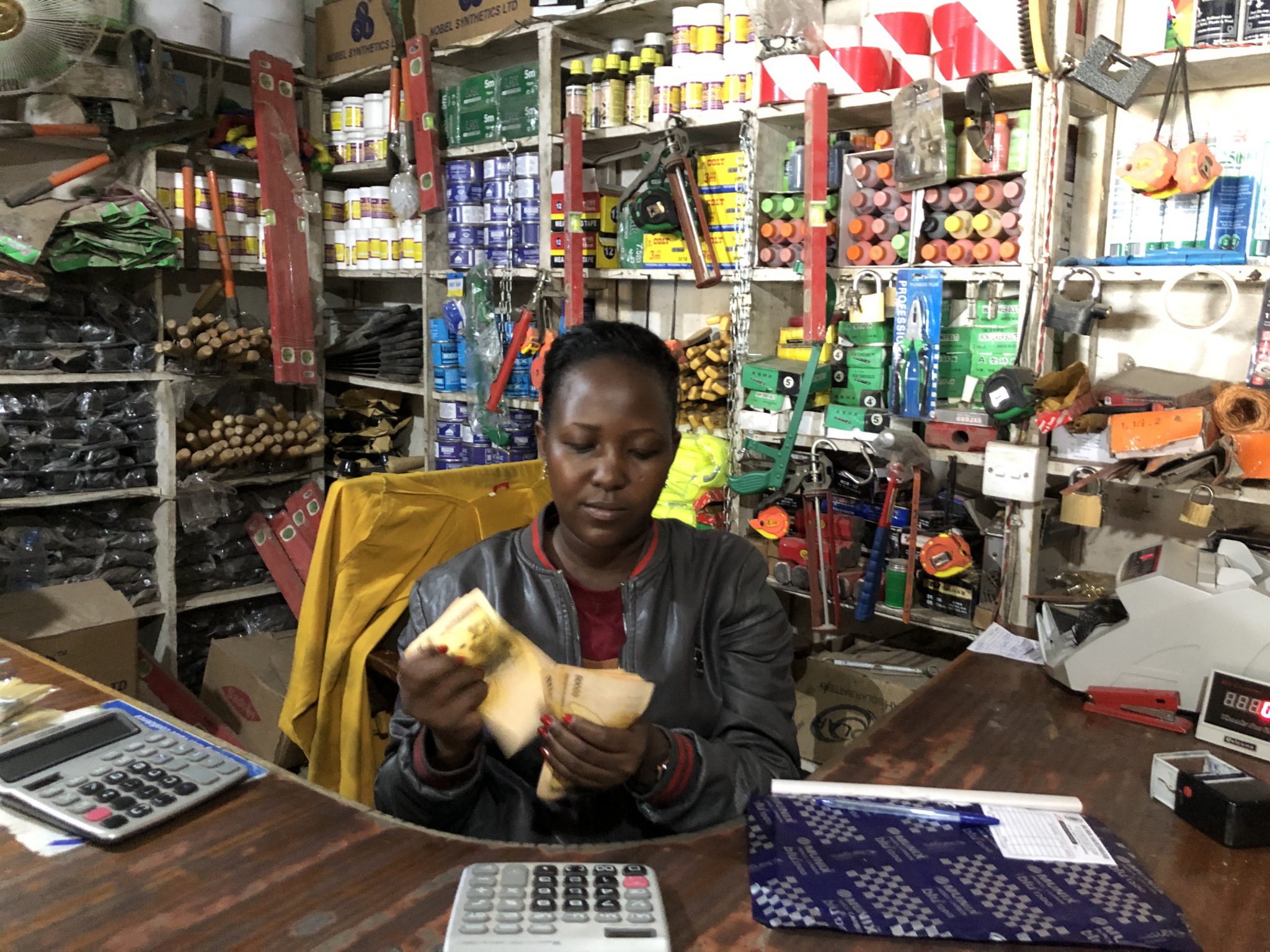 Once the paint had been lifted and secured to the roof of the bus, our good friend Joseph, who has been looking after us so well during our stay, was eager to show us around the local market!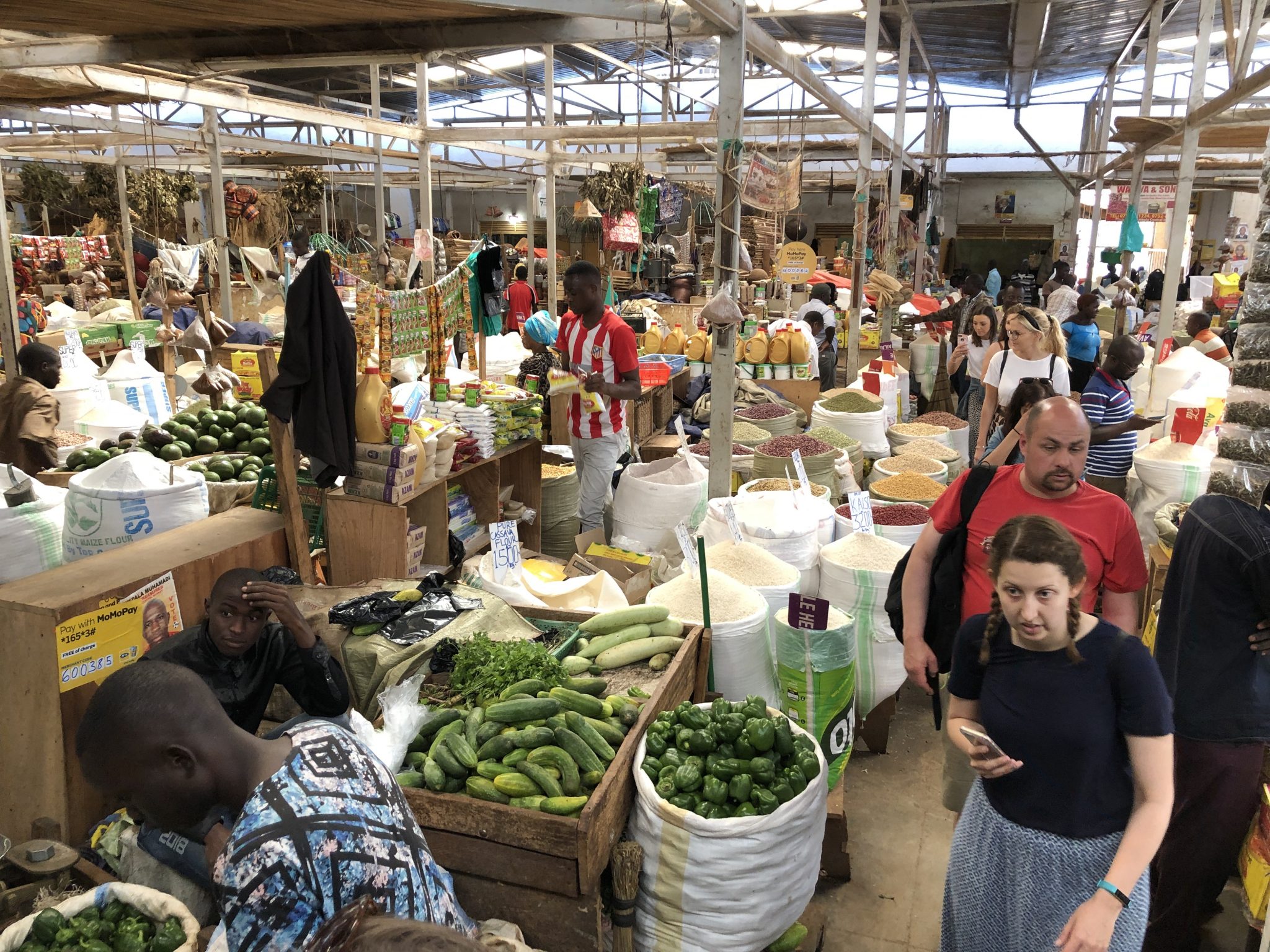 As we walked in, the array of colourful fruits and fresh produce on offer was quite a sight to see! As we moved in further, however, the dead fish and live animals were quite a smell to smell, too!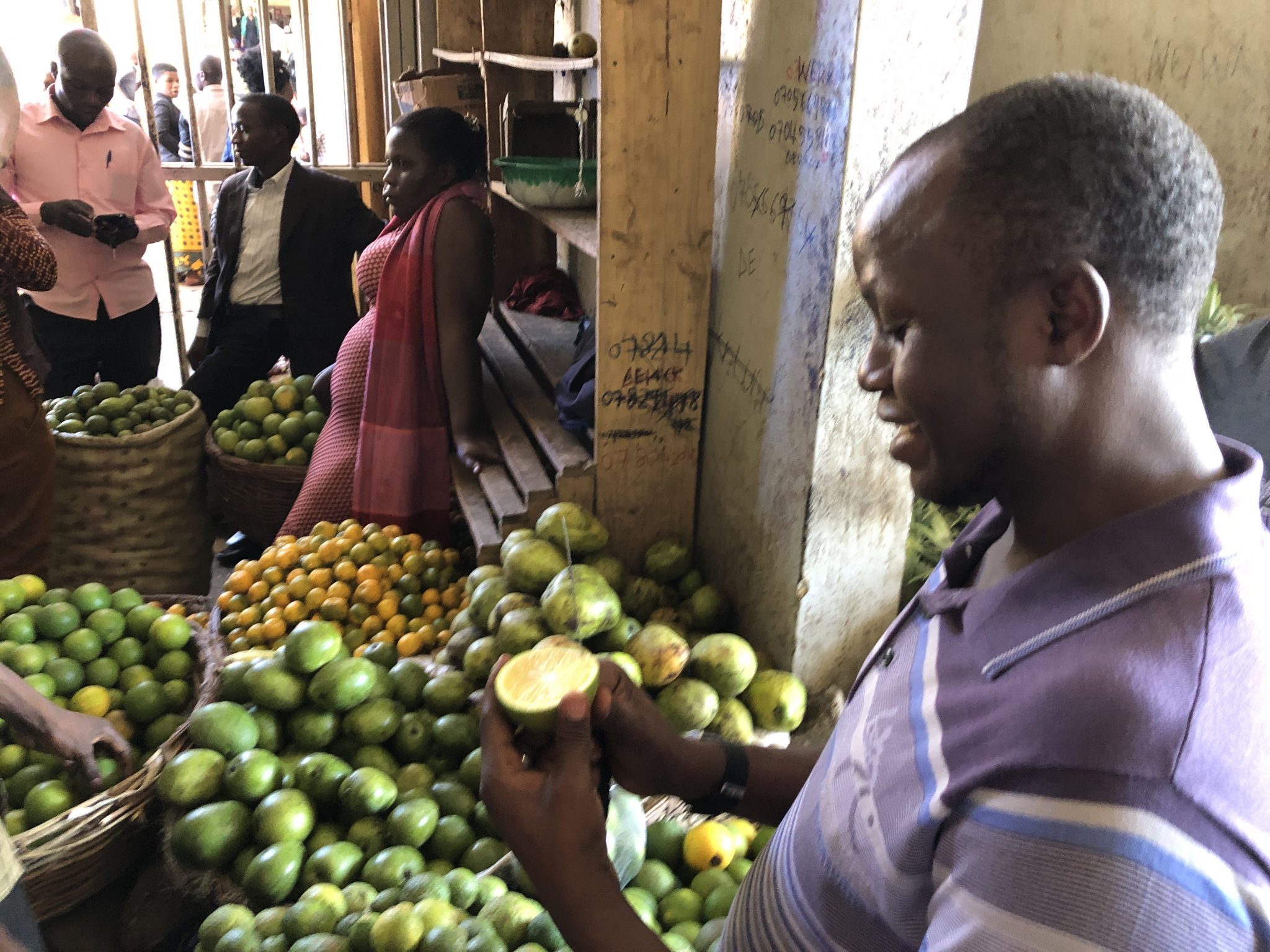 Joseph took us to his favourite fruit stall and shared a delicious orange with the group (that oddly, was the colour green!) and then took us through to see the chickens that were very much alive but probably not for long and the fish that were very much dead. Mr Mansfield instantly spotted a photo opportunity and quickly summoned Miss Butcher and Mrs Lewis to take part in a selfie with the biggest dead fish we'd ever seen! Needless to say… we all lost our appetites after the visit to the market but were grateful for the experience.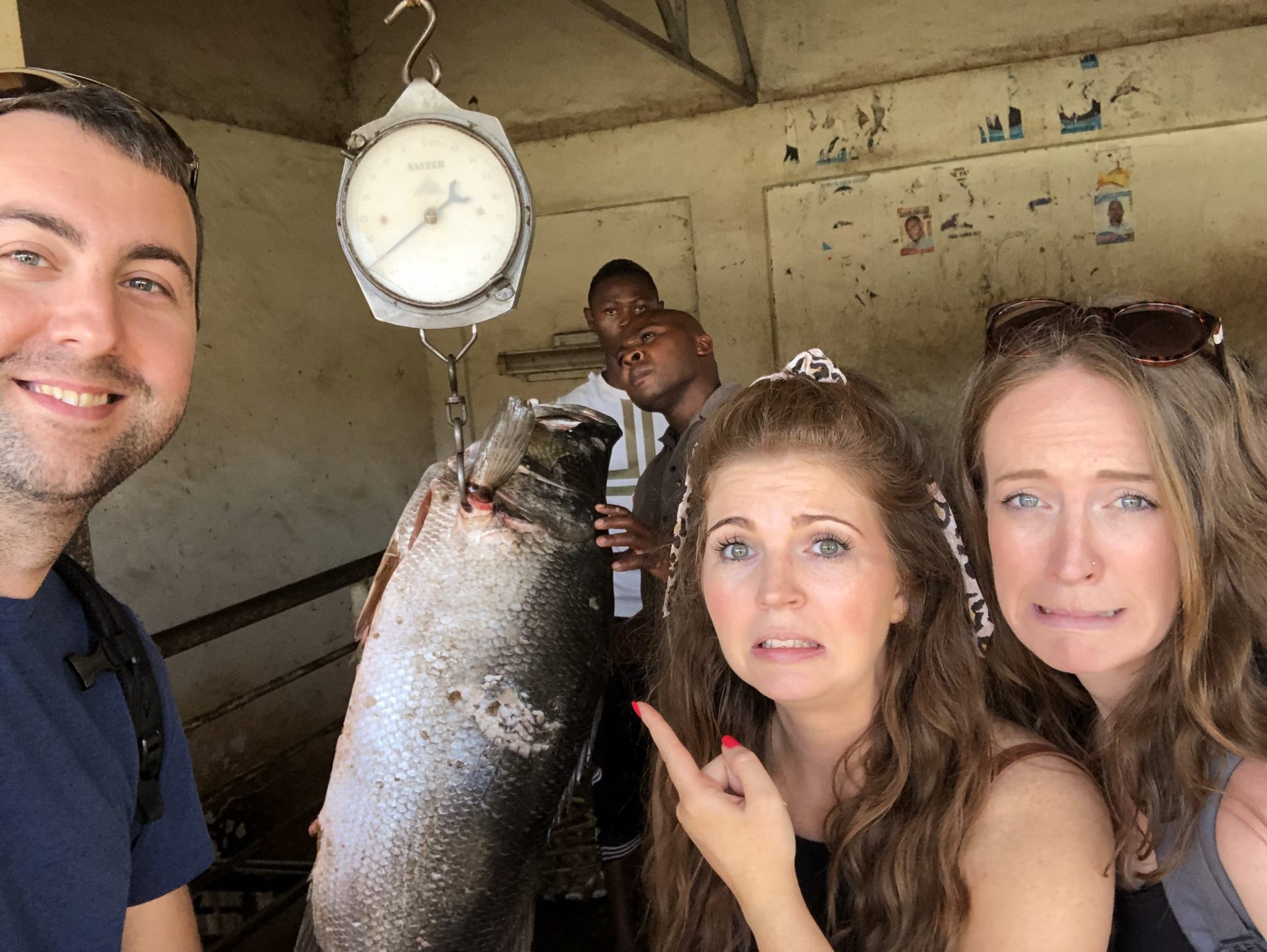 Some of the team wanted to buy sports kits for their schools. We had already done this last year, but went with them to the sports shop to help select the kits. Joseph insisted that we use a particular sports shop that would give us a good rate, but when we arrived, the shop was closed and completely locked up. Joseph made a few calls and insisted that the owner come and open up at once. 5-minutes later, we were inside browsing all the of the equipment. We decided to purchase some hula-hoops to give to the children to play with at Busiu Primary. Just before leaving town, we also visited the Mbale Garage Area, which is a back-alley full of metal workshops and car garages. This is where the goal posts which some of the team had ordered for their schools, were being built. We greeted the metal workers and congratulated them on the quality of their work, as well as making arrangements for them to be delivered to the relevant schools during the week.
After all the supplies had been purchased, it was time to head to Busiu Primary School. As soon as we arrived at the complex, it was clear we were very welcome and were going to be well looked after during our stay. Mrs Napakoli, Busiu Primary's head teacher, greeted us with open arms and proudly showed us around the school grounds.
Mr Mansfield had been working with Joseph for the past few weeks to coordinate the installation of electricity at the school, so Joseph and Mrs Napokoli were keen to show him the work of the electricians. They showed him the cabling, new sockets, and electric metres that had been purchased with money raised from St. Julian's Primary. We felt incredibly proud that our wonderful pupils and parents at St. Julian's had made such a huge contribution to this community. One of the governors of the school also made a special effort to come to the school to thank us for providing electricity to the school which will help them so much.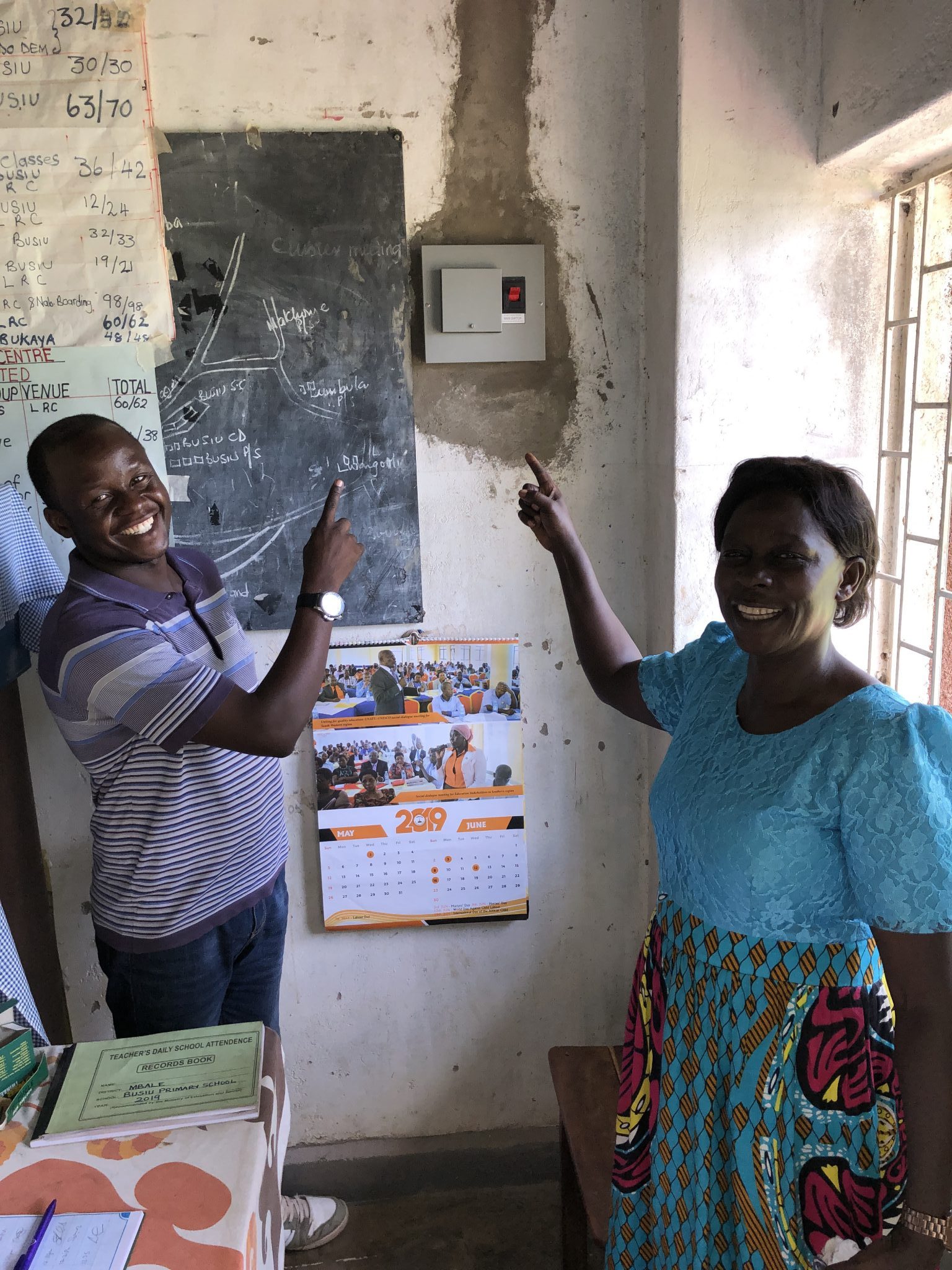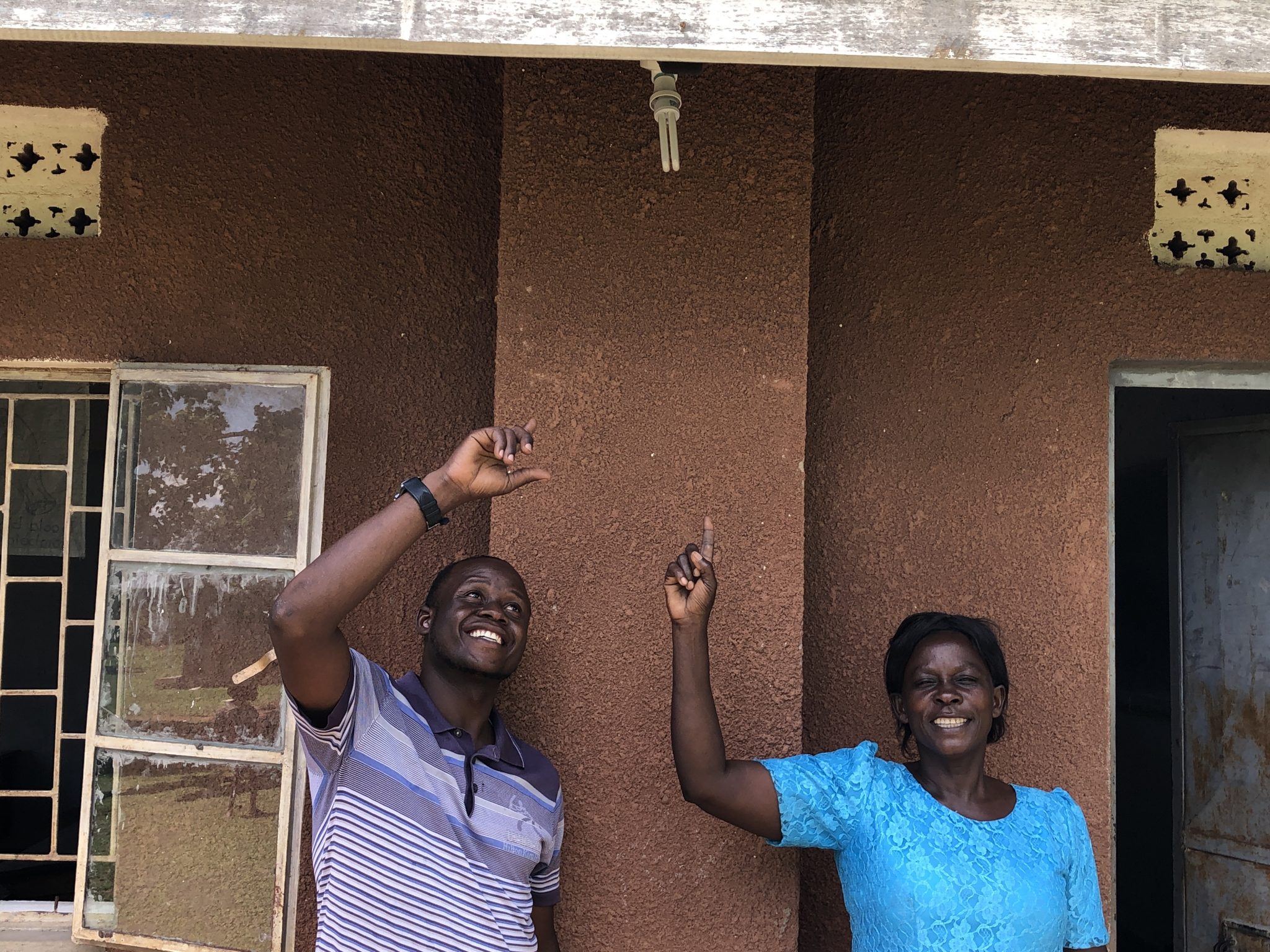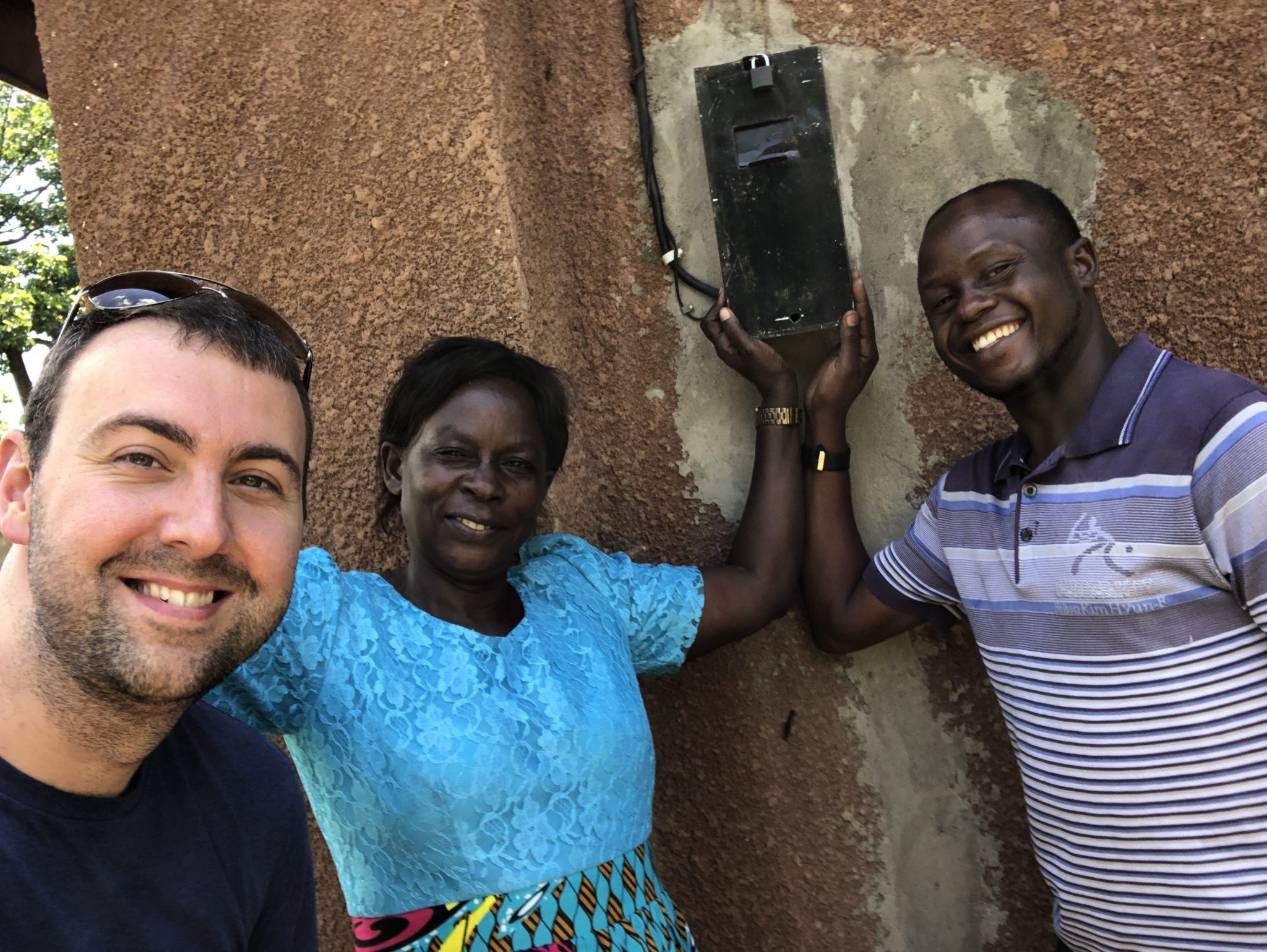 On Saturdays, the school would usually be closed and empty, however, many pupils and teachers had taken time out of their weekend to come into school and help us paint two of the classrooms. Sand paper and scrapers were handed out and a busy hive of activity began in both rooms; everyone scraping and sanding the walls to improve their condition ready for the paint. We then began painting and worked as a fantastic team to get both rooms painted in no time at all! The walls were so dirty and hadn't been cleaned or painted for a good number of years.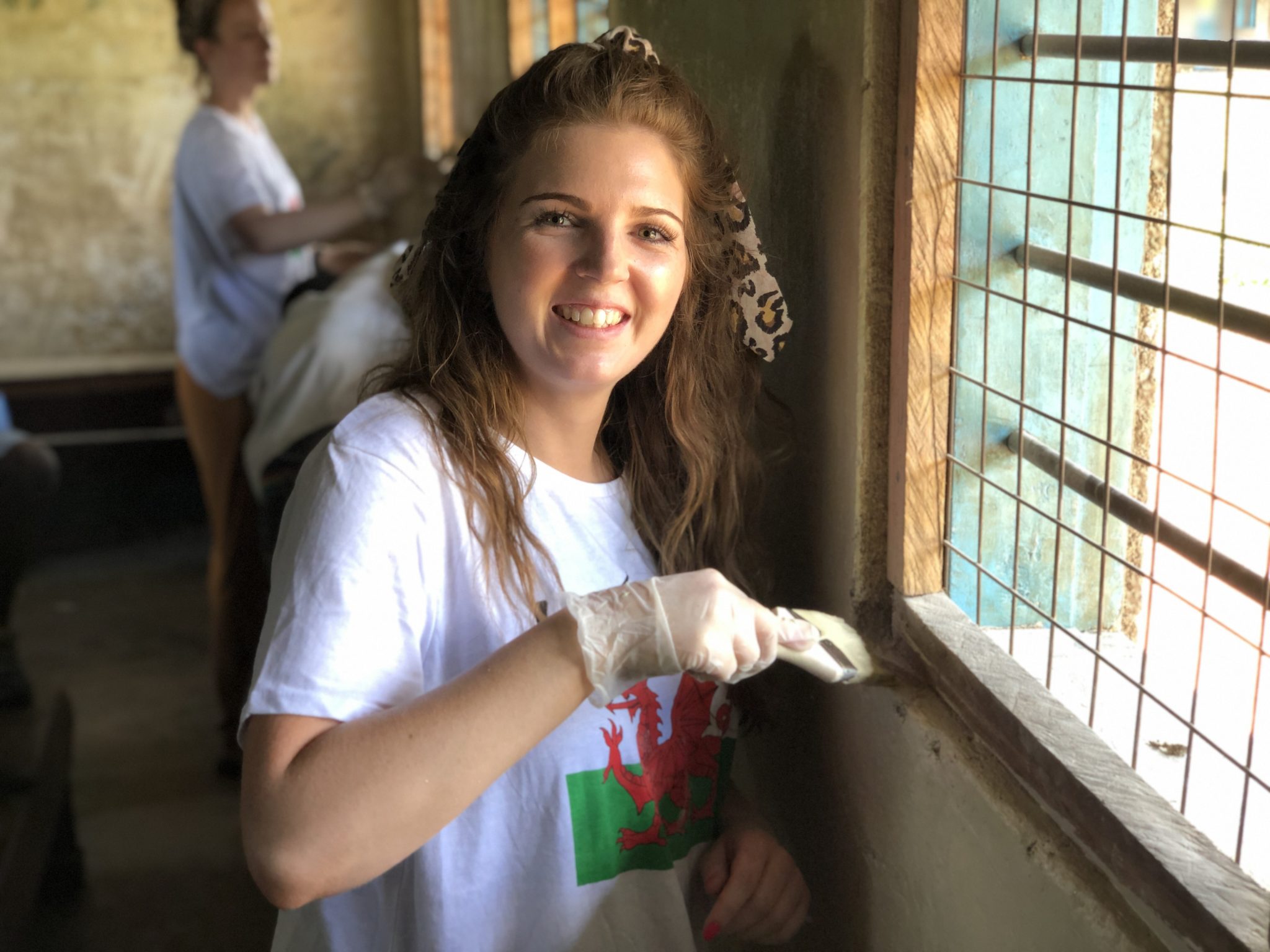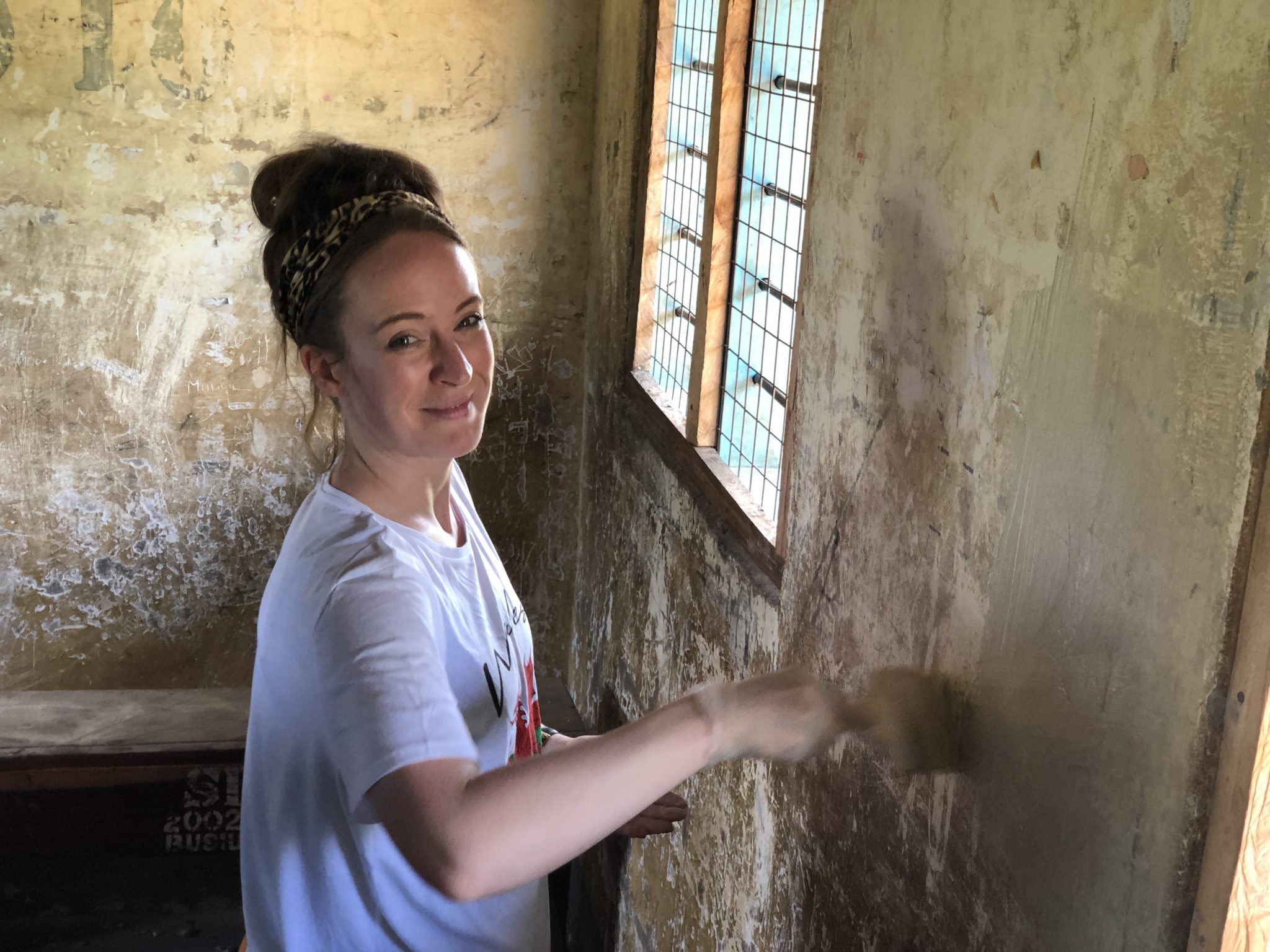 Whilst waiting for the first coat to dry, the team had a wander around the beautiful grounds, getting to know everyone, teaching the children to play 'duck, duck, goose' and enjoying watching the cows and other livestock casually strolling through the school grounds past the classrooms. We had a good chuckle at the thought of these huge animals roaming around the St. Julian's yard throughout the day, but at Busiu Primary, it is the norm!
Across the other side of the school, Mrs Lewis set about painting a giant St Julian's logo on the outside wall of Mrs Napakoli's office, with her permission of course! She had been worrying about her circle drawing skills until Miss Chard had the bright idea of using a pencil and a piece of string to create a perfect round edge. Once the circle had been drawn, a first coat of burgundy coloured paint was applied – Mrs Lewis was in her element, absorbed in splashing paint on a wall and turned around to find a little audience of children watching her (hopefully admiring her handy work and not laughing at it!).
The rest of the logo would have to wait until Monday as we were rushed into one of the classrooms by the school staff to have a delicious feast of fresh fruit, potatoes and meat, prepared by the headteacher herself. As we were eating in the teacher training room, Mrs Lewis spotted a couple of different animals outside but before she could say 'piglet', Miss Butcher had dashed outside to try to catch one. The piglet had other ideas though, so round they both went in circles until finally, her attempts were successful and she scooped it up for a cwtch and a photograph
Next on her list of things to pick up – a goat. Mr Walyaula found a friendly looking one on the edge of the grounds and he rather ungracefully picked it up and plonked it on Miss Butcher's shoulders, where it perched quite happily, wondering what on earth was going on. He even poked his tongue out for the photograph. Mrs Lewis also has a quick cuddle with the bemused goat that we named Gryff, before having to explain to Miss Butcher that it wouldn't be possible to bring him back to Wales in our suitcase…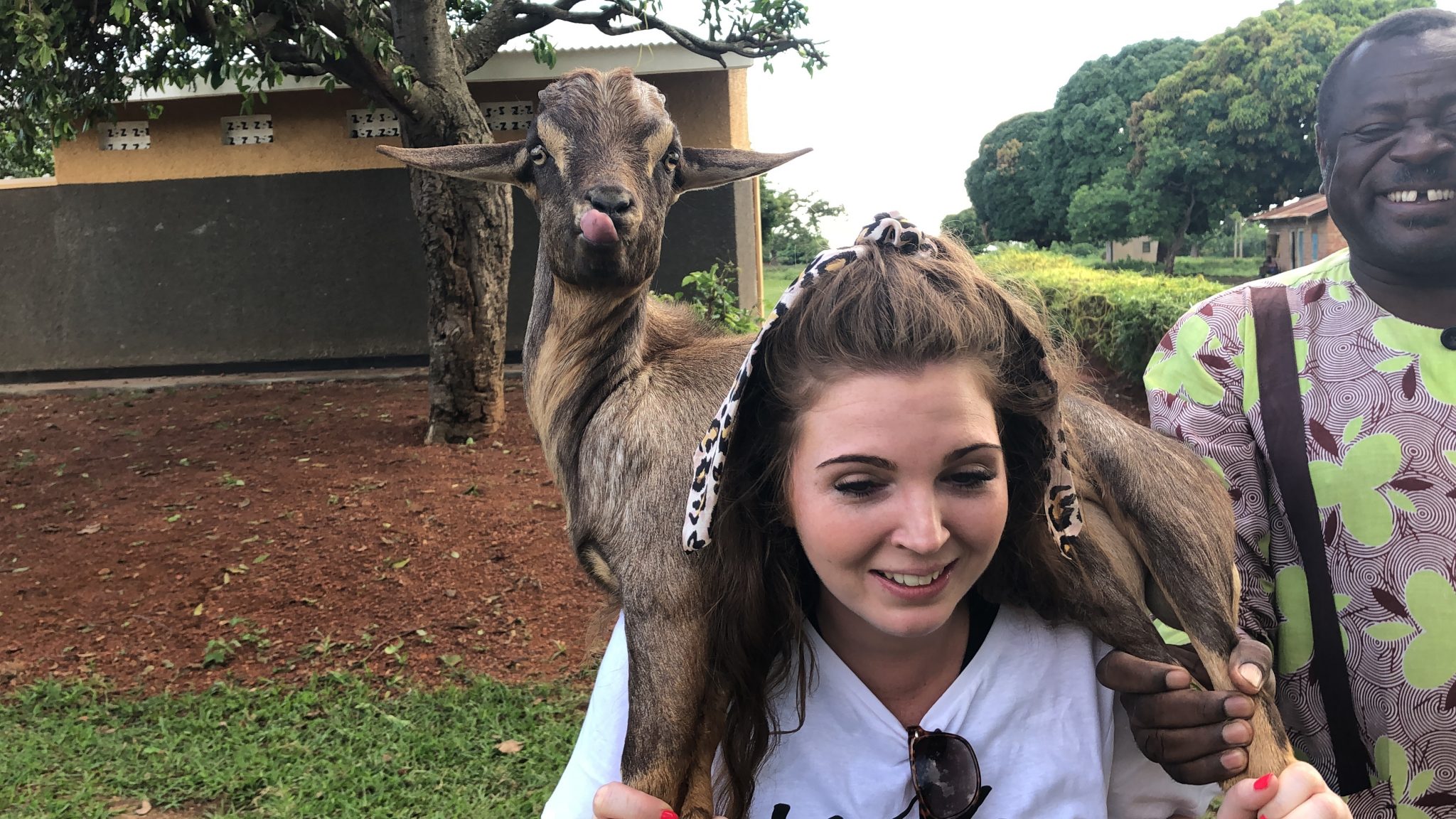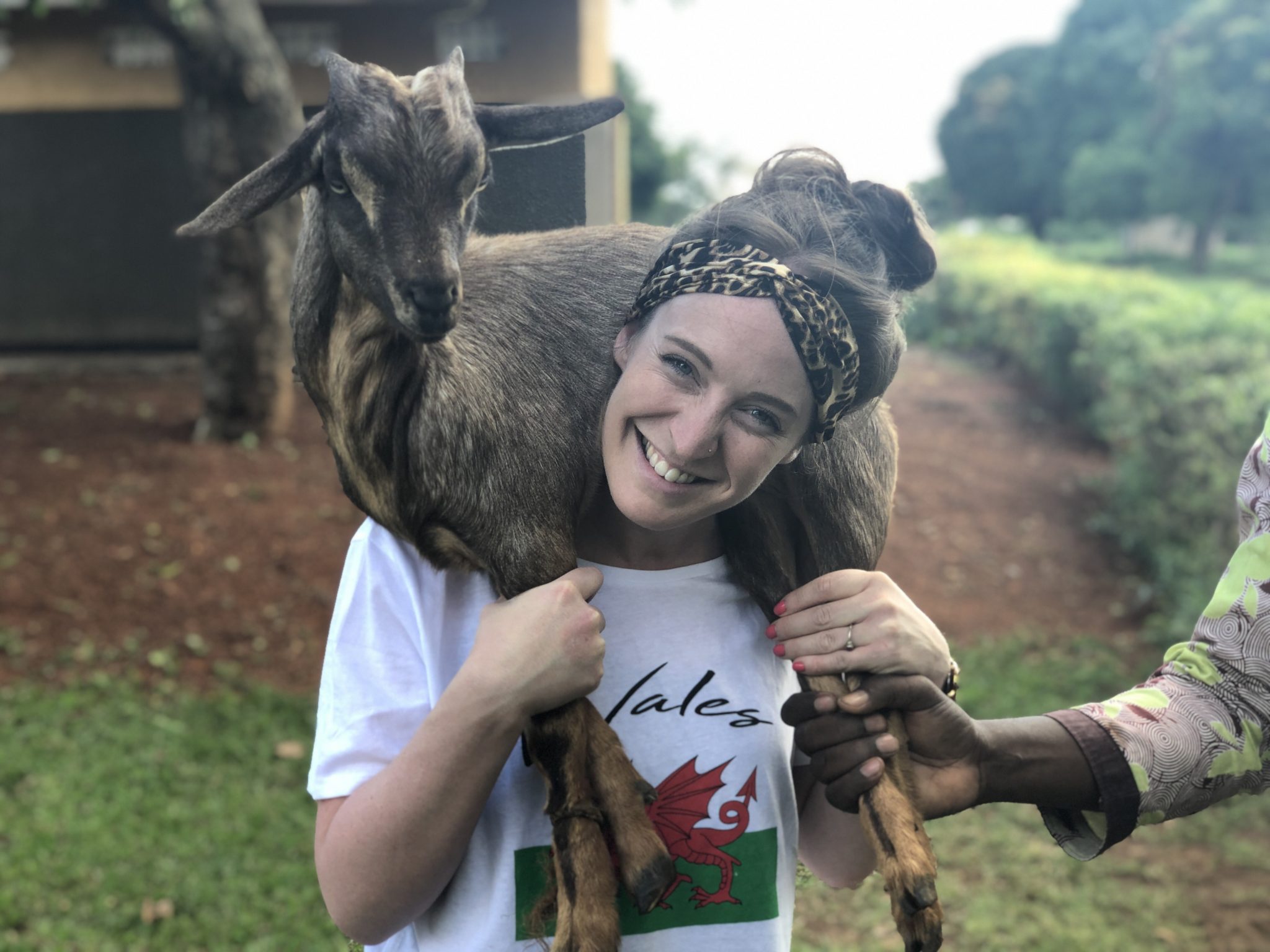 After our busy day in the markets and painting classrooms, we had begun to smell, so made our way back to the hotel for a super speedy freshen up. On our way through the foyer, Mr Mansfield spotted a wedding reception and insisted we go over to congratulate them on their special day. They were thrilled to see us and the wedding party insisted on having their official photographer take a photograph of them with us.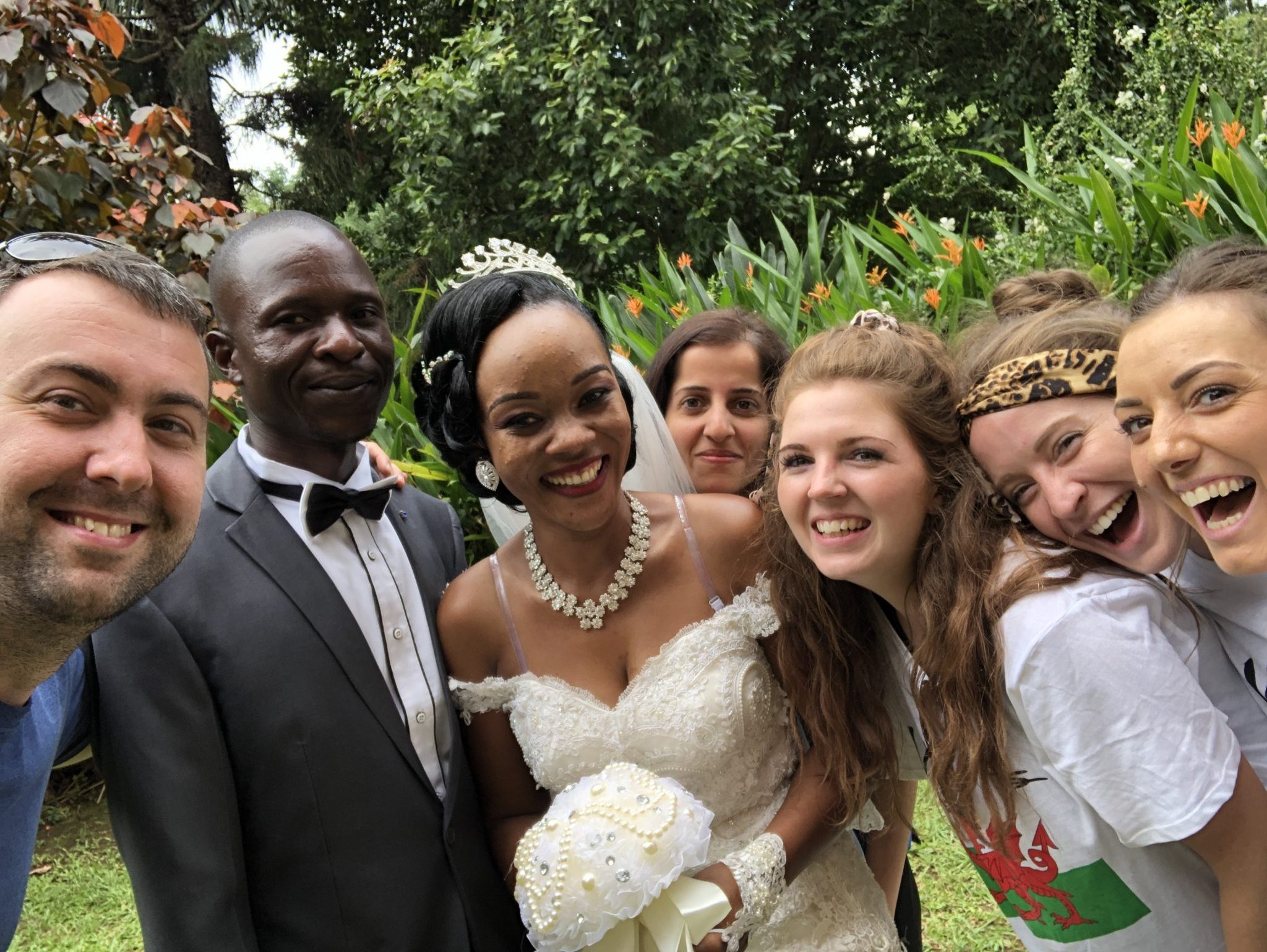 Our last stop of the day was Joseph's house. He often calls his family the 'J family' because all of their names begin with the letter 'J'. As we pulled up to their house, their oldest child Jerry (4 years old) shot out to say hello, running between our legs and giggling with the most infectious laugh, ever! Joanna (2 years old) was a little harder to convince, hiding behind her daddy's legs, watching shyly with intrigue but a little too shy to say hello. Finally, Jacinta, Joseph's wife came out to welcome us, carrying Joshua (7 months old) in her arms. This was particularly special for Mr Mansfield as he and Mr Prewett had named Joshua when he was born earlier in the year and this was the first time Mr Mansfield had met him. Miss Butcher immediately asked for a cuddle and continued to coo over him while Jacinta began to teach us how to make chapatis (a type of flatbread) over their small charcoal fire in the corner of their small front-yard.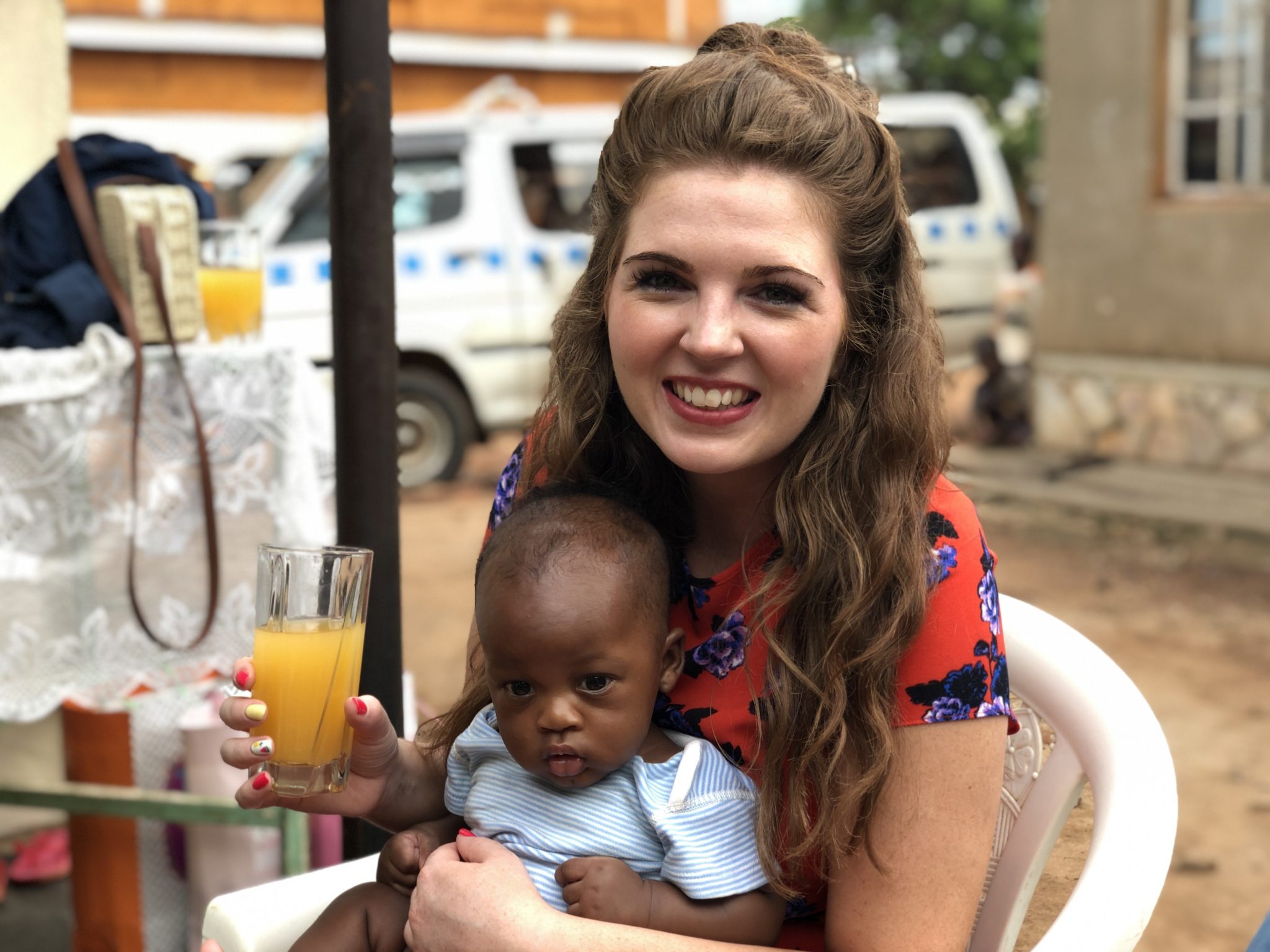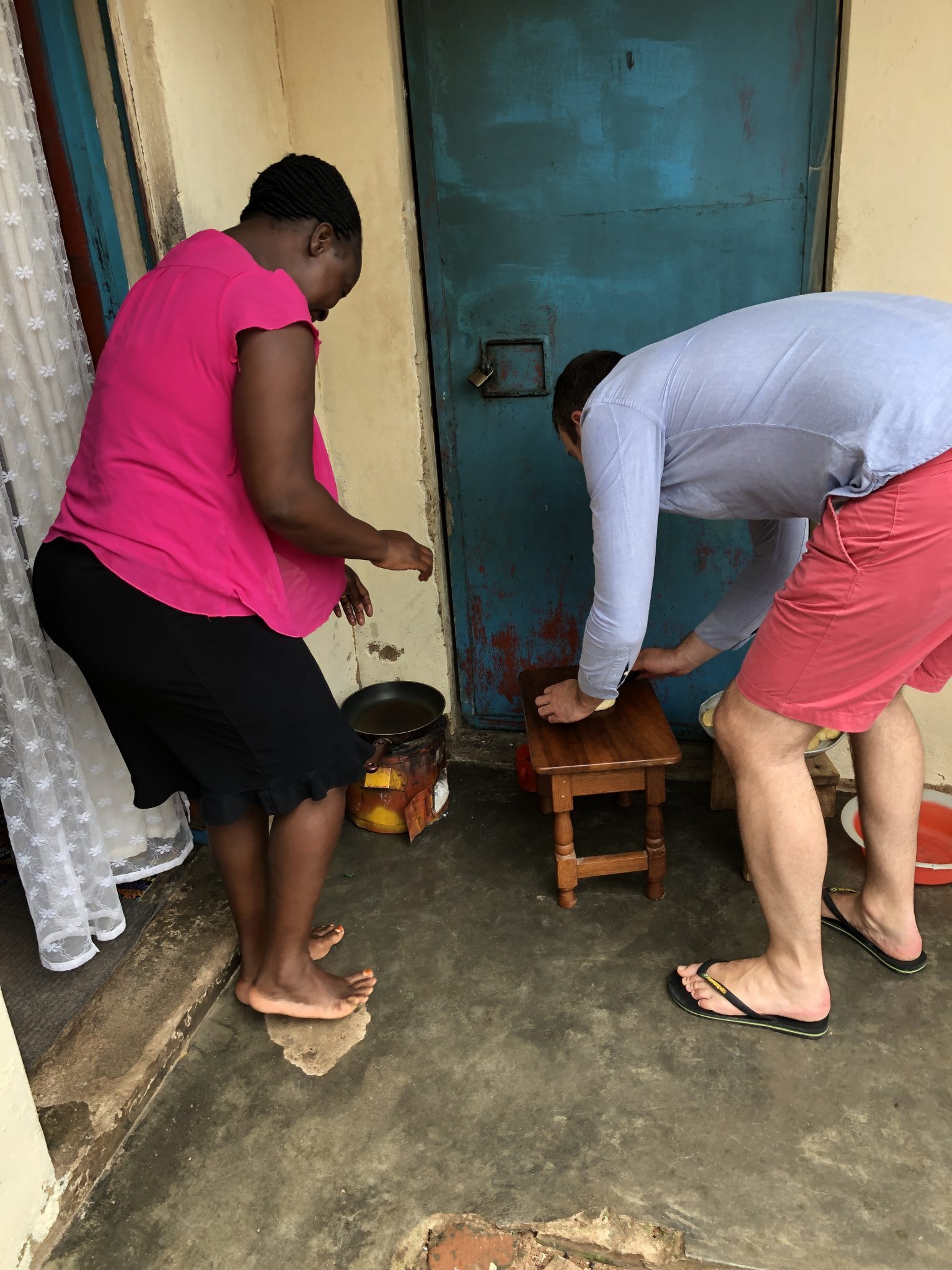 She had been hard at work all day preparing the rest of the meal for us, consisting of rice, chicken, beef, matoki (a type of savoury banana) and more delicious fresh fruit. The whole family made us so welcome as we settled down to eat and we felt really lucky to be in such wonderful company. Thankfully, Mr Rowlands was willing to 'take one for the team' and eat the Chicken's gizzard, which is always given to the guests of honour. He couldn't quite finish it, so Mrs Lewis helped him out and ate the other half. Although she found the texture quite slimy, she thought the taste was ok… though her face told a different story…
We had each brought along some gifts to give to the family to thank them for their kindness and hospitality and they were so enormously grateful and shared such heartfelt words of gratitude that there really wasn't a dry eye in the house. For the children, we had brought clothes and sunglasses and also gave them two old Amazon Kindle tablets which they loved!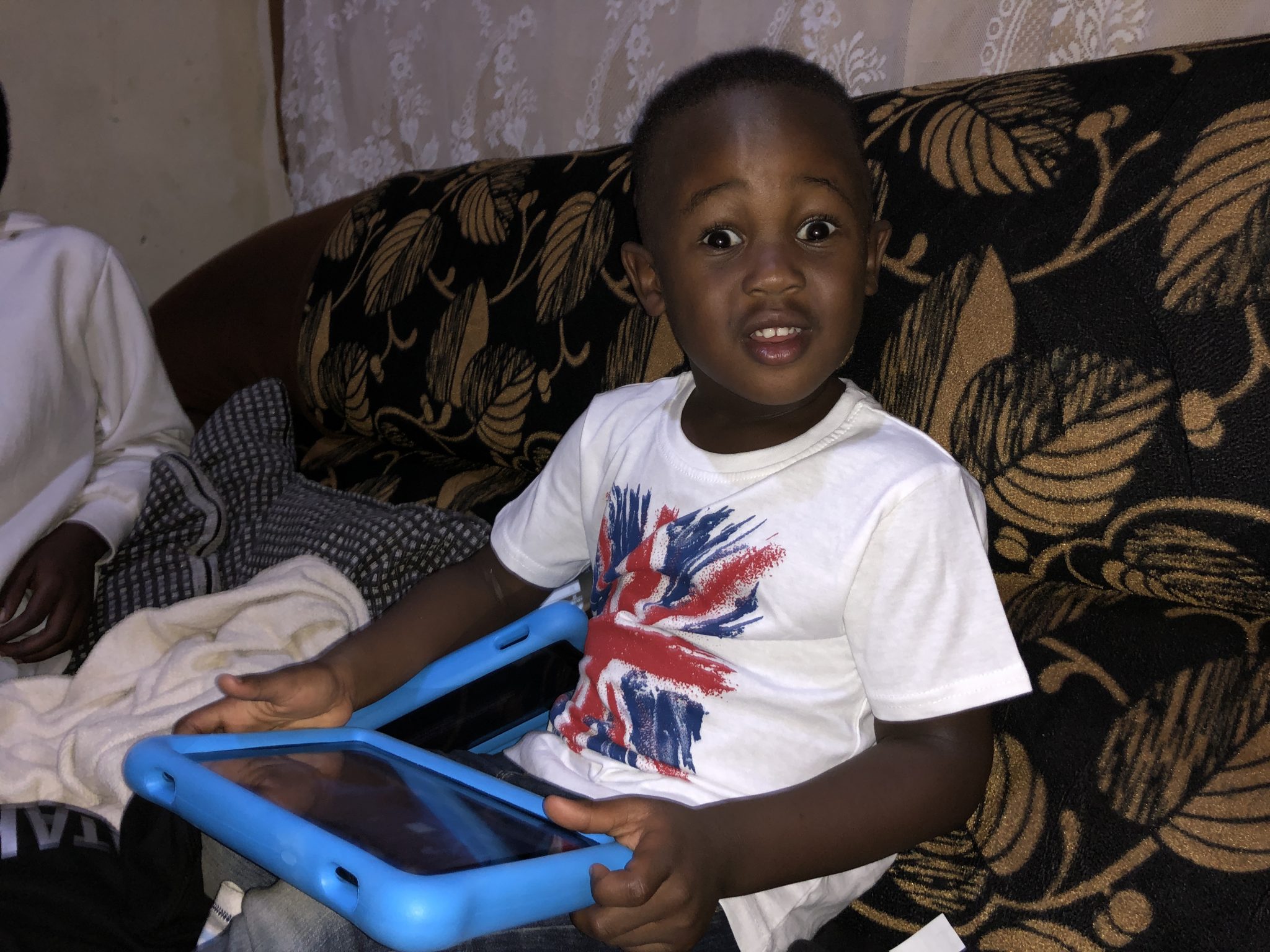 We had also gone 'halves' with Mount Pleasant Primary on a set of hoodies for the Nataka family, each with their own name on. They loved them and insisted on doing a fashion show for us to see them each wearing their new clothes.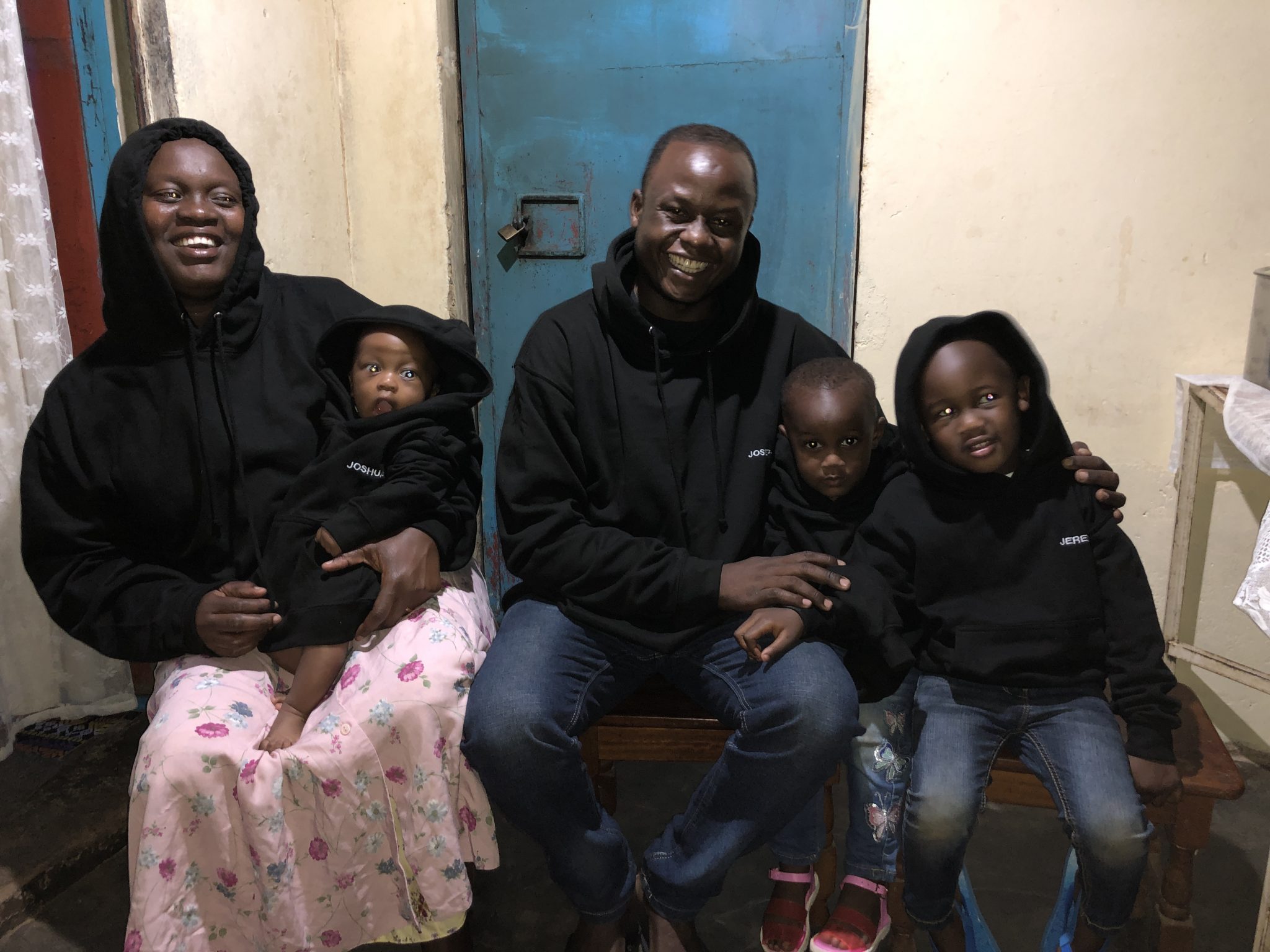 When Joseph is not helping us develop links with our schools, he has his own barber salon which backs onto the house which he rents. During Mr Mansfield's last visit to Uganda, he explained that the power would regularly cut out in the village whilst he was giving a haircut. He said that he usually just gave the client a cap to wear for the day to cover their half-completed hair cut, until the power came back on later in the day. Just before coming to Uganda, we decided to get Joseph a battery operated hair clipper which would keep his business going in a power cut, but would also allow him to cut the children's hair our our link schools and in his charity project. He was absolutely thrilled with his new hair clippers and was lost for words as we presented him with them.
The J Family don't have a great amount of things and they live in an incredibly small house, but they are genuinely the happiest and smiliest family you will ever meet! This was a real challenge to us all as we boarded the minibus to take us back to our accommodation.
The team sat for a short time reflecting on the day and planning the next day, before retiring to bed for a well-earned rest.
Bring on tomorrow!