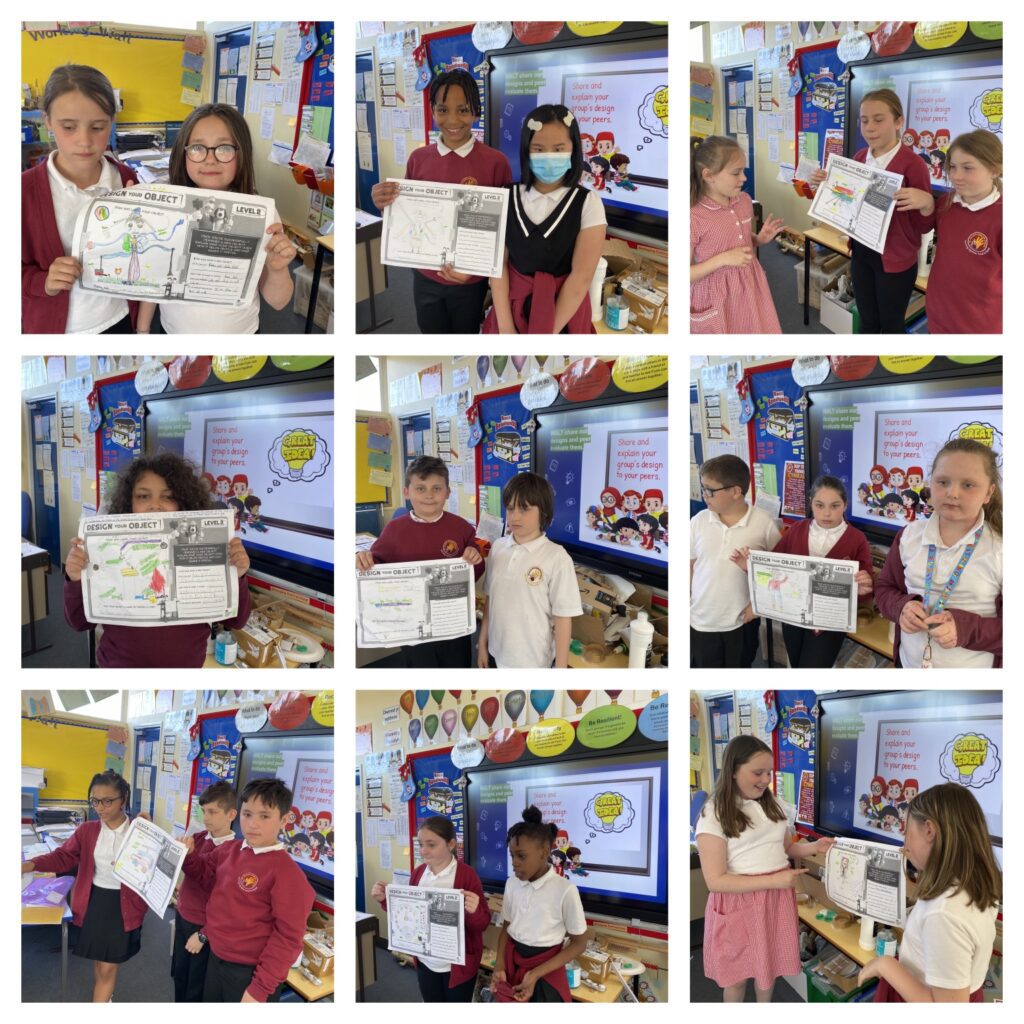 To kickstart our theme, we entered the Cracking Ideas competition, run by Aardman Studios, famous for their lovable, animated characters Wallace and Gromit. The children were challenged to redesign everyday objects to make them more efficient or to get mundane jobs completed more quickly. With their imaginations let loose, they certainly delivered with their design ideas for crazy contraptions; opportunities to create prototypes added to the excitement. Their wonderfully wacky ideas included a 'Massagatron' , a rucksack that would also massage away back pains while on a hike, to an 'Auto Scarecrow', who would complete all your gardening jobs as well preventing birds devouring crops! Who wouldn't want one each of these? They have certainly proved themselves to be ambitious, capable learners!
The children continued to display their instinctive aptitude for creatively reframing problems when they were set their next challenge. The brief was for each team to collaboratively innovate a food product for their business idea. They would have to ensure it was healthy and sustainable; these would then be sold at our SJPS Healthy Food Festival in June, to make a profit.
Initially, each class learnt about Gwent Wildlife Trust's, Wilder Futures Campaign whose philosophy is to encourage wildlife and people to thrive. Using their Maths skills to work out percentages of possible profit scenarios, each class then had a blind vote to decide how much of their profits they would like to donate to this worthy cause.
We looked at how many of our food practices are damaging to people's health and to the environment and why this is unsustainable in the long run. They joyfully planted strawberry runners, and learnt that we can easily grow strawberries at home, organically and without using single use plastic for packaging. Determined to give their plants every opportunity to develop fruit, they were left outside for part of the day so bees and other insects would pollinate them. This led onto a visit from the beekeeper, Lorne East from Sirhowy Valley Honey. The children completed a variety of activities to explore the complex lives of bees and their importance to our food system. Did you know that bees are critical pollinators, pollinating 70% of the crops that feed 90% of the world? The visit ended with children using the honey extracting machine and sampling delicious honey and honeycomb.
After exploring the environmental footprint of a variety of dairy and plant milks, students received a master class, showing them how to create their own oat milk. They chose a variety of ways to innovate this milk, using bananas, cocoa powder and berries. To avoid food waste, the leftover pulp was used to make Fruit Medley Pots and again, children decided to experiment with a range of toppings, such as coconut and cinnamon. Many children have now started eating these as a healthy breakfast or snack.
As part of investigating food sustainability, Year 5 had a video call with Abhishek Kanoi, the founder of the sustainable, healthy snack company, Wallaroo. In preparation, Abhishek generously sent us free samples of Wallaroo's mango snacks for us to try. Children posed some well thought out questions and were inspired by the consideration given to every part of the process, from growing fruit organically, to the fair treatment of farmers, to the compostable packaging. They were also able to benefit from a video call with a family contact of Mrs Daly's who works in advertising at… Aardman Studios! This gave a real boost to each team, making them think about their own advertising tactics and how to appeal to their target market.
Using Google Sheets and price comparison websites, they were able to prepare a 'cost sheet'. This was of particular importance when they came to the most nerve wracking part of our theme – presenting their business ideas to The Dragons! They had previously seen clips from Dragons' Den and realised how every part of their business would be scrutinised! Their fears were unfounded, however as they expertly presented their pitches like real professionals, confidently answering any question that was batted to them. The Dragons were so impressed by their entrepreneurship and enthusiasm for their sustainable businesses that they decided that the profits they would normally make from investing in these products, could instead be donated to Gwent Wildlife Trust, to further add to the charity's coffers.
Throughout the theme, children have clearly demonstrated that they are ethical, informed citizens as well as being enterprising, creative contributors. We definitely have some budding entrepreneurs on the horizon – watch this space!