Message from Mr Mansfield
Dear Parents/Carers,
I hope that you're all having a great Easter break and are enjoying spending time with the family. It's been another busy half-term here and there's lots of news to update you on. Enjoy reading the sections below and also the individual year group blog posts.
Monday 17th April (first day after the Easter Break) is a staff training day. The school will be closed to pupils on this day.
The only other remaining Staff Training Day for this year is Friday 21st July (Last Day of the Summer Term).
Monday 1st May and Monday 8th May 2023 are Bank Holidays. School will be closed on these days.
We're really excited for this year's sports days and are keeping our fingers crossed for good weather! We're sharing these dates with you as provisional Sports Day dates. We have decided to continue to run separate year group sports days following on from the positive feedback we received last year. Please understand that if the weather is poor or if the field is too wet and muddy, we may need to postpone these events at last minute. We will let parents know as soon as possible if this happens.
3rd MAY 2023, WED – 1:30 – Reception Sports Day
9th MAY 2023, TUE 9:30am and 1:15pm – AM / PM Nursery Sports Day
10th MAY 2023, WED 1:30pm – Year 2 Sports Day
24th MAY 2023, WED 1:30pm – Year 1 Sports Day
7th JUN 2023, WED 1:15pm – Year 3 Sports Day
14th JUN 2023, WED 1:15pm – Year 4 Sports Day
21st JUN 2023, WED 1:15pm – Year 5 Sports Day
27th JUN 2023, TUE 1:15pm – Year 6 Sports Day
Congratulations to Mrs O'Brien
We are so pleased for Mrs O'Brien and her husband who have a new addition to their family! Mrs O'Brien gave birth at the beginning of the Easter break to a little baby boy. Both mum and baby are doing well and Mrs O'Brien's other son is happy to be a big brother! Mrs Tucker, who was job-sharing with Mrs O'Brien, has kindly agreed to cover the class full time until the end of this term, which will minimise disruption to the class.
Those of you who have seen Mrs Rue recently might have guessed that she is also expecting a baby! She has a few weeks to go yet though… we hope! Mrs Gough will be taking over from Mrs Rue for the remainder of the Summer term, when Mrs Rue commences her maternity leave. Mrs Gough already knows the class well and is looking forward to working with them!
As you'll know, the department of Finance and Statistics have been working with the Department for health and Wellbeing to raise money for a school/community defibrillator. They held a bake sale, a non-uniform day and also set up a 'Go Fund Me' page. Children were so delighted when a local tradesman (also a parent) arrived at the school office one day and said how much they wanted to support the project and felt it was such an important cause. They had spoken to other companies too and in total, donated a further £700! We are really grateful to Hydrotech Mechanical-Electrical LTD, Apex Joinery & Shop fitting LTD and Castle Plumbing supplies, who grouped together to give us this very kind donation.
This brings our current total to £2081.86!
We are currently in conversations with two local defibrillator charities who can provide the defibrillator. They may be able to subsidise the cost for us and we may even be able to afford the two defibrillators that we had originally hoped to afford – one for each end of the school building. Thank you to everyone who has supported this cause!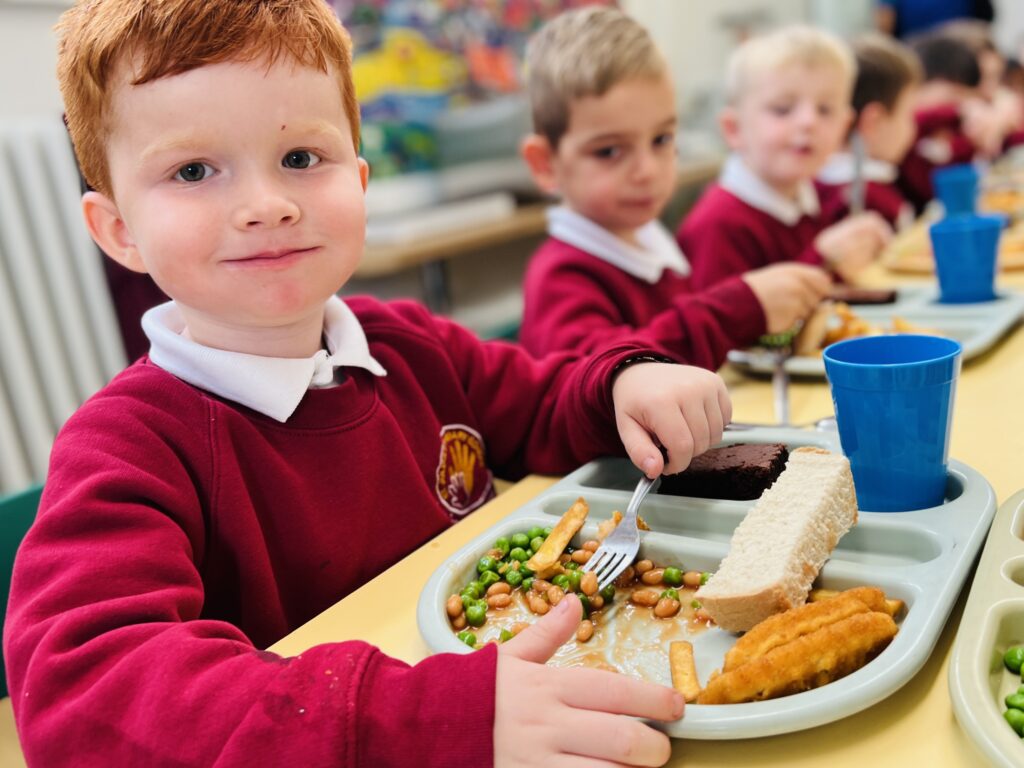 Please find the new Chartwells Dinner Menu here for the Summer term.
As you know, the Welsh Government rolled out funding to provide Free School Meals for every child from Reception to Year 2 at the beginning of this academic year. It is anticipated that this offer will be rolled out to Years 3 – 6 in the next academic year though we are awaiting confirmation and plans. We will keep you posted.
Despite Free School Meals soon becoming available to all pupils, it is still so important that parents who are eligible apply for free school meals because it will give you access to: Pupil Development Grant money (to purchase uniform), Discounts on school trips, Additional funding for the school, Free School meals in school holidays.
If you think you may be eligible, please do apply here. Alternatively, if you want us to help complete the form, get in touch and Mrs Walshe will be happy to help.
A reminder that Year 4 children start their 3-week swimming course starting on Tuesday 18th April. A coach will shuttle each class back and forth from the swimming pool –
Mrs Watkins/Mrs McKenzie's class must be in school by 8:30 each morning and should go straight to the school hall. They are the first group each day.
Mrs Sefton's class will go second, but they should arrive in school for the usual start time each day.
Miss Marshall's class will go third and again, should arrive at the usual start time each day. Miss Marshall's class will arrive back at school during the middle of lunch time each day, but they can still order a school dinner which will be kept warm for them if there is a delay.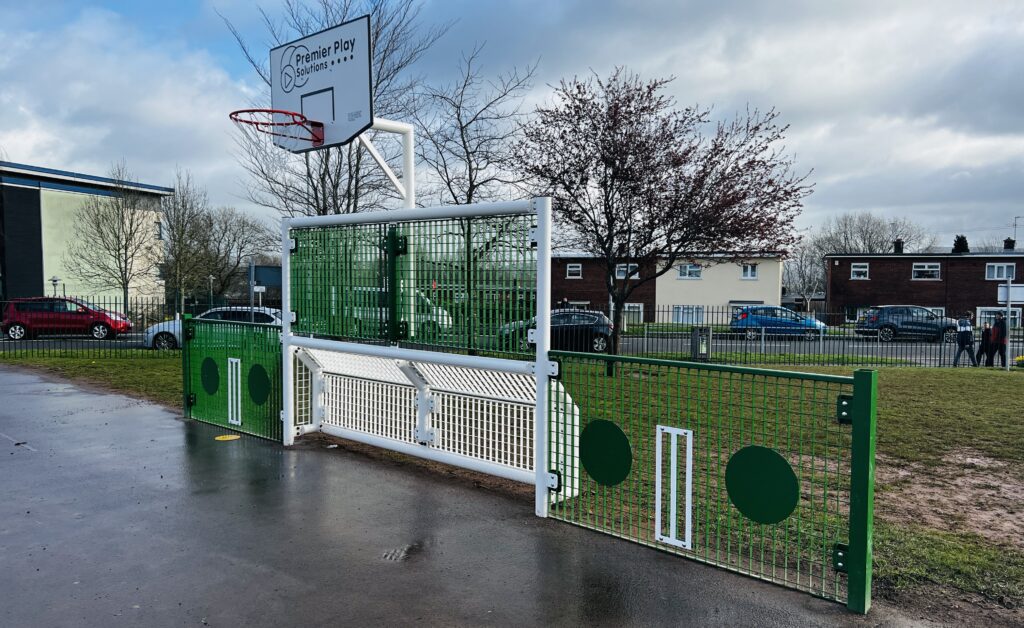 The Department of Health and Wellbeing have been working very hard campaigning for new playground equipment. They met with Mr Mansfield on a number of occasions to negotiate funding for two new metal goal posts/basket ball hoops. We're really keen to promote healthy, active lifestyles and felt that this multi sports equipment was a worthy thing to splash out on! This equipment was installed just before the Easter break – one on the infant bottom playground and one on the junior front playground. The department members are extremely pleased with them and even managed to negotiate a discount following the installation – they're great businessmen/women! Children are already enjoying playing with goal posts and basketball hoops! Our student 'Playmakers' will be facilitating some great games using them each day!
New Outdoor Learning Canopy
We are delighted to have had a second large canopy installed in the Foundation Phase over Easter, which the children will use for outdoor learning activities. This new improved canopy replaces the old wooden small canopy that was beginning to rot. Last half-term, we also had a canopy installed at the back of the Foundation Phase building. We're really looking forward to equipping and decorating these spaces ready for use with the children.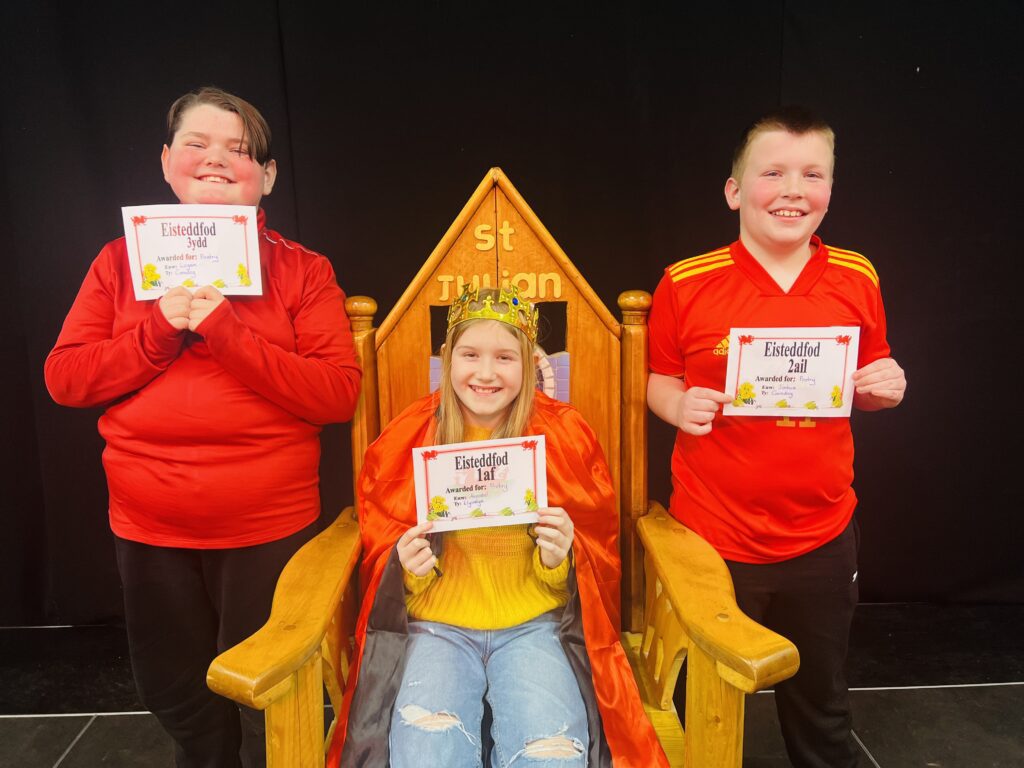 We had a great time on the 1st March, celebrating St David's Day. Children throughout the school took part in a range of competitions in the lead up to the Eisteddfod and there were some excellent performances on the day! Staff were absolutely blown away by our wonderful talented pupils! Competitions included Art, Design and Technology, Handwriting, Singing, Musical Instruments, Dance, Poetry Recitation, Story writing/Poetry Writing.
The junior Eisteddfod ran for most of the day, which children from the Foundation Phase performing at different points within the day. The final scores for the day were as follows…
Caradog – 682,  Hywel Dda – 680, Glyndwr – 625, Llwyelyn – 613
The Foundation Phase mini Eisteddfod started after lunch with each class performing a range of Welsh songs. Some reception children even performed a traditional country dance!
Congratulations to Annabel in Year 6, who was crowned Bard after she wrote an excellent poem about Wonderful Wales!
The junior Eisteddfod was live-streamed and will be available on our YouTube channel until after Easter.
I am so proud of all the children who performed on stage – it's a big thing to come on stage in front of around 300 other children and perform, but they all did it with such confidence and enthusiasm.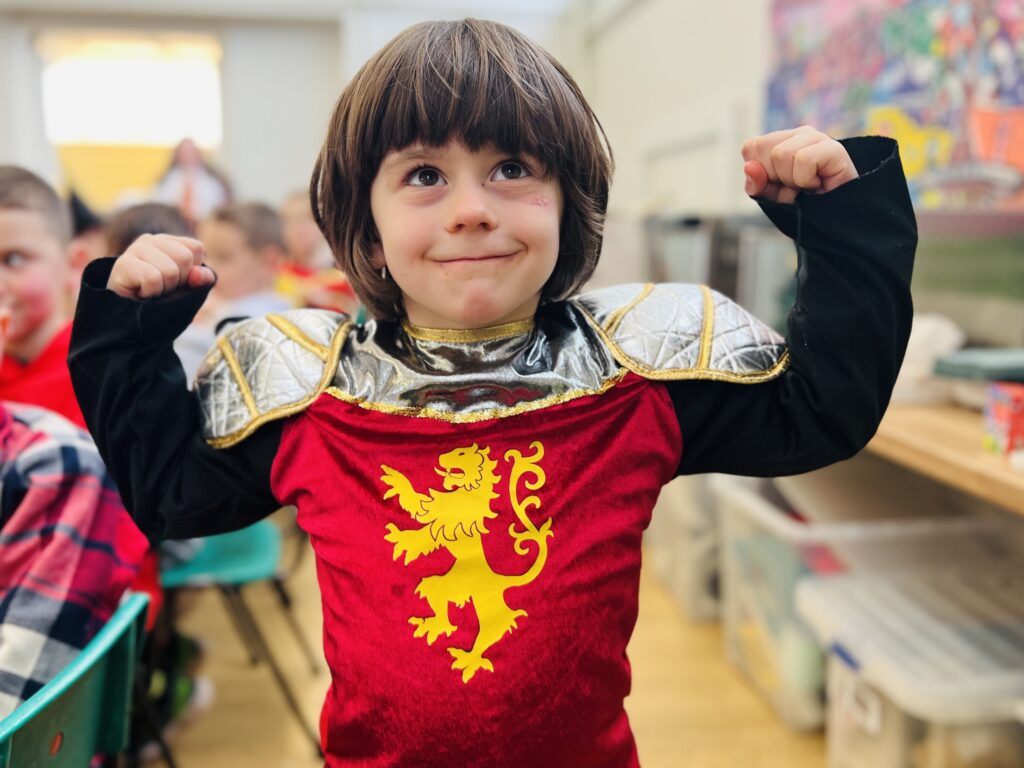 We had a great day celebrating World Book Day! Everyone dressed as their favourite book characters and we enjoyed reading stories together! You can scroll through the images above to see some of the costumes!
Parent Pupil Progress Meetings
Thank you to everyone who attended our Pupil Learning Review meetings for parents this half-term! Staff really enjoyed catching up with you and talking about the progress your children are making. We plan to invite parents in for an afternoon during the summer term to sit with their children to look at their books. At the end of the Summer Term, you'll receive your child's written report.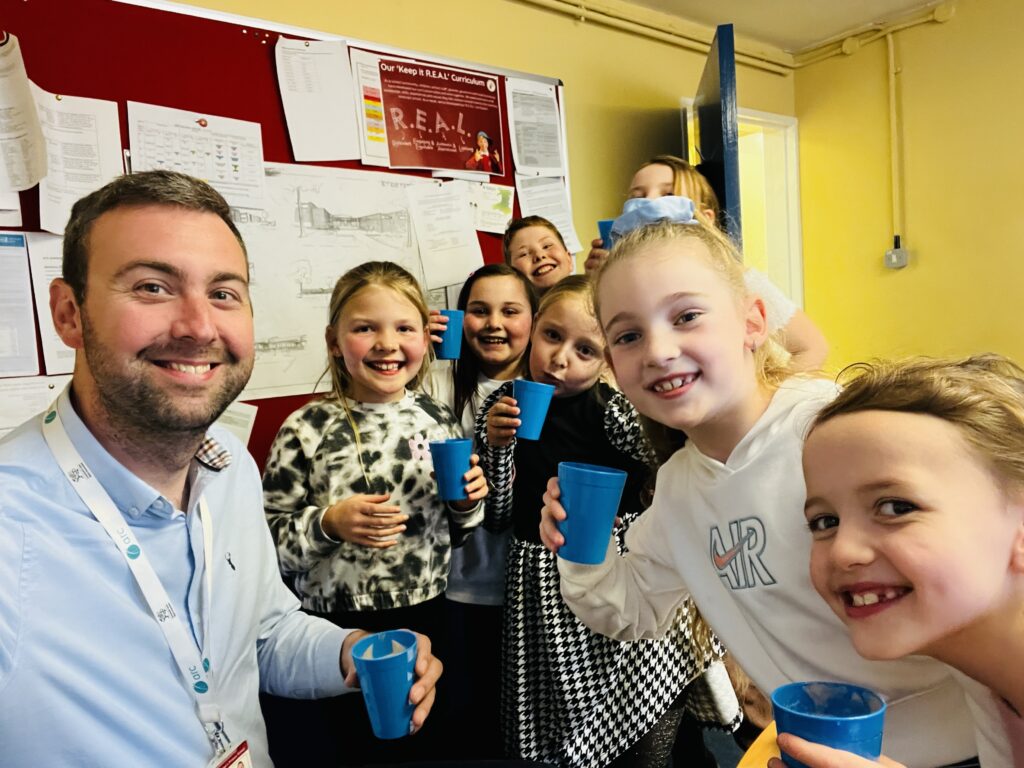 Mr Mansfield has thoroughly enjoyed the company of the wonderful children who have purchased 'Hot Choc with the Head' using their Dojo reward points! It's been lovely to sit and chat openly about anything and everything with the children, whilst we all sip our hot chocolates! I think I have about another fifty 'Hot Chocs with the Head' on order, so I need to get that hot chocolate brewing!
Online Adaptive Assessments
During May, children from Year 2 to Year 6 will complete the online adaptive assessments. These are online assessments, created by the Welsh Government, which adjust the question difficulty as the assessment progresses, depending on whether the child answers the previous question correctly or not. These assessments produce a list of bullet points which give 'next steps' to the children. There are three assessments – English – Reading, Maths – Procedural, Maths – Reasoning. We don't make a big deal of these assessments with the children as we don't want to cause unnecessary anxiety. The results are only used by us to see where your child may need further support in future. We will provide parents with the reports from each assessment during the Summer term. If you have any questions about these assessments, please do not hesitate to speak with your child's teacher.
Easter Assembly with Rev. Les
Reverend Les from St. Julian's Methodist Church on Caerleon Road joined us to take our junior Easter assembly. He reminded us of the Easter Story and also talked about his love for chocolate Easter Eggs, too!
This half-term saw the launch launch of our Big Bocs Bwyd – we've been so pleased to see how many people are using it regularly. There have been some really great treats available – Mr Mansfield's personal favourite being the fresh loaves of bread donated regularly by a nearby local bakery! If you haven't already visited the Big Bocs Bwyd, do go and pop your head in to have a look. We've even had the workmen who are currently working on site doing their weekly shop in there as they couldn't believe what was available! A big thank you to the staff who give up their time after school to open and close the Big Bocs Bwyd at the end of the day.
Year Group Updates
Click the buttons below to read the update from each year group or click here to view all our recent blog posts
The Welsh Government and National Education Union have reached an agreement which means that there is currently no further strike action planned by the National Education Union. The National Association of Headteachers are continuing with their action over school funding and workload.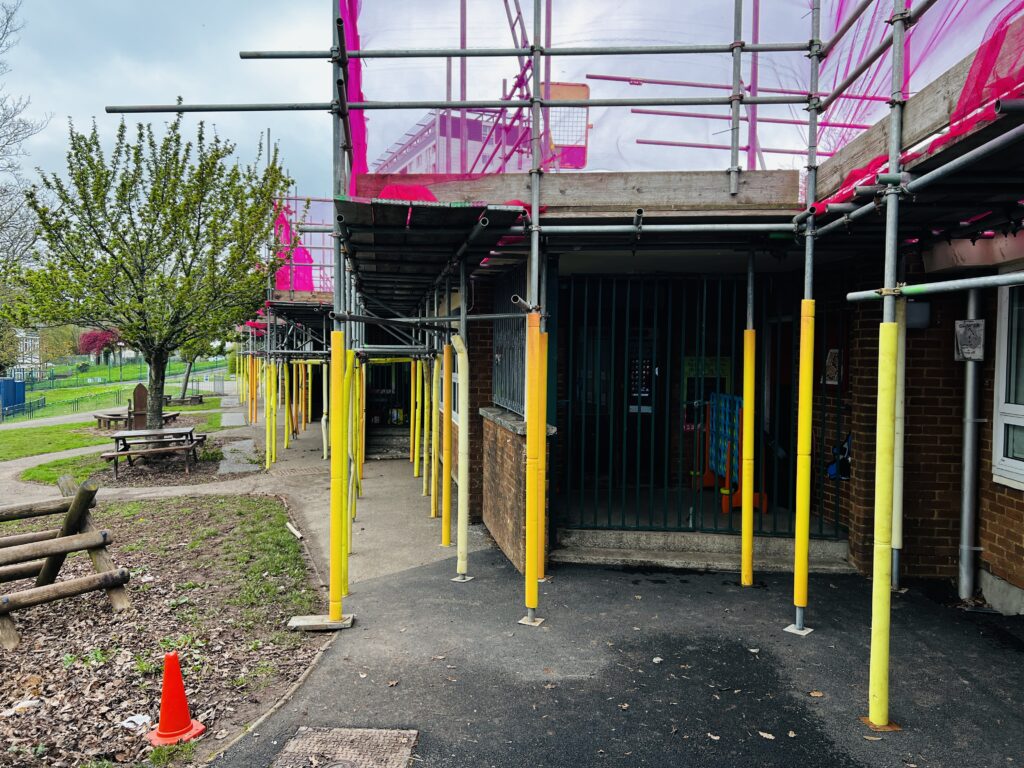 Building Work Update
The electrical re-wire of our building has started. Class 10 (Mrs Thomas) and Class 11 (Miss Rawlings) have had to re-locate to the school halls for the time-being. They will be moving back into their classrooms after Easter and Mrs Watkins/Mrs McKenzies class will be moving into the school hall whilst their classroom is worked on. It is likely that all classes will have to relocate at some point over the summer term whilst their classroom has new cables, sockets and lighting installed.
The junior roof is just about finished. Over the Easter break, the remaining scaffolding was moved down to the infant building. When you come back after the Easter break, there will be a lot of scaffolding surrounding the front of the infant building and along the classrooms from Class 1 – 5. Though there will be scaffolding around the side of the building, the classroom 1-5 doors will still be in use for children to enter/exit the classrooms. Please bear in mind that it may be a little congested more than usual in that area for the next few months. There should be very little scaffolding around the Class 6-9 corridors as this section of roof was replaced a few years ago.
We are also having a second canopy installed over Easter – covering outside the Class 6 entrance and around towards the door to Class 5. We are looking forward to using this canopy for outdoor learning and activities during the summer term.

School Virtual Quiz
Back by popular demand, in the week leading up to the Easter break, we hosted an interactive family virtual quiz. Mr Jones, Mrs Hollings and Mr Mansfield loved being Quiz masters and hosting the quiz! It was so much fun to join with you all, seeing the live leaderboard as each family battled for the top places! Congratulations to the Reeds who came first and won the Friday-night family take-away! In a twist though, the Reeds arrived at the school on the Friday morning and rather than us buying them a take-away, they were incredibly generous and bought the staff boxes of Greggs doughnuts to celebrate the last day of term as they enjoyed taking part in the quiz so much! Thank you so much for your generosity, Reed family! Staff were overjoyed when we arrived at the staffroom with the Greggs boxes at break time!
You can see the leader board with the top ten teams above!
Red Nose Day
We managed to raise £177.50 for Comic Relief last half-term!
Monday 17th April is a Staff Training Day. Children return on Tuesday 18th April. Happy Easter!